Ever heard that it's grim down south? Of course not! That's because it has some of the most amazing weather in the UK and outstanding seaside resorts to match.
Whether you're looking for the perfect base to explore southern England and the area's gorgeous landscapes and rugged coastline, or somewhere you can kick back and simply enjoy the onsite entertainment – you'll find it at one of our brilliant caravan parks. 
From Norfolk to Cornwall, we've scoured the reviews and put our expertise to work, bringing you the very cream of the crop. Finding your perfect holiday shouldn't feel like hard work, that's why we've done it for you – here are the top 11 holiday parks in the South of England:
1. Haven Riviere Sands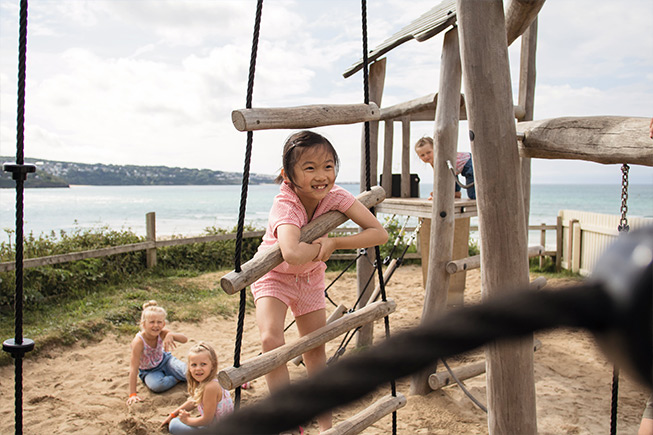 Location: Hayle, Cornwall
Best for: Visiting St. Ives and surfing in Cornwall
If you're looking to ride some gnarly waves, you've come to the right place. Cornwall is famous for its world-class surfing, and whether you're a dab hand or new to the sport, you'll love how easy it is to do at this park. In fact you can get surfing lessons from the park's very own coaches, so if your loved ones have always wanted to learn, this is the top holiday park in Cornwall for you.
You're sure to be wowed by the views over St. Ives from this cliff top park, and you can even spot seals and dolphins playing along the nearby shores. St. Ives is a lively and creative town, perfect for grabbing a cornish pasty or indulging in a cream tea or two. Of course with direct access to the beach, you could easily spend all your holiday in Cornwall just relaxing by the turquoise sea.
For even more inspiration, take a look at these 12 Top Holiday Parks in Cornwall. Race you there…
Facilities: This holiday park has some of the most amazing venues and activities in Cornwall. There are heated indoor and outdoor swimming pools and a paddling pool for toddlers, while kids are bound to enjoy the adventure play area. If you love staying active on your holiday, challenge your family to crazy golf before rewarding yourself at one of the food & drink venues. There are awesome activities onsite for adults and youngsters, including Nature Rockz clubs and day & evening entertainment. Without a doubt, this is one of the top 10 holiday parks in the South of England. Cornwall is calling!
Find out more about Haven Riviere Sands Holiday Park
2. Park Holidays UK Riviera Bay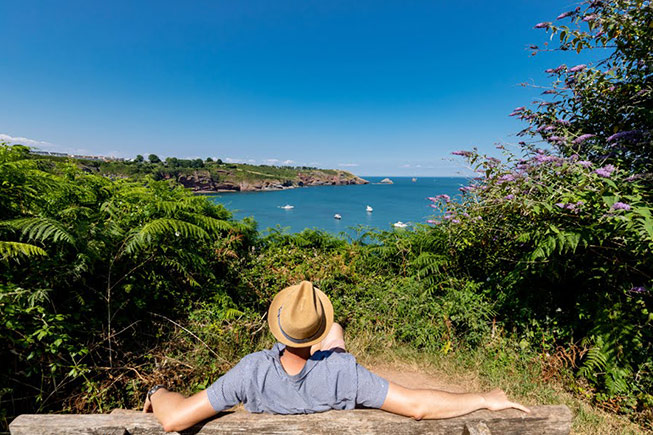 Location: Brixham, Devon
Best for: A relaxing break for adults in Devon
Looking for access to great facilities, but want some peace and quiet away from it all? You can have your cake and eat it too at this ambient holiday park in Devon.
The site has breathtaking views over St. Mary's Bay, and you'll be greeted by sparkling seas and golden sands each morning. This is a truly relaxing holiday park, and the classic caravans have recently been replaced with luxury lodges – we don't think you'll find a more comfortable site than Riviera Bay Holiday Park.
Though you'll have a wonderfully noise-free experience at this site, you still have access to the facilities at the neighbouring Landscove Holiday Park, where you'll find indoor and outdoor swimming pools, evening entertainment and food & drink venues. 
Like the sound of a stay in the region? You'll love these 8 Fantastic Caravan Parks in Devon.
Facilities: Without busy onsite add-ons like adventure golf or play areas, this is the best caravan park for adults looking for tranquil accommodation. It's also great for families who simply want a base in Devon from which to explore the beautiful coastline and make the most of the region's glorious beaches. After the end of a busy day in the great outdoors, you'll have the comfort of your own luxury lodge to unwind in. Bliss.
Find out more about Park Holidays UK Riviera Bay Holiday Park
3. Park Holidays UK Sandhills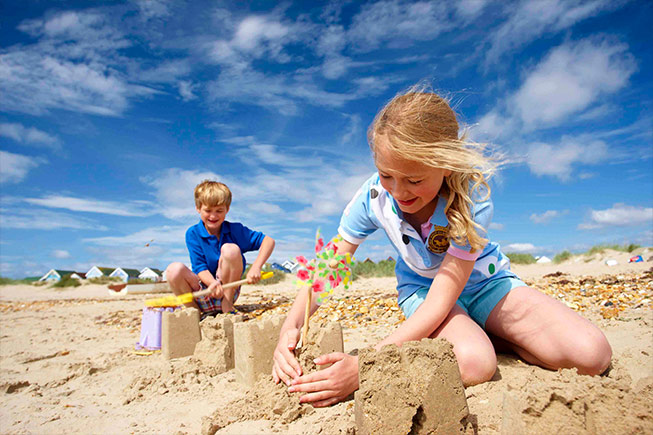 Location: Christchurch, Dorset
Best for: A traditional seaside holiday in Christchurch 
Wow, we absolutely love this classic seaside holiday park at the popular resort of Christchurch in Dorset. We're not the only ones – Sandhills gets consistently fantastic reviews and guests keep coming back year after year.
The site is centred around a grand main house, which gives the park a traditional and timeless feel. The park's caravans and lodges are nestled amongst lush trees, giving each holiday home a secluded and private atmosphere. 
The park has direct access to the beach, and you'll love the choice of restaurants and bars in Christchurch itself. Bournemouth is only a short drive along the coast and has even more attractions and opportunities for some unforgettable family-fun time. 
If you think the region sounds like your cup of tea, you need to take a look at these 7 Top Caravan Parks in Dorset. You won't be disappointed. 
Facilities: If you want to mix it up between beach time, and chilling out poolside, this is the park for you. There is a great outdoor swimming pool with a surrounding sun terrace, perfect for lounging with a book while the kids make new holiday friends. There's also a family bar, where you'll be entertained by cabaret acts during the peak season. You can eat out in the surrounding area or make the most of the self-catering in your caravan
Find out more about Park Holidays UK Sandhills Holiday Park
4. Parkdean Resorts Camber Sands
 
Location: Nr. Rye, East Sussex
Best for: Having fun on seven miles of Blue Flag beach
If there's one thing the South of England does well, it's beaches, and Camber Sands in Sussex is no exception. With seven miles of award-winning Blue Flag beach on your doorstep, you really couldn't be in a better area to appreciate the lovely Sussex seaside. So whether you're looking to relax on the sandy beach with your better half, or run around with your littles ones and build some epic sandcastles, this holiday park will sort you out.
Last year the park had a multi-million pound upgrade, so you're guaranteed to be wowed by the excellent activities and venues at this top 10 site. 
Facilities: Gosh this park is jam-packed with things to see and do, including a magnificent four heated indoor swimming pools with a flume and an outdoor Splash Zone. For a little holiday indulgence, why not treat yourself to some 'me-time' at the sauna and steam room. This friendly park has plenty to keep little ones entertained, like the Outdoor 'n' Explore base camp, a high ropes course, or the Arts & Crafts Den. There's also a sports court, great children's clubs, and headliners for the evening entertainment. With various food & drink venues and a range of accommodation to choose from at this caravan park, you can have the perfect beach holiday of your dreams when you Breakfree. 
Find out more about Parkdean Resorts Camber Sands Holiday Park
5. Haven Burnham-on-Sea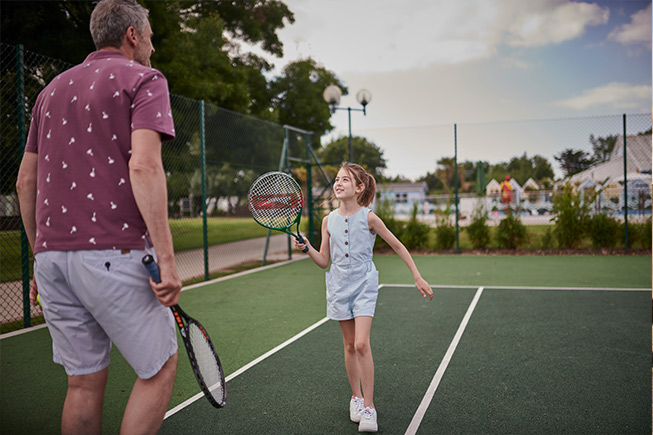 Location: Burnham-on-Sea, Somerset
Best for: Seaside delights at Burnham-on-Sea and onsite fishing
Love fish? You'll get your fill with a stay at this top 10 holiday park in Somerset. The delightful seaside resort of Burnham-on-Sea is only a hop, skip and a jump away from this family-friendly holiday park, and you can enjoy fish 'n' chips on the beach as much as your heart could desire.
Back onsite there are two picturesque lakes and a fully stocked tackle lodge for all fishing equipment, so you can pack light and still enjoy a peaceful afternoon angling. This is one of the top parks for multi-generational groups who want a wide range of activities to choose from, perfect for keeping the whole family happy. 
Facilities: If you're looking to reconnect with your family this holiday, you've come to the right place. Your kids will go mad for the crazy golf, high ropes course, and pedalos on the lake, while you'll be pleased to hear there are onsite tennis courts and a bowling alley, as well as day & evening entertainment. Of course there are also heated indoor and outdoor swimming pools, and three food & drink venues. Whether you're enjoying the surrounding area, or having fun onsite, you can rest assured of having a good night's sleep in the park's comfortable caravans.
Find out more about Haven Burnham-on-Sea Holiday Park
6. Haven The Orchards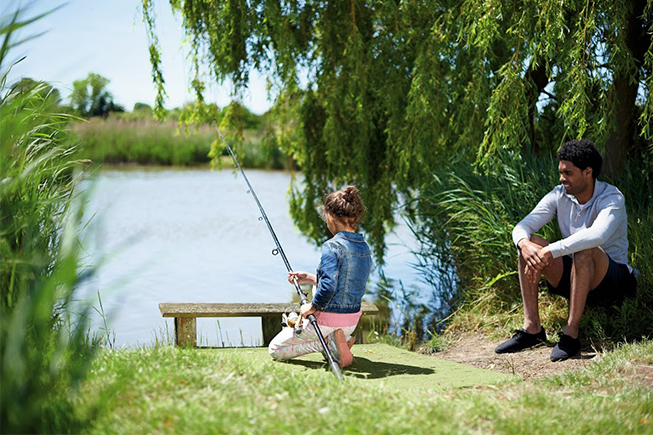 Location: St. Osyth, Essex
Best for: Getting back to nature by the sea
The shape of this long, thin park means you're never far from the waterfront, and is there anything better than being lulled to sleep at night by the sounds of gently lapping waters?
This family-friendly holiday park keeps holidaymakers coming back year after year. There are awesome clubs to learn survival skills and all about the surrounding local wildlife, perfect for those looking to reconnect with nature and get back to the great outdoors. Of course there's plenty of other entertainment onsite too, and you'll never have a dull moment at this great park in Essex.
Facilities:  You'll love the heated indoor and outdoor swimming pools at this wicked holiday park. There's a lovely sun terrace around the outdoor pool, where you can enjoy a tasty bite to eat under the Essex sun. There's a whopping four food & drink venues and four play areas for kids, plus a bowling green, fishing lake and family pitch 'n' putt golf course. Whether you're looking to splash out on one of the luxury caravans or to save your money for extra holiday treats, you're guaranteed to find the perfect caravan for your family and your pocket at this friendly holiday park in the South of England.
Find out more about Haven The Orchards Holiday Park
7. Parkdean Resorts Cherry Tree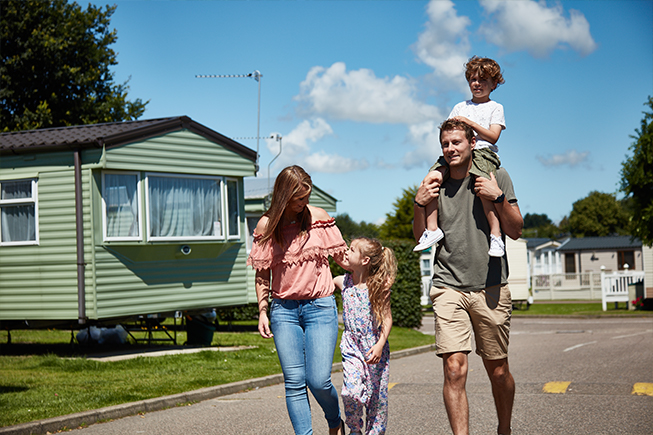 Location: Great Yarmouth, Norfolk
Best for: Gorleston Beach, Great Yarmouth and the Broads National Park
Oh we do like to be beside the seaside! And where better than the much-loved seaside resort of Great Yarmouth in Yorkshire?
A family-friendly resort, it's no wonder holiday makers have been coming back year after year. The town is full of awesome attractions including the brilliant pier, and lots of restaurants to visit. The holiday park is even nearer to the beautiful Gorleston Beach, where you can laze beneath the Norfolk sun to your heart's content.
The Norfolk Broads National Park are also a short drive away and are the perfect place for a family holiday adventure. There are a range of walking trails for all abilities, and you'll discover gentle canals and medieval villages on your stroll through Norfolk. 
The region is one of our favourite holiday destinations, that's why we think you'll love checking out these 9 Unforgettable Holiday Parks in Norfolk.
Facilities: On the other hand, you could easily spend all day at the holiday park, considering how much there is to get stuck into onsite. You'll find an indoor and outdoor heated swimming pool, an adventure playground, and pirate themed crazy golf to keep youngsters happy. There's also an all-weather sports court, wildlife trails, and fantastic kids clubs – so plenty of opportunities for little ones to make new friends on their holidays. After a long day of having fun at the beach in Norfolk, you can put your feet up in one of the park's cosy caravans. Norfolk here we come!
Find out more about Parkdean Resorts Cherry Tree Holiday Park
8. Park Holidays UK Dawlish Sands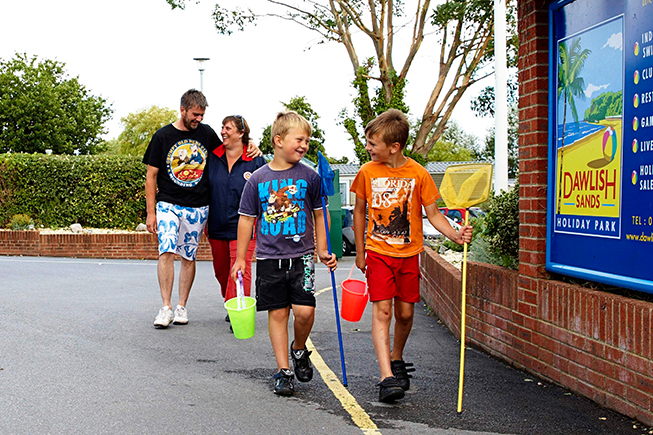 Location: Dawlish, Devon
Best for: Lazy days on Dawlish Warren 
This holiday park is in the perfect location to enjoy the stunning sweeping beach of Dawlish Warren, and is one of the greatest parks in the UK to visit with young kids. You'll have easy access to the beach, but also some peace and quiet at the park itself – and if you fancy trying out some more activities, you also have access to the sister park of Golden Sands.
Dawlish Warren nature reserve definitely demands a visit, and the visitor centre is within easy reach of this family-friendly park.
Facilities: You can play all day at this beachfront holiday park. Have some family fun time at the indoor pool or adventure playground. Of course there's also a family bar with evening entertainment during the peak season. With top notch accommodation, this could be the caravan holiday you've been looking forward to all year.
Find out more about Park Holidays UK Dawlish Sands Holiday Park
9. Parkdean Resorts Hayling Island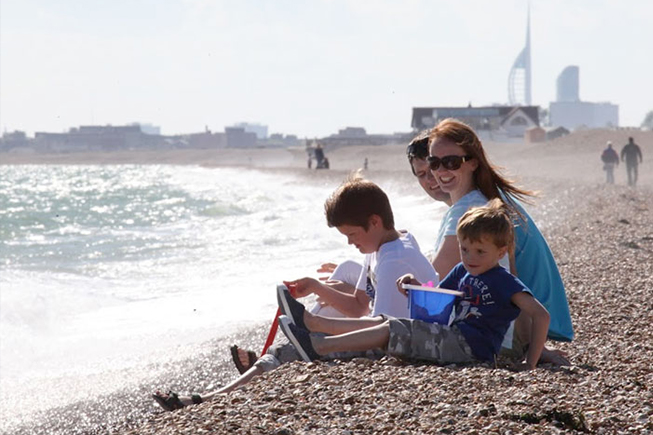 Location: Hayling Island, Hampshire
Best for: Visiting the New Forest
For those looking for some peace and quiet, you can't beat a stay at Hayling Island. Surrounded by lovely beaches and diverse local wildlife, a holiday at this park is a fantastic escape from the hustle and bustle of daily life.
You'll be in a prime spot to take a day trip to the New Forest, where you'll find lots of pleasant walking trails through the Hampshire countryside. Even closer is historic Portsmouth – why not visit the famous Spinnaker Tower and appreciate the awesome views across the harbour from the top. 
Facilities: If you're tired of being the main source of entertainment on holiday, you'll be thrilled by the excellent kids clubs at this fantastic caravan park. On top of that, there's an adventure play area, a soft play area, and a multi-sports court. Come rain or shine you can have fun in the pool – with an indoor and outdoor swimming pool, you'll be able to play Marco Polo to your heart's content.
Find out more about Parkdean Resorts Hayling Island Holiday Park
10. Parkdean Resorts Nodes Point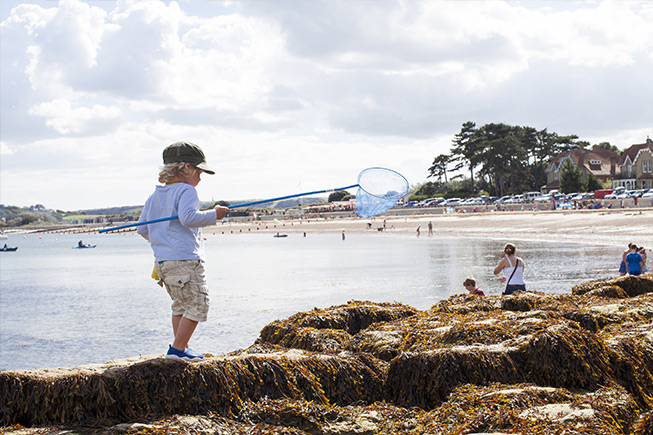 Location: Ryde, Isle of Wight
Best for: Holidays in the UK's 'Sunshine Island'
Ever heard the Isle of Wight being called the 'Sunshine Island' of the UK? That's because it gets some of the finest weather across Britain – making it one of the most appealing holiday destinations out there.
It's not just the weather that puts this amongst the top parks in the UK. With fab onsite activities and plenty of local attractions, a holiday at Nodes Point caravan park is guaranteed to be a crowd-pleaser. If your family loves visiting amusement parks, you'll be excited to hear that Blackgang Chine (the oldest amusement park in the UK) is just a 35 minute drive away, while of course there are truck loads of gorgeous sandy beaches in the nearby area.
Facilities: You'll have a whale of a time at this friendly holiday park – with direct access to a sandy beach there's also an indoor pool with waterslide and adventure play areas. At the end of a long day exploring the island, or simply having fun at the park, you can roll on home to the privacy of your caravan for some restorative sleep. Trust us when we say you'll want to stay forever. 
Find out more about Parkdean Resorts Nodes Point Holiday Park
11. Parkdean Resorts Kessingland Beach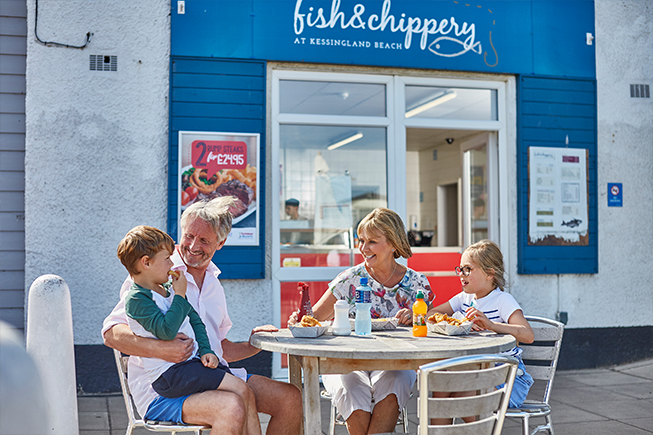 Location: Southwold, Suffolk
Best for: Onsite activities for family fun time
It's been a tricky year for all of us, and we think you deserve a break. That's why we know you'll be over the moon to find a park that really does it all – clubs for the kids, a great soft play area, choice of an outdoor and indoor swimming pool, and even a cheeky spa bath thrown in for good measure.
On top of that you'll have plenty of award-winning nearby beaches to lounge on, including Southwold and Lowestoft, where you'll want to spend a lot of your time – if you can drag yourself away from the range of activities at your park, that is. 
With so much to explore in Suffolk, you'll want to be sure you have the ideal place to stay at. After a long day, you'll be thankful for the choice of self-catering facilities in your caravan and the onsite food & drink venues. So whether you want to relax in your own accommodation, or be looked after by the park staff, you'll be in safe hands on a caravan holiday at Kessingland Beach.
Facilities: Sure, we all love a sandy beach, but with both an outdoor and indoor pool you could make a splash at the park instead! This is one of the top parks for a family holiday with younger kids, as there's a great indoor soft play area, friendly clubs where little 'uns will have endless fun, and awesome entertainment. With a range of caravans and lodges to choose from, you'll be in the perfect place to enjoy a Suffolk adventure. 
Find out more about Parkdean Resorts Kessingland Beach Holiday Park
Even More Holiday Parks To Discover
We don't know about you, but we're already planning what we'll pack for our holiday at one of these fantastic parks. Not sure you've found your perfect resort? Don't worry – with a range of caravan parks on our website there's something for everyone.
If you want to look further afield, we've also brought together the top parks in Wales and Scotland, where you'll be spoilt for choice when it comes to top notch activities and epic landscapes to explore. 
Whether you've got your heart set on the south or north, Breakfree today and treat your family to the holiday they deserve.