Sand beneath your feet? Check. Fresh sea air in your lungs? Check – there's nothing quite like a holiday in good old Blighty.
With so many beautiful beaches, epic landscapes, and award-winning family attractions on our very own doorstep, there's really no need to look further afield when booking your next holiday.
Whether you're looking to treat your family after a tough year, or have some much needed alone time with your special someone, we're sure you'll find the ideal getaway at one of our outstanding holiday parks. To make things easier for you, we've put our expertise to good use and brought together a roundup of the best holiday parks in the UK. Let's break it down for you:
1. Haven Hafan y Mor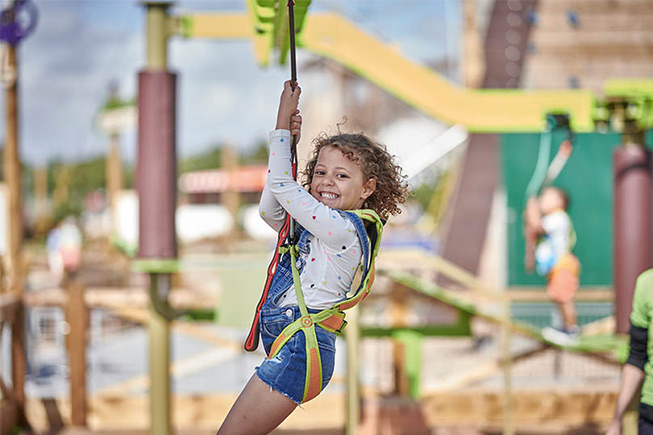 Location: Gwynedd, Wales
Best for: Snowdonia National Park and onsite adventure
This is Haven's biggest park in Britain and has awesome onsite facilities to match. Whether little ones are going wild at the Dragon Lakes Adventure Village, or swinging through the Aerial Adventure Course, you'll watch them grow in confidence with a stay at this Welsh Holiday Park.
The holiday park is also perfect for reconnecting with nature. There are wildlife trails in the surrounding woodland and the park is only a 25 minute drive from Snowdonia National Park. Snowdonia is the gem in the crown of the UK's National Parks and boasts the tallest mountain in Wales.
For even more ideas of what to get up to offsite, we've put together a list of the Top 5 Things To Do in Wales, so you'll never be stumped for ideas. 
Facilities: After a busy day in Wales you can come home to the comfort of your park accommodation. Onsite there's also nine outdoor play areas, a heated indoor pool and waterslide, and a sports court. Chill out on the boating lake or kick back and enjoy some of the spectacular evening entertainment at this top 10 UK holiday park. We'd recommend this friendly park particularly for a family getaway. 
Find out more about Haven Hafan y Mor Holiday Park
2. Haven Perran Sands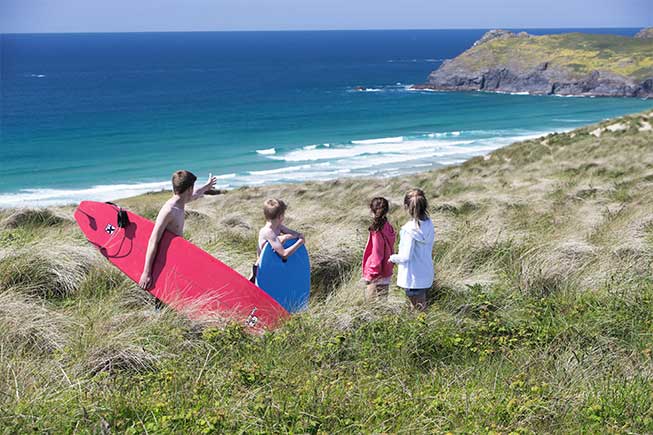 Location: Perranporth, Cornwall
Best for: Surfing lessons and visiting Newquay
Cornwall is home to some of the best holiday parks in the UK and this family-friendly park doesn't let the side down. If you love being by the sea – this is the park to be. The clifftop site is set amongst rolling sand dunes and has easy access to the beaches below. Whether you're looking to relax with your other half or build sand castles with the toddlers, all your seaside dreams will come true at Perran Sands.
If you've always wanted to try your hand at surfing, and can drag yourself away from the park's indoor and outdoor swimming pools, make this the year you finally take the plunge with surfing lessons from the park. You'll be riding gnarly waves in no time.
The holiday park is only an 18 minute drive away from the centre of Newquay, so it couldn't be easier visiting the much-loved seaside resort. Newquay is absolutely packed with things to visit, so if you fancy a break from the beach, why not head to Newquay Zoo or enjoy dinner on the harbourside as you watch the sun set. 
Facilities: Wow, this park really has it all… Enjoy family fun time in the heated indoor swimming pool with flume, or enjoy the sun in the outdoor swimming pool and the lovely Lazy River. Challenge your family to a round of adventure golf or on the sports court. Little ones and toddlers can learn about local wildlife at one of the Nature Rockz activity clubs, and the whole family will love watching the fabulous entertainment. This is guaranteed to be one caravan holiday you'll remember forever.  
Find out more about Haven Perran Sands Holiday Park
3. Park Holidays UK St Osyth 
Location: St Osyth, Essex
Best for: Traditional seaside delights at Clacton-on-Sea
If you haven't heard of Clacton-on-Sea you need to acquaint yourself with this lively seaside resort pronto. The town has been attracting visitors for years and it's no wonder why so many people choose the resort for their family holiday again and again.
This Essex holiday park is just a short drive away from Clacton-on-Sea, meaning you could be holding an ice cream in hand as you stroll down the prom in no time. You'll want to treat the family to fish 'n' chips as you soak up the sun on the beach or the pier.
Facilities: If you want a holiday where you don't have to worry about being the main source of entertainment, this is the holiday park for you. There are kids clubs for children up to 14 years, and youngsters will love making new friends on their holidays. With an adventure playground and direct beach access, St Osyth is perfect for active families looking to get out and about in Essex
Find out more about Park Holidays UK St Osyth Holiday Park
4. Parkdean Resorts Cherry Tree
Location: Gt. Yarmouth, Norfolk
Best for: Visiting Great Yarmouth and Gorleston Beach
With Great Yarmouth and Gorleston Beach nearby, you're spoilt for choice at this Norfolk holiday park when it comes to lounging on golden sands.
Yarmouth is another of Britain's famous holiday resorts, and with miles of gorgeous beaches stretching along the coast, you'll be as happy as can be watching your loved ones frolic in the surf. 
Another bonus is the park's proximity to the Norfolk Broads. The Broads have long been attracting visitors and it's easy to see why. Gentle canals carry narrow boats through pretty villages and by charming countryside pubs. With various walking paths for all abilities, the Broads are a great place to take kids on a holiday jaunt. 
Of course there's plenty other parks in the area to consider, why not see if one of these takes your fancy? If you want to look in the region more generally, have a look at these 9 Best Holiday Parks in Norfolk. 
Facilities: There's fun for all the family at this friendly holiday park. Whether they're enjoying the activities at the kids club or letting loose in the adventure playground, you'll watch your littles ones grow and learn on this caravan holiday. There are heated indoor and outdoor swimming pools, a multi sports court, and pirate-themed crazy golf to enjoy. With plenty of holiday homes to choose from, you're sure to find the perfect static caravans or luxury lodges to suit your family and your budget. 
Find out more about Parkdean Resorts Cherry Tree Holiday Park
5. Haven Allhallows
 
Location: Allhallows-on-Sea, Kent
Best for: Visiting 'the garden of England'
This great site has to be included amongst the top 10 holiday parks in the UK, not just because of the consistently great reviews it gets, but because of the fantastic family-friendly attractions in the local area.
Kent has long been known as 'the garden of england' because of the many hop farms and bountiful orchards that make up this lush countryside. As well as great farms where you can take toddlers to visit animals, the park is also close to Diggerland. If you haven any little ones obsessed with trucks and tractors (or just want to try it out yourself), you need to check out this superb adventure park where children and adults can drive real working diggers.
Facilities: On top of the great outdoor swimming you're sure to enjoy at the local beaches, there are heated indoor and outdoor swimming pools at this UK park. With day and evening entertainment, a disco and Nature Rockz activities, you could easily spend all week at the site. If you feel that you need a break from the hustle and bustle of city life, this 'garden of England' site is amongst the top 10 holiday parks in the UK for you.
Find out more about Haven Allhallows Holiday Park
6. Park Holidays UK Tarka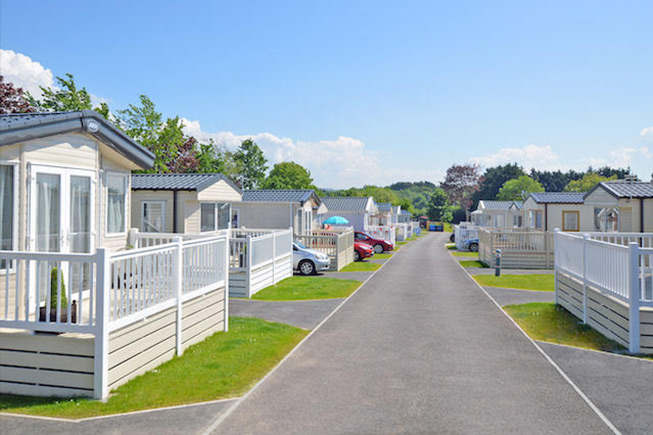 Location: Barnstaple, Devon
Best for: Enjoying the great outdoors
Time for something a little different – this caravan park gets rave reviews and is one of our top 10 holiday parks in the UK, yet you won't find any of the usual entertainment facilities at this site.
Yes you heard that right, no clubhouse, swimming pools, or soft play area. That's because enjoying the great outdoors is what this Devon caravan park is all about. You can be sure to have a super comfortable stay however – the static caravans are looked after by the friendly park team and you couldn't ask for a more comfortable holiday home in Devon. 
The caravan park is in the perfect area to explore North Devon and discover more about the local wildlife. Whether you're walking across the golden sands of Croyde, Saunton or Woolacombe Beach, or rambling through the surrounding countryside, this is the holiday park for you.
Facilities: We'd recommend this park for couples who are looking to reconnect with nature and spend some undisturbed quality time together. Without a swimming pool, soft play area or golf course, you won't have any distractions to get between you and having one of the most relaxing holidays in Britain. 
Find out more about Park Holidays UK Tarka Holiday Park
7. Park Holidays UK Sandhills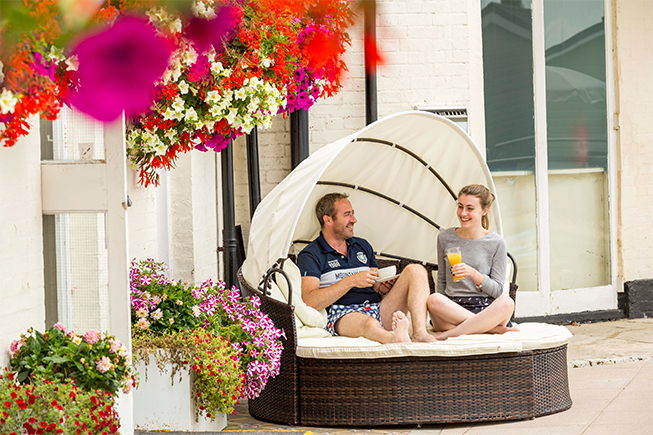 Location: Christchurch, Dorset
Best for: Escaping the everyday hustle and bustle and exploring the Jurassic Coast
We think you'll be wowed by this Dorset holiday park – we know we were. The focal part of this park is a grand house, which overlooks an outdoor swimming pool, and is the perfect backdrop for a traditional British holiday. The park's caravans are nestled amongst trees, giving the site a lovely secluded feel. 
The park is right on the award-winning Christchurch beach, and looks out over Dorset's sparkling turquoise sea. Further west you'll find the world-famous Jurassic Coast and evidence of the dinosaurs that used to roam Britain's beaches millions of years ago. Though you could spend the whole week onsite if you wanted to, this is one of the top 10 family holiday parks in the UK if you're looking for the perfect base from which to discover all that Dorset has to offer. 
For even more inspiration why not take a look at the 7 Best Holiday Parks in Dorset?
Facilities: From sea to site, you'll love whiling away an afternoon in the heated outdoor pool. The site has direct beach access and a family bar, while the town is full of fantastic restaurants to dine out at. 
Find out more about Park Holidays UK Sandhills Holiday Park
8. Haven Burnham-on-Sea Holiday Park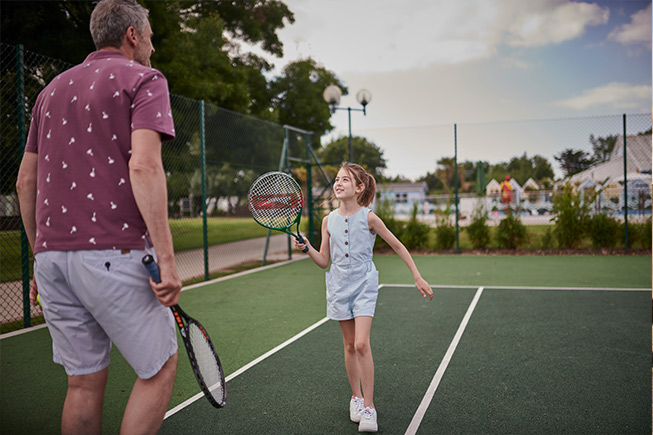 Location: Burnham-on-Sea, Somerset
Best for: Enjoying the seaside at Burnham-on-Sea and visiting Wookey Hole
If there's one thing Britain does well, it's seaside resorts. If you've been looking forward to a UK holiday, chances are you've been dreaming of ice cream, great food and awesome beaches. Well Burnham-on-Sea in Somerset has it all.
Nearby the holiday park, you'll find the atmospheric Wookey Hole Caves. A Site of Special Scientific Interest, this family-friendly attraction at the southern edge of the mendip hills runs events throughout the year. Whether you're going on a spooky halloween tour, or simply escaping the heat over summer, it's sure to be a hit with children and adults alike.
The area is chock full of things to see and do for all the family. We'd recommend taking a look at these Top 5 Things To Do in Dorset, Somerset and Hampshire before you go. 
Facilities: Love swimming pools? You'll love this Somerset park. With a heated indoor pool and outdoor pool during the warmer months, you can swim to your heart's desire. There's crazy golf, fishing lakes and day & evening entertainment so you'll never have a dull moment at this holiday park.
Find out more about Haven Burnham-on-Sea Holiday Park
9. Parkdean Resorts Camber Sands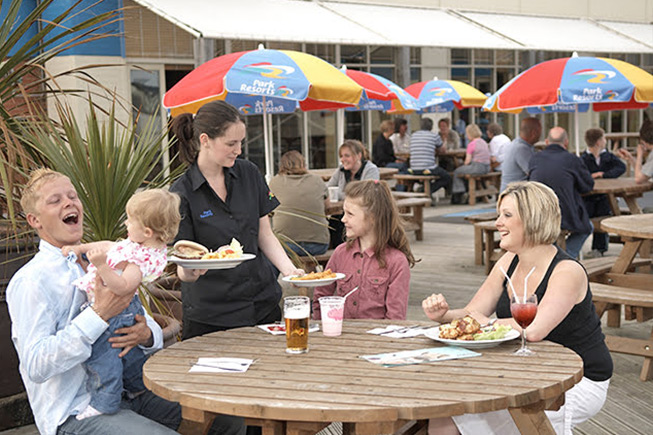 Location: Camber, East Sussex
Best for: Holiday romps on a Blue Flag beach
With a whopping seven miles of award-winning Blue Flag beach on your doorstep, this Sussex site deserves its place in the top 10 holiday parks in the UK, even on location alone.
Camber Sands is a well loved beach, and known for its golden dunes and crystal sea where you can have one of the most refreshing dips of your life. Back on land, the fun doesn't have to stop – this friendly holiday park has not just one indoor swimming pool, but an impressive four! Oh and did we mention the flume? Shhh… don't tell the kids…
Facilities: If you've got your heart set on a choice of indoor and outdoor swimming pools, you'll be glad to hear that as well as the indoor swimming pool, there's an outdoor wet play area, so you can really enjoy that Sussex sun. If it's hiding away, there's always the indoor soft play area for toddlers, kids club, and family-friendly headliners at the entertainment venue every night. The park has a range of accommodation and whether you're staying in a classic caravan or luxury lodge, this is hands down one of the best UK caravan parks for a family. 
Find out more about Parkdean Resorts Camber Sands Holiday Park
10. Haven Reighton Sands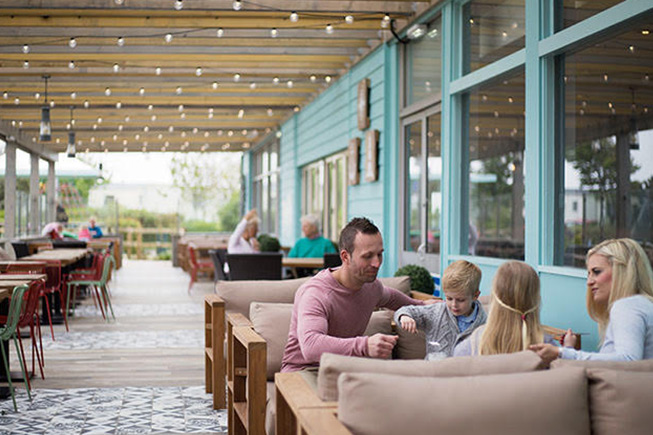 Location: Nr. Filey, North Yorkshire
Best for: Yorkshire's coast and RSPB reserve Bempton Cliffs
Know any avid bird watchers? Or even if you just have a couple of toddlers who love spotting wildlife, you'll want to visit the wonderful RSPB Bempton Cliffs reserve which neighbours this Yorkshire park.
If bird spotting isn't your jam, there's also the beautiful sandy beach below the site to lounge on. Though the path down is quite steep there's always the tractor train to get you there – making this one of the top 10 holidays parks in the UK for families with little ones who want to avoid a trek to the nearest beach.
Facilities: You'll find plenty to keep the whole family occupied at this friendly Yorkshire holiday park including an indoor swimming pool, outdoor lazy river and crazy golf. There are plenty of play areas and activities for toddlers and kids to make new friends at, while the park's entertainment shows are not to be missed. There are great caravans to choose from, and the park also has plenty of touring pitches for a comfortable stay in your own mobile home.
FInd out more about Haven Reighton Sands Holiday Park
11. Parkdean Resorts Nodes Point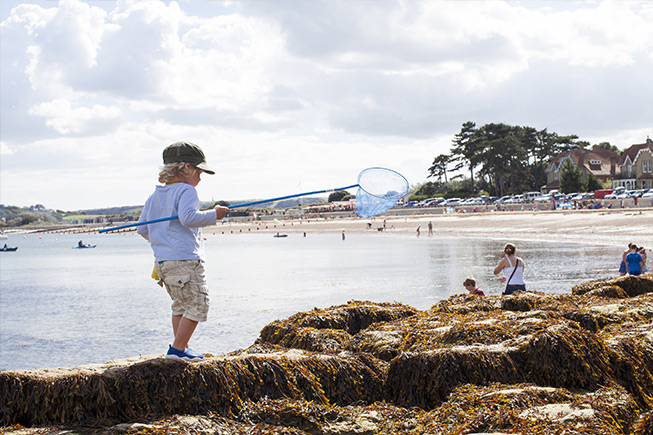 Location: Ryde, Isle of Wight
Best for: Visiting the UK's 'Sunshine Isle'
With some of the best weather in the UK, the Isle of Wight totally deserves its title as Britain's 'Sunshine Isle'. That may have something to do with why so many people visit on their holiday, but what keeps them coming back again and again are the island's sterling holiday parks.
As well as being close to the great beaches, theme parks, and family attractions of the Isle of Wight, this top caravan park has a ton to get stuck into onsite and has earned its spot amongst the top resorts in England. 
Facilities: You'll have a whale of a time at this friendly holiday park, whether you're having some family fun time in an indoor swimming pool (including a flume!) or watching kids and toddlers make friends at the adventure playground. With outstanding touring and camping pitches, you'll be sure to have a relaxing stay no matter what your chosen accommodation. 
Find out more about Parkdean Resorts Nodes Point Holiday Park
12. Haven Marton Mere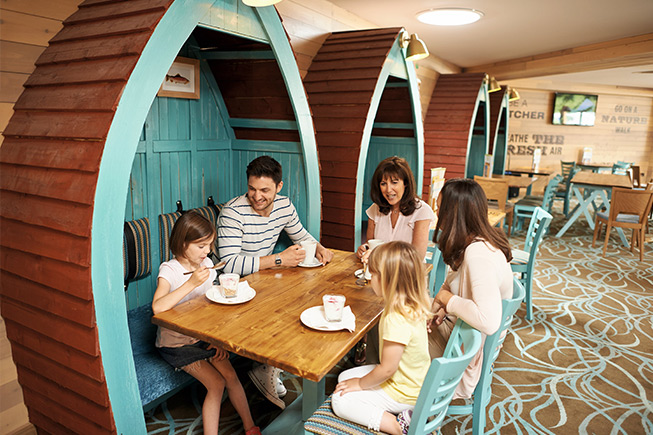 Location: Blackpool, Lancashire
Best for: Visiting Blackpool from a tranquil base
It's hard to think of somewhere that epitomises seaside fun more than Blackpool, which has to be the UK's most iconic holiday resort. 
This kids-friendly holiday park is the perfect place to stay if you want to enjoy the bright lights and attractions at Blackpool (which is only a short drive from the site), but have a peaceful and relaxing base to recharge at. The surrounding area is very tranquil, and there's even a neighbouring nature reserve by the caravan park. 
Facilities: Once you've enjoyed the delights of Blackpool Pleasure Beach, head on back to the fab indoor and outdoor swimming pool complex. The indoor swimming pool is perfect for any shady days, while kids will go mad over the outdoor Splash Zone and Space Bowl flume. There are great activities and entertainment onsite, including Nature Rocks clubs for kids and headlining shows. With various pitches for your caravan, this is one stop you definitely need to make on your next touring holiday.
Find out more about Haven Marton Mere Holiday Park
Still Looking For Your Next Holiday Park?
Don't just take our word for it, why not have a look at the great reviews that these British holiday parks receive on the regular? 
As well as the top notch facilities and activities that these parks run, the friendly staff and superb locations keep our holidaymakers returning year after year. With so many award-winning beaches along the UK's lovely coastline, there's really no need to take your family overseas for a restoring beach holiday. 
Of course there are always plenty of other UK parks to choose from, whether you're looking to book a romantic retreat or find a park perfect for toddlers and kids. You can take a look at our website for our full range of holiday parks, or let us do the groundwork for you. We've many more guides to the best sites in Scotland, Wales and England, so finding your next holiday park couldn't be easier. When finding your next holiday is so simple, what's there to hold you back?