It can be tricky getting the balance right on a family holiday sometimes – too relaxing a time and you run the risk of kids getting bored. Not enough chilling out and you might end up feeling frazzled yourself.
That's the beauty of staying in a holiday park. With sites across stunning locations – by the sea or in peaceful woodland settings – there's also plenty to do onsite to keep kids occupied. Of course we have lots of fantastic resorts to choose from, so to make things even easier for you, here's our roundup of the UK's 12 best holiday parks for kids. Did somebody say 'bucket and spade'?:
1. Haven Hafan y Mor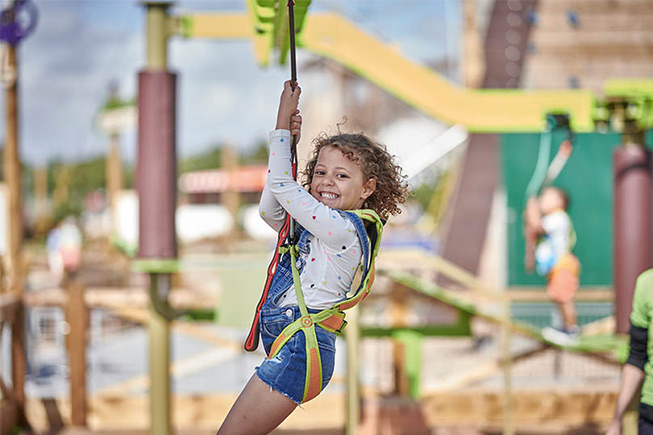 Location: Gwynedd, Wales
Best for: Onsite fun and visiting Snowdonia National Park
There are plenty of reasons why Hafan y Mor is one of the best holiday parks for kids. In fact it's one of the best holiday parks full stop – being Haven's largest and also located in stunning North Wales, which is a much-loved destination across the country. 
Onsite there is tons to see and do at this caravan park, including the epic Dragon Lakes Adventure Village where you'll see little ones grow in confidence and make new holiday friends. 
The holiday park is just a short drive away from Snowdonia National Park, which is the perfect place to take kids to experience the great outdoors. A charming train ascends Mount Snowdon (the largest mountain in Wales), so it couldn't be easier to appreciate the breathtaking views from the summit – even by those with little toddler legs!
Like the sound of a holiday park in North Wales? Check out where else you can choose from here.
Facilities: Where to start! There are a whopping nine play areas, nine food & drink venues, and two entertainment venues. On top of that there are adventure trails, an aerial adventure course, and the Dragon Lakes Adventure Village (so perfect for an outdoor adventure holiday really). Scale the climbing wall or chill out on the serene boating lake. There's always the indoor SportsDrome for when the sun is hiding and a heated indoor pool with a waterslide. Whether you're taking a toddler or a teenager, this holiday park has fun for all the family. 
2. Parkdean Resorts Lizard Point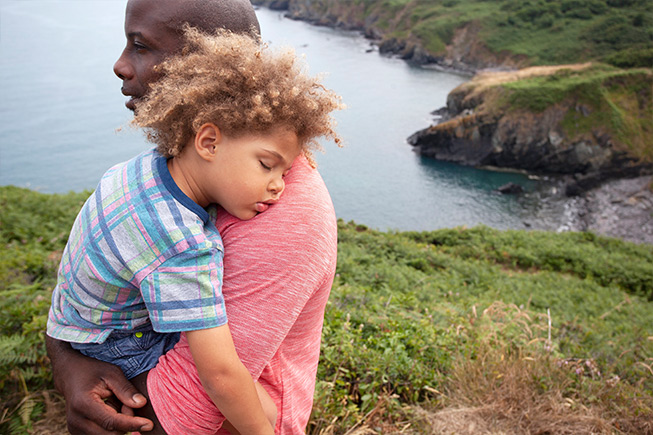 Location: Nr. Helston, Cornwall
Best for: Cornwall's Blue Flag beaches 
Looking for your ideal beach holiday? Cornwall is chocablock with award-winning beaches, and this holiday park is the ideal base to explore them from. Just a 10 minute drive to a Blue Flag beach, kids will have a blast building castles and you'll be feeling the sand between your toes in no time. 
As the name suggests, this child-friendly holiday park is just a hop, skip and a jump from the stunning coastline of the Lizard Peninsula. Little ones will love strolling through this Area of Outstanding Natural Beauty as you breathe in the fresh sea air. 
If you want some advice on where else to take the kids, we've put together a list of the top 5 things to do in the region.
After a busy day at the beach, the whole family can relax in the comfort of a top quality holiday home at this welcoming park. Race you there!
Facilities: For days on site when you don't want to be the main source of entertainment, the holiday park runs great kids clubs for youngsters up to the age of 15. It's a great place to get active, with a multi-sports court and adventure play area. Of course there's also an indoor and outdoor pool and a Crazy Caves indoor soft play area. Challenge your family to a round of crazy golf before catching some of the spectacular evening entertainment. With plenty of accommodation options to suit every family, start looking forward to the holiday of a lifetime today.  
3. Haven Wild Duck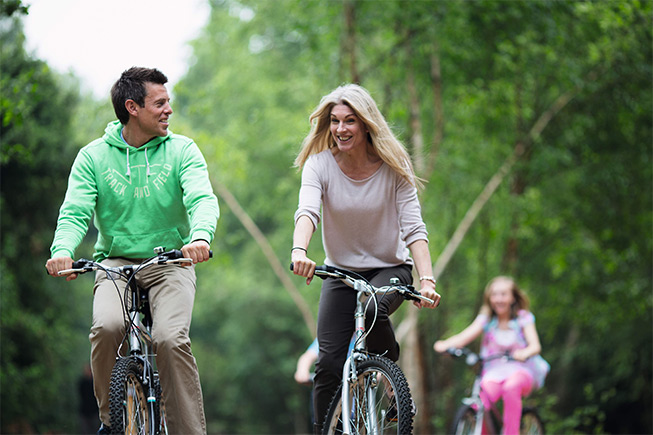 Location: Nr. Great Yarmouth, Norfolk
Best for: Getting back to nature in a secluded woodland setting 
We all know there's no age limit to enjoying a day by the seaside and, with its proximity to Great Yarmouth, this child friendly holiday park is perfect for kids and adults alike. Watch your toddler race on golden sands or take bigger kids for donkey rides along the beach before enjoying some outdoor swimming under the warm Norfolk sun.
There are plenty of activities to keep little ones entertained onsite, of course. This is one of the best holiday parks for kids because, although there are tons of events and clubs to get stuck into, the site is nestled amongst tranquil forest so perfect for providing space to wind down as well. 
Facilities: Whatever the weather, take a splash at the caravan park in the heated indoor and outdoor swimming pools. There is a child friendly sports court, amusement arcade, and crazy golf. Your toddler or little ones will love the Nature Rockz activities, where kids can learn about the local wildlife. There will be dishes to please the whole family at the park's food venues, leaving you free to watch some top notch child-friendly evening entertainment. 
4. Haven Primrose Valley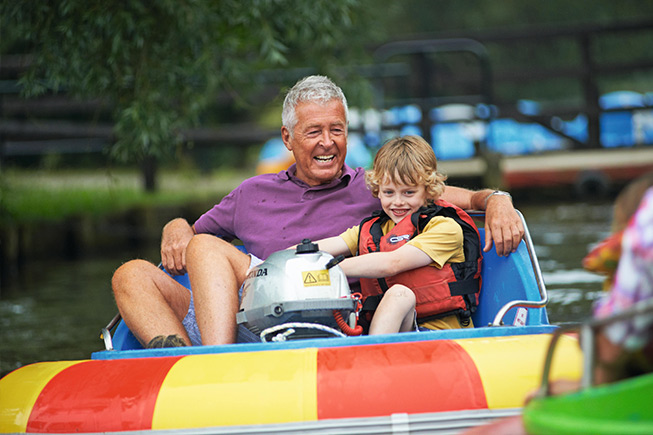 Location: Nr. Filey, Yorkshire
Best for: Direct beach access and onsite fishing lakes
The Yorkshire Moors National Park is world famous, but perhaps less well-known (but equally beautiful) are the sweeping sandy beaches that line the region's coast. This is a fantastic holiday park for families with kids who love the sea, as the site has direct beach access. The path is fairly steep down to the sands, but it's well worth it. If you're looking for a toddler friendly holiday resort, the nearby towns of Filey, Scarborough and Bridlington are only a short drive away from Primrose Valley holiday park.
Though the beach may be calling your name, you could easily spend all week making the most of the onsite facilities. The holiday park is great for extended families – as well as the aerial adventure course and climbing wall, there's also a fishing lake and bowling green for those who prefer more peaceful activities.
Facilities: Every toddler and teenager alike will love the choice of not only two indoor heated swimming pools with slides and fountains, but an outdoor heated pool as well. With a crazy golf course, multi-sports court and several play areas, there'll never be a dull moment on your family holiday. After a busy day, you can dine out at one of the restaurants and catch some park entertainment, or make use of the self-catering facilities in your caravan and chill out in the comfort of your holiday home. 
5. Haven Craig Tara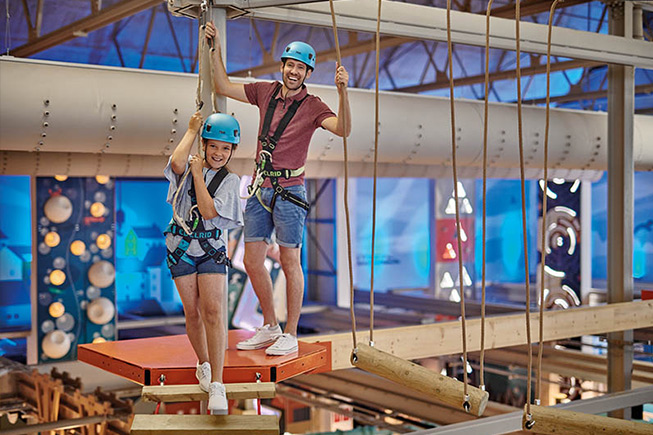 Location: Ayrshire, Scotland
Best for: Visiting the Scottish coast
Not quite as big as Haven's Hafan y Mor holiday park in Wales, but close to it, Craig Tara is one of the top 10 UK holiday parks out there, and it's easy to see why.
The charming seaside town of Ayr is only a 10 minute drive from the caravan park and kids will love exploring its historic streets as they enjoy an ice cream or two. There is also direct beach access from the park, so your toddler can enjoy paddles in the sea as much as their little heart desires on your family holiday.
Get creative with your toddler in the Play Village, or watch little ones light up as they have a whale of a time at the Lighthouse Adventure Village – just remember your camera!
This nation as a whole is awesome to visit, and we had plenty of great parks to choose from when putting together this list of the 9 Best Holiday Parks in Scotland.
Facilities: SplashAway Bay is the park's large indoor heated multi-level swimming pool complex, that has to be seen to be believed. Active kids will love the Airspace indoor SportsDrome, Captain's Crazy Golf and The Crazy Climber (climbing wall). There are an impressive six food and drink venues, two entertainment venues, five outdoor play areas and an amusement arcade at this family-friendly caravan park. 
6. Parkdean Resorts Romney Sands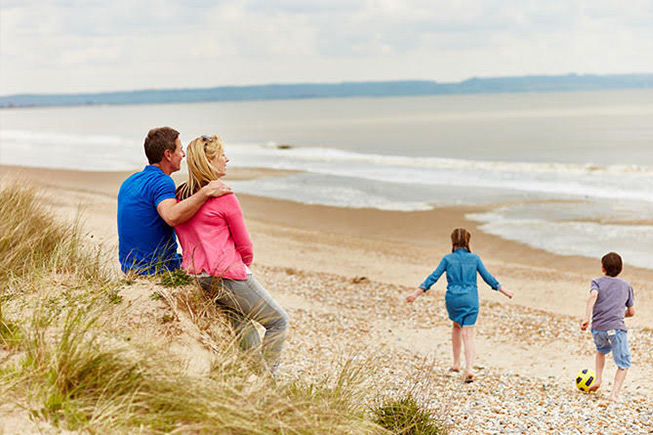 Location: Dymchurch, Kent
Best for: Walks through Greatstone Dunes and RSPB Dungeness
If you have any little nature-lovers in your group, why not take them on a trip to the RSPB Nature Reserve in Dungeness? They'll love spotting incredible birds and wildlife in this protected area, or the nearby Greatstone Dunes, where wildflowers grow amongst the rolling sands. 
This is one of the best family-friendly holiday parks because of the great kids clubs on offer. Running up to the age of 10, your toddler or youngster will love making friends on their caravan holiday while you can have a breather from being the main source of entertainment. 
Facilities: As well as the day clubs there is evening entertainment and an amusement arcade at this friendly caravan park. Kids can get active in the adventure play area, multi-sports court and indoor swimming pool, or try their hand at the mini-golf course. There are great family-friendly food venues onsite or you can make the most of your own self-catering facilities.
7. Park Holidays St Osyth Beach
Location: St Osyth, Essex
Best for: Seaside delights at Clacton-on-Sea
Whether you're looking to splash out on a luxury caravan, or go for a more pocket-friendly holiday home, you're sure to find your perfect accommodation at this park. Only a short journey from the popular holiday resort of Clacton-on-Sea, it's one of the best parks in the UK for kids who love the traditional seaside experience
Facilities: You could easily spend all week onsite at this child-friendly holiday park – if you fancied! With kids clubs up to the age of 14 years, the park caters for youngsters of all ages, whether they're a toddler or teenager. There's a heated indoor swimming pool with a flume, an adventure playground and sports pitch, amongst many other brilliant facilities. 
8. Haven Cala Gran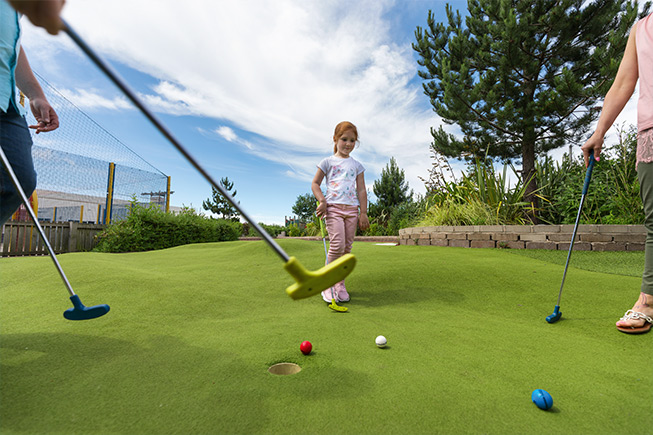 Location: Fleetwood, Lancashire
Best for: Lively Blackpool and the calm Wyre Estuary Country Park
This is hands down one of the best child-friendly holiday parks in the UK for families who like to mix thrilling fun with relaxing enjoyment on their getaway.
The holiday park is only a few miles from Blackpool, famous for its bright lights and spectacular pleasure beach, but you'll find it nestled on the edge of the Lancashire countryside near the beautiful Wyre Estuary Country Park. 
Facilities: When you've had your fill of the sparkling sea, head to the indoor and outdoor pool areas. There is a heated indoor pool, jacuzzi and ginormous slide, as well as an outdoor Splash Zone for little ones. Chill out in the sauna and steam room or get active on the adventure golf course. There are three outdoor play areas, many a pool table, and Nature Rockz activities. With something for all the family, you'll be sure to have a harmonious holiday at this child-friendly park.
9. Park Holidays UK Broadland Sands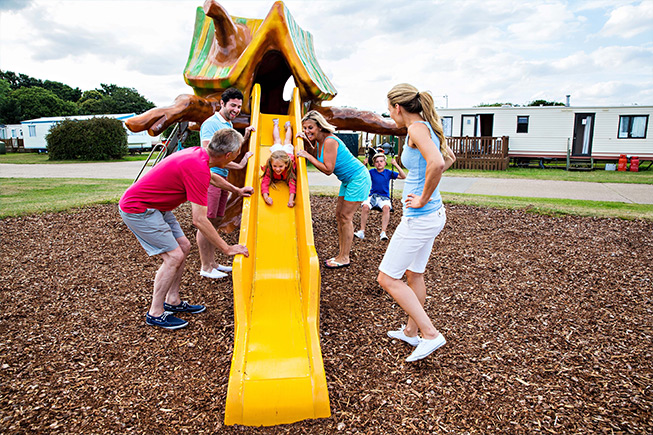 Location: Nr. Lowestoft, Suffolk
Best for: Lowestoft and onsite family friendly fun 
Lowestoft beach is a gorgeous place for little ones to frolic in the Suffolk waves and breathe in fresh sea air. This child-friendly holiday park is the perfect base from which to explore the stunning coastline of Suffolk and to finally have that seaside holiday you've been dreaming of.
Back at home, the range of great things to see and do onsite make this one of the best holiday parks in the UK for kids. Particular mention has to go to the dinosaur-themed adventure golf, which is sure to please all the family, especially little dino obsessives. 
Facilities: As well as Dino Adventure Golf, there is an outdoor play area, climbing wall and friendly clubs for kids up to 14 years. The indoor swimming pool and flume is sure to go down a storm, as will the evening entertainment that runs seven nights a week.
10. Haven Rockley Park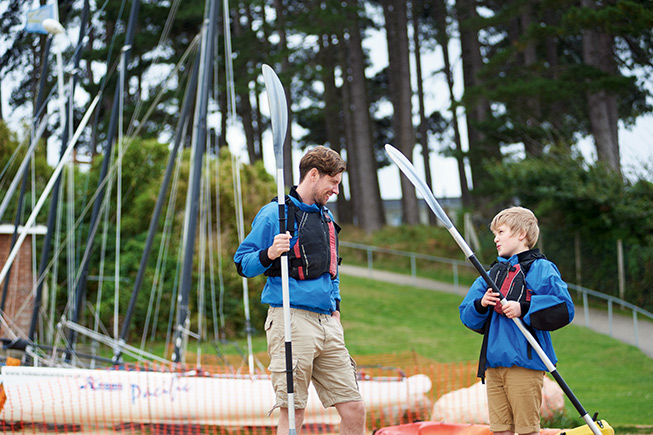 Location: Nr. Poole, Dorset
Best for: Direct beach access in easy reach of Poole
This child-friendly holiday park was simply made for waterbabies. The tranquil park leads onto a sheltered beach, perfect territory for a toddler to have a go at burying big sis in the sand. 
The neighbouring nature reserve is well worth a visit, and kids can have an outdoor adventure as they spot dragonflies and newts. 
Of course there's plenty to do for kids at the holiday park, most importantly spending lots of time in the heated indoor swimming  pool with mini Splash Zone or the heated outdoor pool with flume that connects the indoor and outdoor swimming pool together. 
Facilities: As well as the excellent swimming pool options, there's also crazy golf, three outdoor play areas and a sports court for a little family run-around time. Kids will love the choice of food & drink venues and you and your toddler can create holiday mementos at the Pic 'n' Paint Pottery Studio. 
11. Parkdean Resorts Trecco Bay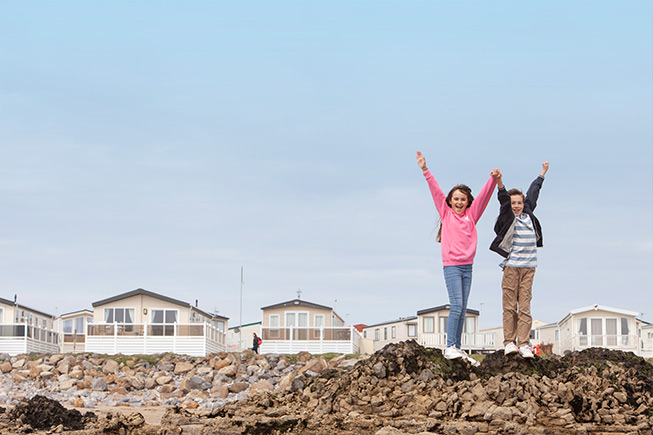 Location: Porthcawl, Mid Glamorgan
Best for: Exploring the Glamorgan Heritage Coastline
We told you Wales is great for kids-friendly holiday parks! This lovely park in South Wales really has it all.
Just on the edge of a Blue-Flag beach, Trecco Bay has excellent access to the Glamorgan Heritage Coastline, which won't fail to take your breath away (in the good way! Of course…) 
One of the largest holiday parks in the UK, your toddler will learn new social skills at the Star Tots club, and older kids will have a blast making new holiday friends. 
For more options, take a look at our round up of the 5 Best Holiday Parks in Wales.
Facilities: Yet another park with an amazing indoor and outdoor swimming pool complex – there is a pirate-themed indoor pool with waterslide and chutes and an outdoor splash zone with water guns and spouts. The outdoor play area is great for kids who love a little adventure, while the indoor soft play space is perfect for your toddler. 
12. Haven Devon Cliffs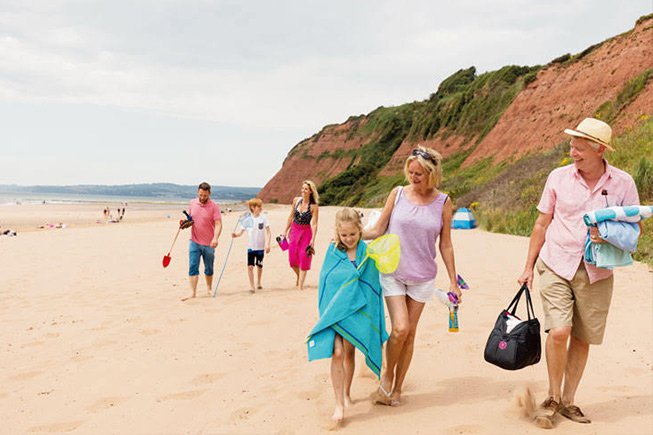 Location: Exmouth, Devon
Best for: Visiting South Devon and local sandy beaches
There's a reason why so many families pick a holiday park in Devon for their getaway destination year after year. With an incredible amount of lovely sandy beaches to choose from, and awesome local attractions, you'll be treating your kids to a holiday they'll remember forever. 
This holiday park is really the ideal base for your Devon adventure. With direct access to a beautiful beach, and a South Beach Cafe Terrace to recharge on, there's no reason why you shouldn't already be looking forward to being there yourself.
If you're looking for a specific location in Devon, why not check out our list of the 8 Best Holiday Parks in Devon?
Facilities: Kids will be deliriously happy when they hear about the awesome facilities at this holiday park. Devon is great for beaches, but this holiday park is simply fantastic for swimming pools. There's an indoor and outdoor pool complex, topped off with multi-lane waterslides and a flume. From a climbing wall to many a pool table, this family friendly holiday park really has it all.  
Want more holiday park inspiration?
Ok, so we think this list is pretty stellar – but everyone has different holiday needs, right? If you haven't quite found what you've been looking for, we'd recommend checking out our website for our full range of exciting UK caravan parks.
Whether you're thinking of a holiday for all the family, or a cosy couple's retreat, we've got you covered. All you need to do is remember the suncream (though you'll probably be able to pick some up in the park's shop if you don't!)