Forget Paris or Milan, trendy Tenby is where it's at. Luckily for us that simply means popping over to Pembrokeshire for an unbeatable getaway this 2021. 
With amazing Blue Flag beaches, independent restaurants, and plenty of historical gems to boot, lively Tenby also has its share of peace and tranquility – aka the ideal place for a family bonanza or a romantic couple's retreat.
Whether you're looking for a park with a view across the sea, thrilling pool complex, or proximity to walking trails through the National Park, you'll find it in Tenby. Don't get bogged down on your search for the right holiday park, we've read the reviews and sifted through the most important details to bring you the 3 top holiday parks in Tenby. Now all you need to do is pack those flip-flops!
Also check out:

1. Haven Lydstep Beach
Location: Tenby, Pembrokeshire
Best for: Friendly atmosphere and onsite water-sports
This fantastic holiday park in Tenby gets consistently rave reviews, and we're not surprised. Described as an 'intimate and close-knit' park, you'll be well looked after by the friendly park rangers.
Though there aren't traditional kids clubs at this caravan site, the park rangers will teach youngsters about the local wildlife and help to create a magical atmosphere by running activities to explore the rock pools or taking them on a treasure trail.
The site itself is set out over a lovely private bay, and gently slopes down the hill – so there's stunning views over the sea and the award-winning Blue Flag beach from the park. We're sure you'll want to spend a good chunk of time down on the beach, but for something a little different, why not take out one of the park's sea kayaks? 
Of course there's plenty to explore around Tenby itself, but with holiday parks as good as these, you'll have plenty to keep you occupied just a stone's throw from your own front door. If the sound of water sports floats your boat, take a look at these 9 Amazing Parks in Devon and Cornwall too. 
Facilities: If the sun is being a little shy in Tenby, you'll still be able to have lots of fun in the water at the park's indoor swimming pool. On top of that there are tennis courts, an outdoor play area, and family-friendly evening entertainment. Guests can relax on the sun terrace, cocktail in hand, and appreciate the great view over the sparkling sea below. Celctic Haven Spa is very close to the site, and we reckon this is the perfect park for a romantic retreat, as well as for family holidays. From cosy caravans to luxury lodges, we're sure you'll find the perfect accommodation on the Pembrokeshire coast when you stay at this park.
Find out more about Haven Lydstep Beach Holiday Park

2. Haven Kiln Park
Location: Tenby, Pembrokeshire
Best for: Walks along the Pembrokeshire Coast National Park
This Pembrokeshire holiday park is on a flat coastal plain, so is perfect for little kids to walk around. It's also right in the middle of the Pembrokeshire Coast National Park, and is a great base from which to explore the beautiful coastline of West Wales. 
The Blue Flag Tenby South Beach runs right beside the site, and the trendy town of Tenby itself is only a 15 minute walk away along the beach – ideal for visiting with little kids, or having a romantic stroll as you head into Tenby for a lovely dinner at one of the many independent restaurants. Or how about an early morning walk into town for breakfast? We're starting to get jealous…
As well as being close to outstanding beaches, there's plenty to get stuck into at this highly reviewed park, including activities like crazy golf and Nature Rockz clubs. 
Facilities: With glorious Blue Flag beaches close at hand, what more could you want? Fantastic activities – that's what! Well wait until you see this awesome park in Tenby. Challenge your family on the sports field, to a round of crazy golf, or a spot of indoor bowling. If the sun is hiding away, go wild in the indoor swimming pool, and enjoy the outdoor swimming pool when the weather heats up again. There's even an outdoor SplashZone which kids will love. There are great restaurants in Tenby along the beach, but this Pembrokeshire holiday park has an impressive 4 food & drink venues, so you'll have plenty of choice if you stay onsite too. Of course you'll have a choice of caravans and lodge accommodation, but there are also top notch touring & camping pitches if you want to appreciate the great outdoors on your next holiday.
Find out more about Haven Kiln Park Holiday Park

3. Haven Penally Court
Location: Tenby, Pembrokeshire
Best for: A restorative break near Tenby
This is the sister site to Kiln Park and though it doesn't have some of the usual venues and activities that you might expect on a caravan holiday, guests are free to use those at Kiln Park when they please. 
This means you can really have your cake and eat it when you stay at this friendly holiday park in Tenby – not only are there great facilities at Kiln Park, it means Penally Court is that bit more peaceful and tranquil. It's also just a 15 stroll from Tenby centre, where you'll find plenty to keep you occupied. We'd recommend a visit to the historic Tudor Merchant's House, and definitely making time for an ice cream or two on the beachfront.
Did you know that one of Wale's holy islands is just off the shore from Tenby? A short boat trip from Tenby Harbour will bring you to Caldey Island, home to Cicstercian monks. The beautiful Pembrokeshire island is also dog-friendly, so even your pup can enjoy the trip. If you're looking for pet-friendly holiday inspo, why not have a peek at these 6 Top Holiday Parks for Dogs?
Facilities: There are free taxis to Kiln Park from 5pm, where guests can make the most of the swimming pool and entertainment. Kids will love making new friends at the play area on their family holiday, and whether you eat at Kiln Park or in hip Tenby, you'll be in the perfect spot to appreciate some of the best food Wales has to offer. If you value having luxurious accommodation on holiday, you could splash out on a luxury lodge, or save your cash for some extra treats and opt for a classic caravan instead. 
Find out more about Haven Penally Court Holiday Park
Are There Other Parks Near Tenby?
Yes! Though we think these holiday parks in Tenby are pretty cracking, Wales is full of great places to stay. If you want to be able to visit Tenby, but are looking for some more options, check out these parks just down the coast in South Wales:

1. Parkdean Resorts Carmarthen Bay
Location: Carmarthen, Carmarthenshire
Best for: Visiting Kidwelly Castle and walks on the beach
This family-friendly holiday park is nestled on the opposite side of Carmarthen Bay to Tenby, and only an hour drive away – so it couldn't be easier to pop over to Pembrokeshire and enjoy the National Park, while still being in a fab location from which to explore South Wales and Cardiff.
The caravan park is also ideally located for a trip to Kidwelly Castle. One of the best-preserved castles in Wales, adults and children alike will love being immersed amongst medieval dungeons and towers.
Back at the holiday park, you'll be well looked after by the brilliant staff. So if you're looking for a fab South Wales park on the beach, do you need to search much further?
Facilities: There's loads to see and do at this South Wales caravan park, including awesome kids clubs that run up to 15 years. There's an indoor pool with a flume and entertainment for all the family in the showbar. If you're looking for accommodation with space for a large group, there are 3 & 4 room caravans that sleep up to 8 people. With fully equipped kitchens, you can have a peaceful breakfast at home before exploring the surrounding area.
Find out more about Parkdean Resorts Carmarthen Bay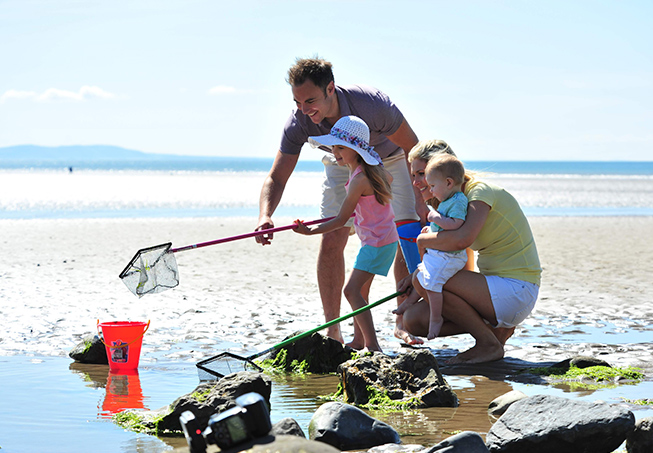 2. Parkdean Resorts Pendine Sands
Location: Nr. Carmarthen, Carmarthenshire
Best for: Fishing and horse riding
With sea and lake fishing near the site, and local horse riding stables, you can make family memories to cherish forever on a holiday to this lovely caravan park.
Pendine Sands is a great getaway for those who value having fun as a family and also getting in some well-deserved 'me time' – with awesome day clubs running from tots to teenagers, you won't have to worry about being the main source of entertainment all holiday. 
There's plenty to see and do in this beautiful part of Wales, and with Pembrokeshire only across the bay it couldn't be easier to pop over to West Wales and back. Like the sound of seaside fun? You'll love the view from these 9 Fab Caravan Parks in Great Yarmouth.
Facilities: With all the outstanding walking trails and beaches in Pembrokeshire, you'll always having your comfortable accommodation to come home to. Whether you want to have a quick snooze in your room before dinner, or jump straight in the indoor swimming pool, end the day right with a delicious meal at The Sands Restaurant & Showbar. With the park's lodges and caravans just a hop, skip, and a jump away, you can practically roll back to your holiday home.
Find out more about Parkdean Resorts Pendine Sands Holiday Park
Still Looking For The Ideal Caravan Holiday?
We think these caravan parks in and near Pembrokeshire are pretty stunning, but if you're still on the search for that perfect site, why not check out our full range of caravan parks on the website?
If you like the look of the beaches around Pembrokeshire, we think you'll be excited to see our top reviewed parks across Wales. Of course with caravan sites throughout the United Kingdom, the perfect park is just waiting to be discovered. So why not put the kettle on and take a look at our blog for some more inspiration – you can thank us later… (when you're working on the tan, perhaps?)