Why on earth would you choose to visit a region known for locally made, delicious ice cream? Erm, because it tastes like heaven and you'll be staying in beautiful Devon – that's why!
Not only is Devon known for its amazing ice cream, it's also world-famous for fantastic beaches, rugged coastline and top notch family attractions. So if you're looking to lounge on golden sands all week, or pack in as many activities as you can, you'll be in the right spot. 
We know it can be a drag trawling through endless online reviews, when all you want to do is be on the beach already. That's why we've done the leg work for you and brought together the top parks in North Devon, so finding your perfect holiday couldn't be easier. With amazing sites like these, it's no wonder families and couples come back for a Devon holiday year after year: 

Park Holidays UK Tarka
Location: Barnstaple, Devon
Best for: Countryside walks along the Tarka Trail
If you've got your heart set on a holiday in North Devon, chances are you'll want to do as much exploring of the local area as possible. This great caravan site is the best holiday park from which to appreciate the beauty of the region.
Without many of the typical entertainment facilities that you might normally expect from a caravan holiday, you'll be free to properly unwind and relax in nature. Sure there isn't a soft play area or a swimming pool, but with glorious beaches like Saunton, Croyde and Woolacombe all nearby, you won't miss them.
Of course you'll want to explore the Tarka Trail, that goes through Devon and Exmoor, and is great for days out walking or biking through the lush countryside. In fact the southern loop of the trail is the longest off-road cycle path in the UK, so perfect for cycling with children.
Facilities: The park gets consistently glowing reviews for its friendly staff and sparkling caravans. Without some of the usual entertainment facilities like crazy golf or swimming pools, you'll be able to really immersive yourself in your North Devon escape. There are dog-friendly caravans and a dedicated dog walking area. With a launderette and superfast WiFi available in your accommodation, this is the best caravan park for a well-deserved break in nature.

Parkdean Resorts Ruda
Location: Croyde Bay, Devon
Best for: Croyde Bay Beach and onsite facilities
Croyde Beach is undoubtedly one of the most beautiful in North Devon. It's also a top surfing spot, and the perfect place to stay if you know a wannabe surfer looking to ride some waves on your family trip. For a change from Croyde, Woolacombe Beach is just a stroll across the headland, and equally picturesque.
The charming Croyde Village is well worth a visit, and you're bound to love the great pubs and ice cream shops. There are plenty of activities to get stuck into back at the family-friendly site, for children and adults alike. Of course, if you want a break from being the main source of entertainment, there's fantastic kids clubs for children up to the age of 15 years where youngsters will love making new friends as you watch them grow in confidence.
If you're looking to please the teenagers on your family holiday, take a trip down south and treat them to a session at Survival Paintball, where you can have a kids vs adults showdown. If you feel brave enough…
For even more gorgeous coastal retreats, check out these 7 Top Caravan Parks in Dorset
Facilities: With stunning beaches nearby, you could easily hang out at the beach all week. There's loads to keep you occupied at the holiday park though, and you'll want to spend a big chunk of time making the most of the fantastic activities. With great facilities including an indoor heated pool with slide, adventure playground, and indoor soft play area, you and your family will have a blast no matter what the weather. Get active on your holiday at the tennis courts, or chill out at one of the great food & drink venues. With a range of caravans and pet-friendly accommodation on offer, you never have to leave your four-legged friend behind again.

Parkdean Resorts Bideford Bay
Location: Bideford, Devon
Best for: Onsite views and visiting Westward Ho!
Hands down this is one of the best holiday parks in Devon for a gorgeous onsite view over the sea. The park looks out over the rugged coast, and you're guaranteed to love sitting out on the sun terrace and admiring the sparkling blue waters below. 
The caravan park is on the coast near Clovelly and Westward Ho! beaches, and both are well worth a visit. The popular seaside resort of Westward Ho! has a great sea pool, perfect for taking an open-water swim with kids who might be a little nervous of the sea, and plenty of places to wolf down some fish and chips or treat the family to an ice cream or two.
This is one of the best holiday parks in Devon if you're looking for a choice of indoor and outdoor swimming pools – in fact with glorious blue-flag beaches near the park, waterbabies are bound to have the week of their lives.
Facilities: With both an indoor and outdoor heated pool, you'll be able to swim in Devon come rain or shine. If you can convince your family to ever get out of the swimming pool, why not challenge the children to a game at the all-weather multi-sports court. Kids are bound to enjoy releasing some pent-up energy on holiday, and with an adventure playground, indoor soft play area, and crazy golf, there's no shortage of activities to get stuck into. With a wide range of accommodation on offer, including caravans, lodges, and chalets, you're bound to find the right size and price holiday home to suit your family. A stay on the coast never looked so good.

Haven Doniford Bay
Location: Watchet, Somerset 
Best for: The Quantock Hills and visiting Tropiquaria Zoo
Okay, okay, so this isn't exactly North Devon – but it's so close it may as well be. On top of that, you'll be staying near lots of Somerset's best family-friendly attractions and landmarks, so you'll never run out of things to do on your holiday.
Haven always smash it out the park (or holiday park rather) when it comes to fantastic onsite activities, but you'll want to make sure you have plenty of time to see the sights as well. The Quantock Hills are practically on your doorstep and, with plenty of walking trails for all abilities, are really good for days out walking with children.
For something a little more exhilarating, why not take a trip to Tropiquaria Zoo, where children and adults alike will love meeting creepy crawlies and lemurs. There's also a full-size pirate ship in the indoor Play Castle where little ones can go wild. The zoo is only three miles away from the park, so perfect for taking young children who aren't great at long car journeys.
If you love the sound of visiting a zoo on holiday, why not have a look at these 9 Top Caravan Parks in Newquay? 
Facilities: Where to begin! There's plenty of onsite entertainment for all the family at Doniford Bay, including crazy golf, an archery tunnel, and a climbing wall. There's a heated indoor pool, as well as a heated outdoor pool that has an awesome multi-lane slide. This is one of the best caravan holidays in Devon for families who want to have a wide choice of entertainment during the week, and with Nature Rockz activities, arts & crafts, and even refereed football kickabouts for the children, you won't be disappointed. With a choice of caravans, from standard to deluxe, you're set to have a comfortable time in Somerset.
The Fun Doesn't Stop There
If you like the sound of these great holiday parks in the north of the region, we think you'll love these awesome resorts on the coast of South Devon: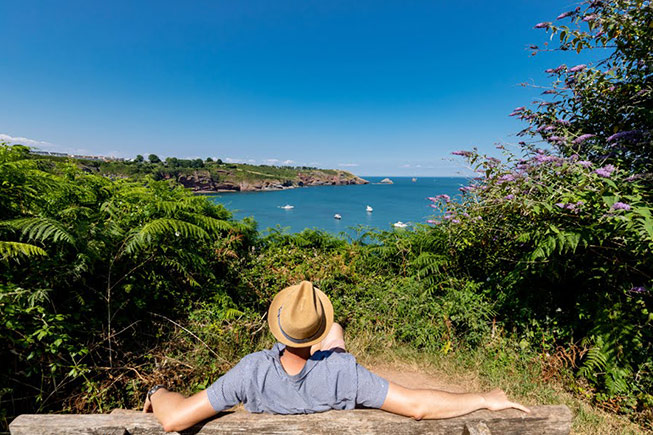 Park Holidays UK Riviera Bay
Location: Brixham, Devon
Best for: Visiting the 'English Riviera' and beach views
Why would you need to go abroad when we have the coastal resort of the English Riviera on our doorstep. Made up of the classic British seaside towns, Paignton, Brixham, and Torquay, that surround Torbay, the Riviera truly is the jewel in the crown of coastal getaways.
The caravan park is fairly similar to Park Holidays UK Tarka, in that it doesn't have some of the usual entertainment venues onsite. However with stunning views over St. Mary's Bay, and new luxury lodges, you'll be staying in one of the best holiday parks in Devon to appreciate the beauty of the south coast. 
As a bonus, if you do decide you want to be entertained onsite, you have access to the facilities at the sister park, Landscove, where you'll find both an indoor and an outdoor swimming pool.
While Devon is pretty stunning, Cornwall also has its share of breathtaking coastline. We reckon you'll go wild for these 12 Top Caravan Parks in Cornwall. Promise. 
Facilities: This park is in the perfect spot to enjoy the beach, but you don't have to worry about being stuck inside if you run into bad weather – at neighbouring Landscove holiday park you can take a dip in the indoor pool, or splash around in the outdoor swimming pool when the sun comes out. With a bar & restaurant and entertainment venue, after some fun at Landscove you can slip back to the peace and tranquility of your own lush holiday accommodation. 

Haven Devon Cliffs
Location: Exmouth, Devon
Best for: Local water sports
Devon Cliffs is Haven's biggest park, and has awesome onsite activities to match. With direct beach access, the park also runs its very own water sports facility and offers paddleboarding and surfing lessons at the school. Your children are bound to be talking about the holiday all year if you treat them to some surfing out on the turquoise Devon sea.
The park itself is situated on the East Devon Area of Outstanding Natural Beauty, and is surrounded by miles of woodland and river valleys – perfect for a walk with the family or a romantic stroll with your other half.
For multi-generational families, Bicton Park Botanical Gardens will go down a storm. Not only are they near to the park (only 7 miles from Devon Cliffs), they're also full of fun things to do. The gardens are nearly 300 hundred years old and you'll find a woodland railway, mini golf, and both indoor and outdoor children's play areas nestled in the grounds.
If you're looking for great ideas for holidays with kids, we've put together a list of the 12 Top Caravan Parks That Kids Will Love. You're welcome!
Facilities: On top of water sports available on the beach, the park also has an indoor and outdoor swimming pool, multi-sports court, play areas and day & evening shows. There are plenty of fun activities to get stuck into, and this is one of the best caravan holidays in South Devon for a family who love to try new things on holiday. With a wide choice of caravans and lodges at the site, with dog-friendly accommodation you can treat your four-legged friend to the holiday they deserve too.

Park Holidays UK Waterside
Location: Paignton, Devon
Best for: Picturesque beach views and family fun at Splashdown Quaywest
Wow, we don't think you'll find a better view from a resort in South Devon that from Waterside. The name says it all really – the elevated position of this coastal park means you'll be looking out over the sparkling blue sea below, and you'll be in the prime spot to watch the steam railway roll by. Now we don't know if it gets more postcard-perfect than that…
As calming as the view from the park may be, you're also near to Splashdown Quaywest. The largest outdoor waterpark in the UK, there are a whopping eight flume rides to get your adrenalin running and plenty of smaller splash pools for little children too. The waterpark is bound to be a family crowd-pleaser and you'll go down in history as the best parent in the world. 
Facilities: One of the best holiday parks in Devon for families who love spending time outside, the site has a lovely heated outdoor swimming pool with a paddling pool for toddlers. There's also a restaurant onsite where even the fussiest of eaters will be satisfied, and a great sun terrace where you can sit and soak in the views as you enjoy your well-deserved holiday cocktail. Whether you're visiting for a four night mini-break, or looking to escape for a long summer holiday, you'll love getting to reconnect with your family at Waterside in South Devon. 
Still Looking? We'll Have The Perfect Park For You
Obviously we think these holiday parks in Devon are pretty spectacular – but according to the reviews a whole lot of holidaymakers feel the same way.
On the other hand, we know not everyone is looking for the same thing from their holiday. That's why you'll find an unbeatable range of holiday parks on offer on our website. Whether you're looking for somewhere to treat your family after a tough year, or simply to have a good old snooze on the beach with your better half, you'll find your perfect holiday when you Breakfree. 
If you're looking for more inspiration after these Devon holiday parks, why not take a look at some of our other roundups of the best parks out there? Whether you're set on a holiday in England, Wales, or Scotland, we've got you covered. So what are you waiting for – your next holiday could be just a click away. Will that be one scoop of ice cream, or four..?