The dog days are over – let the dog holidays begin! With plenty of awesome breaks for people and pets at your fingertips, what's stopping you?
It's been a tough time for everyone recently, and our beloved pets have been doing a sterling job of keeping our spirits up. It's time we rewarded our four-legged friends with the break they deserve and treat ourselves to a much-needed getaway too.
With our pet-friendly parks, you never have to choose between a holiday and your faithful pooch again. With plenty of options to choose from, we've put together a list of the top parks for pets. Here's a roundup of some of the winning parks that get consistently great reviews: 
1. Parkdean Resorts Limefitt Park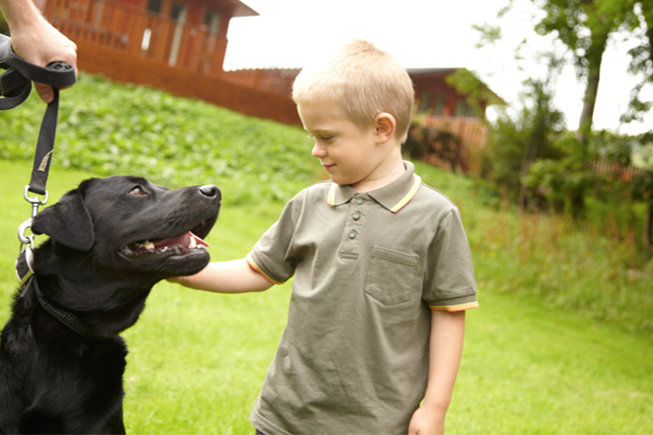 Location: Windermere, Cumbria
Best for: The Lake District, Peace and quiet
We really don't think you'll find a park that a dog will love more than Limefitt. Nestled in the Troutbeck Valley, a mountain beck passes right through the site, and you could be lulled to sleep each night by the gently babbling waters. The caravan park has stunning views of the surrounding hills and is a true escape from the hustle and bustle of everyday life.
Even if your dog is used to living in a city, we all know they go mad for a long roam in the great outdoors, and you'll never be short of trails to enjoy in the Lake District. Whether you're climbing hills for breathtaking views, or visiting the famous lakes for a cruise along the waters, this is hands down one of the top dog-friendly holiday parks in the UK.
Facilities: With plenty of pet-friendly caravans and lodges at this park, you're bound to find the perfect accommodation for your family and your budget. Dogs are allowed in all of the onsite venues, including the Haybarn Inn, which has a lovely beer garden for when the sun is shining. There's also an outdoor play area and family games room, so little ones will be occupied at the holiday park while you're recharging onsite. 
Find out more about Parkdean Resorts Limefitt Park
2. Haven Hafan y Mor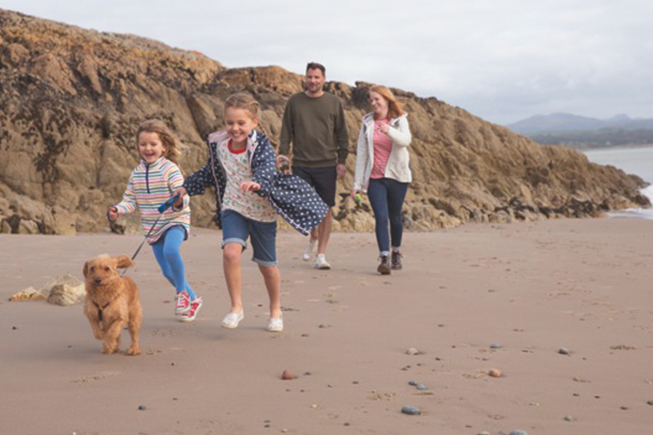 Location: Gwynedd, Wales
Best for: Snowdonia National Park, onsite activities for families
It can be hard enough keeping a dog happy, let alone the kids too. Luckily this Haven holiday park is here to save the day. Kids will absolutely love the Dragon Lakes Adventure Village, and they'll leave Wales with bags of new confidence. There's also an Aerial Adventure course, from which you'll see the most amazing views across the Llyn Peninsula.
The fantastic doggy obstacle course makes this one of the finest dog-friendly holidays out there. Your dogs will love showing off their jumping and weaving skills and will even burn off some extra energy in the process. 
The pet-friendly holiday park is the ideal base from which to explore Snowdonia National Park, which is just a short drive away. One of the most incredible National Parks in the UK, let alone Wales, this is dog walking with a difference. After a busy day walking, you'll have the comfort of your dog-friendly accommodation to come home to.
If you like the sound of Hafan y Mor, why not check out these 5 Top Holiday Parks in North Wales? We're sure you'll like what you see. 
Facilities: There are plenty of pet-friendly holiday homes on offer at Hafan y Mor – you can bring up to two dogs with you and deep cleaning is included in the cost of your accommodation. Make sure to make the most of the great venues and activities at this amazing holiday park. With adventure and wildlife trails surrounding the park, you can reconnect with your loved ones and with nature. Have some family fun time in the heated indoor swimming pool with a waterslide, or kick back and watch some spectacular evening entertainment. There are nine food & drink venues or you can take advantage of the self-catering in your pet-friendly accommodation and spend more quality time with your furry best friend.  
Find out more about Haven Hafan y Mor 
3. Park Holidays UK Tarka
Location: Barnstaple, Devon
Best for: Getting back to nature at a no-fuss park
This dog-friendly holiday park gets consistently outstanding reviews, and it's easy to see why. Without the usual onsite entertainment or venues that you might normally expect on a caravan holiday, you'll have the perfect relaxing week away.
With comfortable, clean caravans and beautiful walking trails surrounding the park, why would you need anything else? The site is without a swimming pool or restaurant, but has its own dog walking area as well as being in the ideal spot to explore all that Devon has to offer. 
You can take your faithful pooch to enjoy the nearby Saunton Beach, which is dog-friendly all year round. There's nowhere better than this glorious spot for building sandcastles with your little ones, or simply lying back and soaking up some rays as you watch your dog zoom across the golden sands. Even dogs need a break! 
For more inspiration, take a gander at our list of the Top 8 Holiday Parks in Devon. Whether it's for a last-minute break or the holiday of a lifetime, Devon has it all.
Facilities: You won't find the usual extras at this holiday park, like a swimming pool or amusements arcade, but you'll be in the perfect place to relax and recharge, and treat your dog to some of the best walks across the UK. With top-notch pet-friendly accommodation, take a look at the range of caravans at this park – your perfect holiday home could be waiting in Devon.
Find out more about Park Holidays UK Tarka
4. Parkdean Resorts Crantock Beach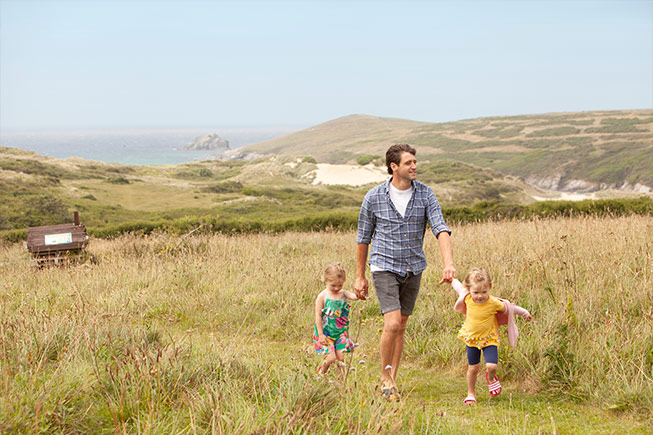 Location: Newquay, Cornwall
Best for: A beach holiday in Cornwall
Cornwall is home to some of the top holiday parks across the UK, and the Crantock Beach caravan site is no exception. If your four-legged family member looks like they need some cheering up, you couldn't do better than a break at this pet-friendly resort. 
At this caravan park you can have your cake and eat it too – the bar & restaurant, entertainment venue and amusement arcade are all pet-friendly, meaning you dog can enjoy the spectacular park entertainment too! Crantock Beach, which is run by the National Trust, is dog-friendly all year round and right on the doorstep of this coastal park. 
There are a number of pet-friendly caravans to choose from, so you could save your money for extra holiday treats or splash out on a luxury lodge for one of the most relaxing breaks available. 
We've brought together the Top 12 Caravan Holidays in Cornwall. With plenty of homes for you and your pet, why not have a nosey?
Facilities: Little ones will love making new holiday friends at one of the great kid's clubs that run for youngsters up to ten years. Your four-legged friend can accompany you around the park and are welcome in most of the venues. With some of the finest accommodation and venues in Cornwall, both your dog and your family will enjoy a week at this pet-friendly resort.
Find out more about Parkdean Resorts Crantock Beach 
5. Parkdean Resorts Cresswell Towers
Location: Cresswell, Northumberland
Best for: Dog-friendly accommodation and local attractions
With over ten models of pet-friendly caravans on offer, you won't be short of options when it comes to accommodation at this site. Dogs are also welcome in the beer garden of the bar & restaurant, so you can enjoy lounging in the sun with your faithful pup.
There are a number of lovely walks around Northumberland, with trails for all abilities, and it's also home to many of the most impressive castles in England. Dunstanburgh Castle (an atmospheric ruin) is a 45 minute drive away, and well worth a visit. Dogs are allowed on a lead and the castle is surrounded by wide, open walks for your doggo to enjoy.
Facilities: With many stunning beaches nearby, and lot's of pet-friendly holiday homes to peruse, this is one of the top dog friendly holidays out there – whether you're booking a last-minute break or a much looked forward to week away. Onsite, you'll find an indoor swimming pool complex and sports court, children's playground and live entertainment. With so much to see and do in Northumberland, treat your family to a getaway they'll remember forever.
Find out more about Parkdean Resorts Cresswell Towers
6. Haven Caister-on-Sea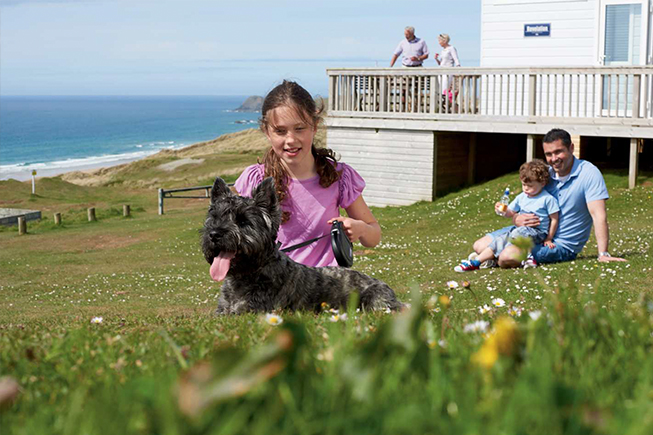 Location: Great Yarmouth, Norfolk
Best for: Coastal walks and visiting Great Yarmouth
Let your four-legged friend show you what they've got at the site's Bark Yard obstacle course. You never know, a restoring week away in Great Yarmouth could give them the zip they need to pull off a perfect run – next thing you know they'll be bagging first place at Crufts.
Great Yarmouth has long been a favourite seaside resort amongst UK holiday makers, and though dogs aren't allowed on the pleasure beach, you'll be staying in one of the few dog-friendly caravan parks with direct access to Caister-on-Sea beach, where your dog can paddle in the surf to their heart's content. 
It's a well-known fact that dogs love Norfolk (or at least it is to us), so you'll want to consider any one of these Top 9 Caravan Holidays in Norfolk too.
Facilities: If you love holiday parks with family-friendly facilities, Caister-on-Sea may just be the park for you. As well as the surrounding sandy beaches, there's a heated indoor swimming pool with a multi-lane slide and bubble pool, an adventure village, and plenty of activities including Nature Rockz and crazy golf. After a lovely walk with your dogs along the beach, take the weight off your feet and put the kettle on – you might even have time for a cheeky nap in your dog-friendly caravan…
Find out more about Haven Caister-on-Sea
Barking mad for dog-friendly holidays
We know just how important it is to include your four-legged friend in your family holidays. That's why you'll find a wide range of dog-friendly caravan parks on our website. 
Though we reckon this is a cracking roundup of the top dog-friendly holidays, there's always more to choose from if you're still looking for your perfect match. Why not take a look at the 12 Top Holiday Parks in Britain? As most of our parks offer dog-friendly holiday home options, you'll be spoilt for choice when it comes to booking your next break. 
Of course, many of the restrictions on dogs at these parks do not include guide-dogs, which are given special access subject to requirements. Parks must also follow the dangerous dog's act and do not allow some breeds of dog onsite. 
So go on, put the wag back in their tails with one of our fantastic holidays for pets and their humans today.