Ever heard of Kent referred to as 'the garden of england'? With bountiful hop farms and fruit growing orchards, the region definitely deserves its lush reputation.
Whether you're looking to relax on the beach or have fun in the pool, Kent is the place to be. Of course with our amazing caravan holidays, it's always possible to do both!  With so many great parks to choose from, we've narrowed it down a bit for you. So there's no need to search through endless listings – here's a roundup of the six top holiday parks that Kent has to offer: 
1. Park Holidays UK Marlie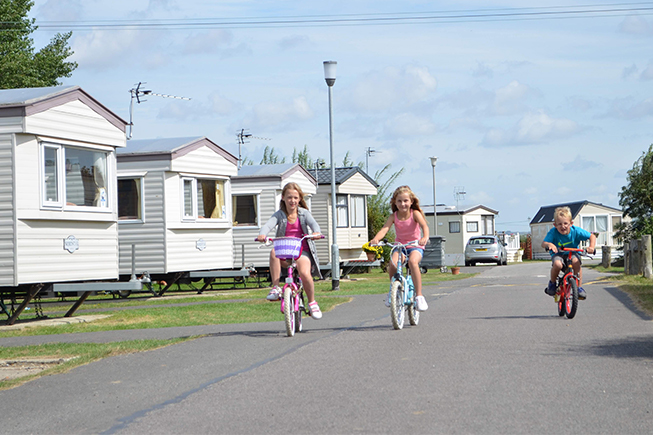 Location: Dymchurch Road, New Romney
Best for: Visiting the charming villages of New Romney and Dymchurch
This holiday park is a great base for visiting many of Kent's local landmarks and nature sites. Just a short drive to the coast, the park is nearby to the lovely villages of New Romney and Dymchurch, where you can easily while away an afternoon strolling through their historic streets and finding a cosy tea room for some Kentish cake. 
For days off from the beach, there is a fantastic golf course next door to the holiday park – making this one of the top parks in Kent for keen golfers. 
You're spoilt for choice when it comes to things to do around the park as you'll also find Romney Marsh, a Site of Special Scientific Interest, at Dungeness. Though there is plenty to do onsite, this park is ideal for couples and families who love getting outdoors on their holiday, and are looking to explore the local Kent wildlife.
Facilities: This family friendly Kentish park is jam-packed with quality venues and activities. A brand new indoor swimming pool was built at the park last year, and there is also an amusement arcade, adventure playground and climbing wall to keep the whole family happy. There are kids clubs where little ones will love making new holiday friends, and also evening entertainment seven nights a week. You can treat yourself to dinner in the restaurant and takeaway, or make use of the self-catering in your accommodation. As well as caravans and lodges, there are superb camping pods and touring pitches on offer.  
Find out more about Park Holidays UK Marlie Holiday Park
2. Park Holidays UK Seaview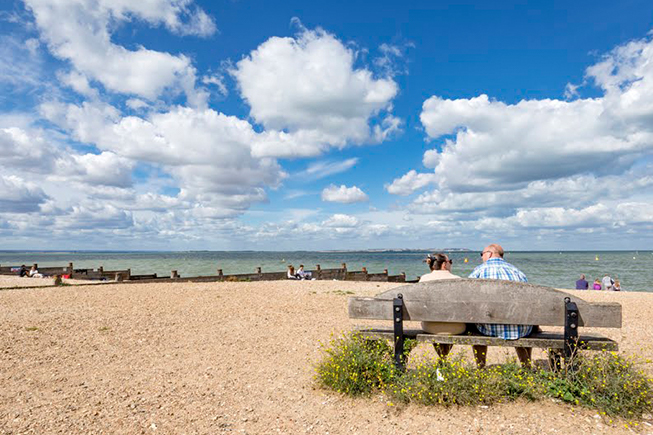 Location: St John's Road, Whitstable
Best for: Local watersports and sailing
As the name suggests, this Kentish holiday park has a stunning view over the sparkling blue sea. With only a promenade separating the site from the shore, it's one of the top holiday parks in Kent for families who like spending their holiday time on the beach.
Ideal for thrill seekers, there are lots of local water sports operators that offer sailing, jet skiing and paddle boarding. If you're not so keen on getting out on the water, never fear -the park is within easy reach of both Whitstable and Herne Bay, two classically Kentish seaside resorts. Whitstable is also known for its oysters, which you can eat at numerous kiosks along the beach. If oysters aren't your bag, there's no shortage of ice cream in the town!
If you like the sound of being by the sea, why not take a look at these 8 Great Holiday Parks in Devon?
Facilities: We're sure you'll want to explore the many places to visit in Kent, though you could easily spend your whole holiday at this awesome park. If you enjoy swimming in the fresh air, you'll be pleased to hear the park has a brilliant heated outdoor pool. As well as a kids adventure play area there is a family-friendly entertainment complex and great places to eat and drink onsite. With a range of accommodation including caravans, lodges, and touring & camping pitches, you're guaranteed to find the perfect holiday home for your family and your budget. 
Find out more about Park Holidays UK Seaview Holiday Park
3. Haven Allhallows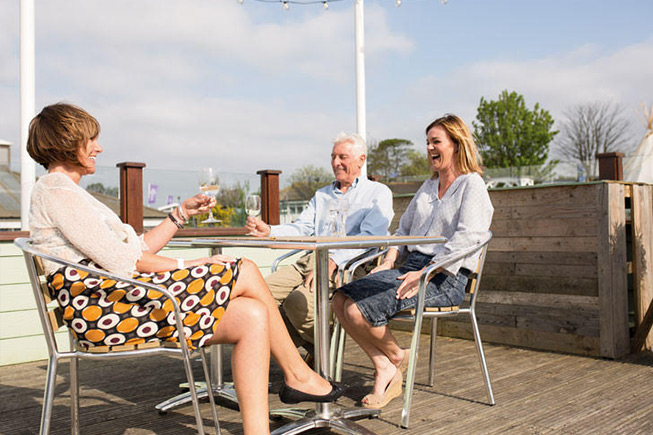 Location: Allhallows-on-Sea
Best for: Onsite activities and visiting Diggerland
When it comes to having an exciting range of activities right on your doorstep, you can't really beat this great holiday park in Kent. Whether you visit for a short break or a long summer holiday, there'll be plenty to keep you busy throughout.
There are heated indoor and outdoor swimming pools, a fishing lake and both a 9-hole golf course and crazy golf, making this a top holiday park for multi-generational families to spend some quality time together. 
If you haven't heard of one of the most fun places to visit in Kent, Diggerland, you need to check out this fantastic attraction that both children and adults will love. Only 11 miles drive away from the holiday park, you can drive full-size diggers, dumpers and construction machinery on your next family holiday. 
Facilities: Where to start! There is a heated indoor and outdoor pool, so you can enjoy swimming in Kent whatever the weather. There is a Live Lounge entertainment centre, an amusements arcade and sports court. Of course there are plenty of activities for children to get stuck into, including Nature Rockz clubs, archery coaching and refereed football kickabouts for kids, while grandparents in the group might be interested to hear about the great bowling green. You'll be sure to have a comfortable stay in an onsite holiday home, whether that's a luxury lodge, caravan or a simple touring and camping pitch. With a range of family accommodation, including pet-friendly options, you can relax in comfort at the end of a busy day in Kent.
Find out more about Haven Allhallows Holiday Park
4. Park Holidays UK Harts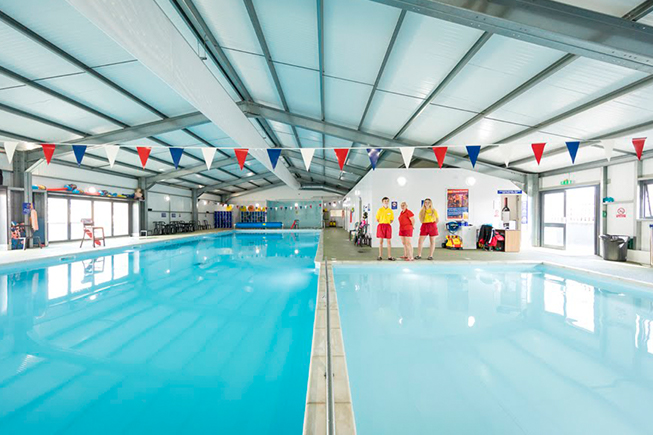 Location: Leysdown-on-Sea, Isle of Sheppey 
Best for: Idyllic seaside resort of Leysdown 
Leysdown is amongst the most beautiful seaside resorts in the UK, let alone Kent. An area with one of the lowest rainfalls in the country, with miles of perfect sandy beaches and sloping green fields, it's no wonder the isle has been a firm favourite with holidaymakers for years.
Why not visit nearby Belmont House in Faversham? Built in the 18th century, the grand house is surrounded by extensive grounds and could be the ideal setting for your next family picnic. With plenty of events across the year, the house even hosts lots of cricket fixtures in the summer and is the best place to go for some quintessentially British countryside culture. 
Back on the Isle of Sheppey you can relax in the comfort of your cosy holiday home. The good weather that the area is known for makes this park superb for touring and camping breaks, or you can pick from the park's top notch site accommodation. 
Facilities: This coastal park is in a tranquil area of Kent, but has lively venues and activities onsite. There is evening entertainment seven nights a week and kids clubs for children up to 14 years. There's also an adventure play area, crazy golf, and a heated indoor swimming pool. You will be well looked after at this peaceful holiday park – after a delicious dinner and some family entertainment, you'll hear the sound of the sea as you fall asleep in your perfect holiday accommodation. 
Find out more about Park Holidays UK Harts Holiday Park
5. Parkdean Resorts Romney Sands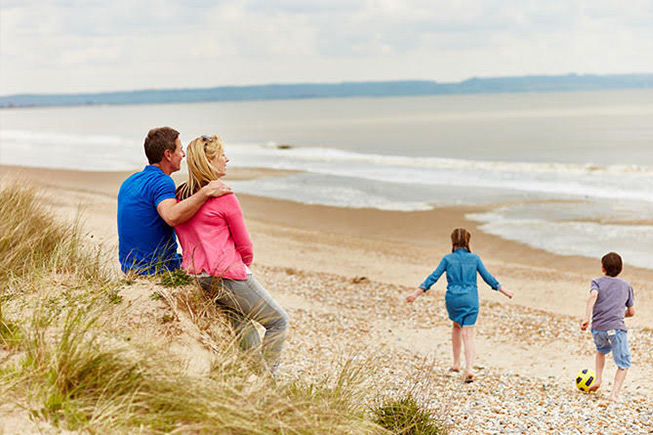 Location: The Parade, Dymchurch
Best for: Bird spotting at RSPB Dungeness
Whether you know a seasoned birdwatcher or children who like spotting exciting wildlife, this holiday park in Kent could be the perfect caravan site you're seeking.
It couldn't be easier to stroll over to RSPB Dungeness and the Greatstone Dunes, where you'll be in awe of the diverse local flora and fauna of Kent. Of course with the beach right next door, you'll want to remember your bathers for that all important dip to cool off. 
Facilities: There is not just one indoor swimming pool, but an impressive two heated pools at this friendly holiday park. For groups who like a mixture of visiting the beach and chilling by the caravan, you'll have the perfect family holiday at this site. Whether you're challenging your loved ones on the sports court, having family fun time in the adventure play area, or relaxing with a spot of fishing on the lake, you'll always have comfortable caravans and luxury lodges to go home to. Breaks in Kent never looked so good.
Find out more about Parkdean Resorts Romney Sands Holiday Park
6. Parkdean Resorts St Margaret's Bay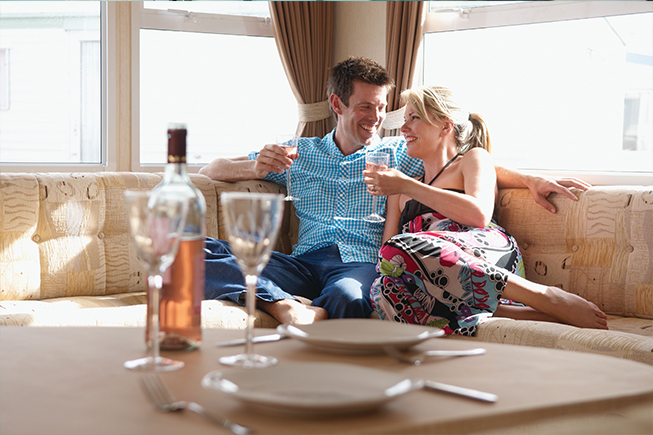 Location: Reach road, St Margaret's-at-Cliffe
Best for: The famous White Cliffs of Dover
Nothing is more iconic of Kent than the world-famous White Cliffs of Dover. This coastal caravan park couldn't be better located to go see the miles of shining cliff face, and visiting the landmark could be the perfect excuse for an extra special date – did somebody say 'marry me'?
For even more ideas on stunning coastal landmarks, take a look at these 7 Top Caravan Parks in Dorset and see what the Jurassic Coast has to offer.
The park's indoor swimming pool with spa bath and sauna make it the top park for a calming getaway in Kent. If you want to make your trip together extra special, why not plump for one of the luxury lodges as your Kent holiday home. We're sure you'll like what you see!
Facilities: This coastal park offers plenty onsite to keep both couples and families happy. As well as the gym and spa rooms at the indoor swimming pool, there is an outdoor adventure play area and kids clubs to keep little ones occupied. With classic caravans, or more luxurious accommodation to choose from, we're sure you'll have the time of your life at this fantastic park.
Find out more about Parkdean Resorts St Margaret's Bay Holiday Park
Unbeatable Holiday Parks In England
Pool, beach, caravan, Kent does it all! But if your search continues, why not take a look at the wide range of holiday parks available on our website? 
We've also made finding your ideal caravan site even easier with a round up of the 15 Best Holiday Parks in England You Need to Visit.You might even be surprised by what Wales and Scotland have to offer – with beautiful sweeping beaches and family-friendly visitor attractions, your perfect holiday could be just a click away.