It's time to start thinking about your next holiday adventure, and where better to look than at sunny ol' Sussex?
The area is full of amazing beaches, rich history, and has some of the best holiday parks to match – no wonder families travel back to Sussex year after year for an amazing getaway.
Whether you're looking to lounge on as many beaches as possible, or be entertained all week onsite, there's a park for that. Of course you could spend absolutely ages sifting through all the reviews – but seeing as we've done that for you, why not have a cuppa and take a look at these 7 great holiday parks in Sussex instead:

1. Parkdean Resorts Camber Sands
Location: Nr. Rye, East Sussex
Best for: 7 miles of award-winning beach and kite surfing
If you've been dreaming of a beach holiday in Sussex, you can't beat a stay at the fantastic Camber Sands. 
Next to a whopping 7 miles of award-winning Blue Flag beach, the golden sand dunes are practically calling out your name. If you have some thrill seekers in the family, why not treat them to some kiteboarding sessions on the beach? You can even race across the sands in a kite buggy, for something truly memorable.
There's nothing to interrupt a perfect day by the sea – with the holiday park right on the beachfront you can easily pop back to the site for lunch before resuming work on that tan. Why not check out these 9 Top Holiday Parks in Norfolk for even more beachy inspo?
Facilities: Last year an impressive £2.1 million was invested into this Sussex caravan park, so it's no wonder Camber Sands is rated as one of the top parks in East Sussex. With shiny new facilities like the Arts & Crafts Den and the SportsDrome, there's also plenty of fresh activities to get stuck into – don't miss the Bear Grylls Survival Academy! If that sounds good, just wait until you check out the amazing 4 indoor swimming pools (with a sauna and spa bath for adults to unwind in) and the outstanding onsite accommodation. There are brand new luxury caravans and lodges coming this year, and of course the option of a dog-friendly holiday home if you want to bring your four-legged family members along for the East Sussex getaway of a lifetime.
Find out more about Parkdean Resorts Camber Sands 
2. Park Holidays UK Pevensey Bay
Location: Pevensey Bay, Sussex
Best for: Beachfront site with views over the South Downs
Stretching from Hampshire to East Sussex, the rolling hills of the South Downs top the sparkling chalk cliffs that make up the Sussex Heritage Coast. This beachfront holiday park is in a top spot to enjoy views over both the sea and the Downs. Gorgeous!
On top of fantastic walks along the South Downs, and days on the beach, the nearby seaside resort of Eastbourne is one of the top places to visit in East Sussex. Why not spend an afternoon strolling along the 18th century pier and having your fill of fish 'n' chips? 
Back at the family-friendly caravan site there's plenty to get stuck into, whether that's fun time in the indoor swimming pool or watching the brilliant park entertainment.
Facilities: After stretching your legs on the South Downs, head back to the sanctuary of your cosy holiday home to recharge. Whether you're staying in a classic caravan, or one of the deluxe lodges, you're bound to find the perfect caravan for your family and your budget. You'll wake up the next day feeling rosy and will definitely want to hit the indoor swimming pool, which has its own great activities. With onsite entertainment and a children's play area, you're set to have a Sussex holiday you'll remember forever at this peaceful holiday resort.
Find out more about Park Holidays UK Pevensey Bay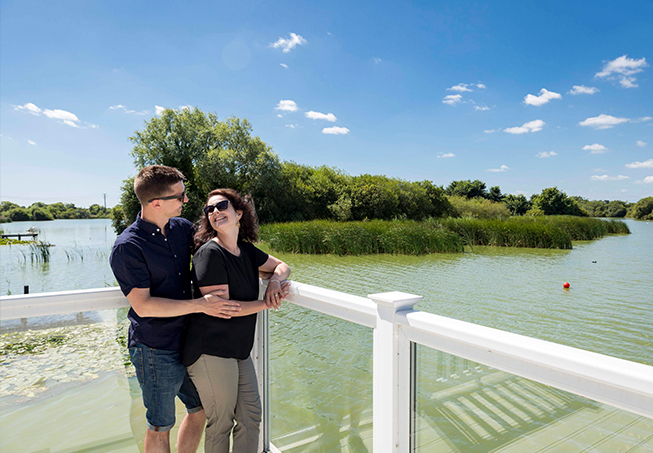 3. Park Holidays UK Chichester Lake
Location: Chichester, Sussex
Best for: Relaxing on an idyllic countryside site near West Wittering
Wow, we were bowled over by this tranquil site! With 10 large fishing lakes set out over 150 acres of Sussex countryside, there's even more water than land at this park. Does it get much more perfect than a caravan holiday surrounded by beautiful lakes, only a few miles from the sea? We don't think so…
The park is within easy reach of West Wittering, one of the most-loved beaches in England, and also only a short drive from Brighton – which is always bound to go down well with the teenagers in the family. If you know any history buffs, take them to the historic Arundel Castle for an atmospheric afternoon. 
With so much to see & do near this holiday park, head back for a well-earned snooze by one of the peaceful lakes and relax in the Sussex countryside.
Like the sound of relaxing by a lake on holiday? You'll love these 4 Fab Caravan Parks In The Lake District. 
Facilities: You can even appreciate the view over the lakes from the awesome terrace of the clubhouse, where you can relax with a cocktail or have a bite to eat before popping over for a swim at the heated outdoor pool next door. With great kids clubs and evening entertainment 7 nights a week, the whole family will have a blast at this friendly park. The outdoor dog walking areas make this one of the top parks in Sussex for pets, and of course there's dog-friendly accommodation options. Whether you choose a classic caravan or one of the luxury lodges, you'll have the holiday of a lifetime at this family-friendly park.
Find out more about Park Holidays UK Chichester Lake

4. Haven Church Farm
Location: Nr. Chichester, Sussex
Best for: Seaside delights at Bognor Regis
If your perfect holiday is all about getting back to countryside living, this is the caravan park for you. You'll be close to a lovely little village, and can even hear the peal of church bells from the park. 
It's not all rural life here, however, as you're only 5 miles from the lively seaside town of Bognor Regis in West Sussex. Families have been visiting Bognor Regis for years, and whether you're having fun in the arcade, strolling along the prom, or having an ice cream on the beach, you'll be in the best place to have a classic British seaside experience.
If staying by a traditional seaside town floats your boat, have a peek at these 9 Great Holiday Parks in Great Yarmouth. 
Facilities: After a busy day in West Sussex, you'll have the peaceful atmosphere of this caravan park to retreat to. There's plenty of excitement to be had onsite, from crazy golf to challenging your youngsters at the pool tables. With both an indoor and outdoor swimming pool, you'll be able to have a good splash around whatever the weather. With nearby dog-friendly beaches and pet-friendly accommodation at the site, you and your pup will have a brilliant Sussex adventure whether you pick the classic caravans or luxury lodges. 
Find out more about Haven Church Farm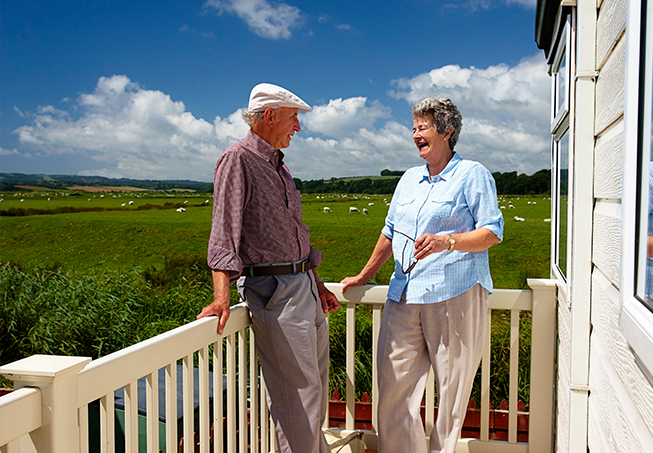 5. Park Holidays UK Winchelsea Sands
Location: Winchelsea, Sussex
Best for: Strolls through Rye and the local Nature Reserve 
Just a short walk from Winchelsea Beach, this is one of the top East Sussex holiday parks for charming views over the lush countryside. 
Nestled on the coast close to both Rye and Hastings, you'll be in the perfect place to explore both these popular towns. Head over to Rye and spend an afternoon wandering round – you'll definitely want to explore Mermaid Street with its cobbled lane and half-timbered medieval houses. The Rye Harbour Nature Reserve simply can't be missed, and has plenty of walking trails for all abilities.
No matter what you choose to see & do in Sussex, the promise of a cuppa in your private holiday home will always be waiting for you.
Facilities: With a kids club and evening entertainment 7 days a week, there'll never be a dull moment on your East Sussex holiday. Have a blast in the heated outdoor pool or watch little ones make friends at the adventure play area. Whether you choose to splash out on your accommodation and go for one of the lodges, or plump for a classic caravan, you'll have a comfortable stay at this family-friendly site.
Find out more about Park Holidays UK Winchelsea Sands 

6. Park Holidays UK Coghurst Hall
Location: Hastings, Sussex
Best for: A tranquil setting near Hastings
The lovely fishing lake and awesome kids clubs make this one of the top holiday parks in Sussex for multi-generational family getaways. Whether the little ones are off making new friends, or being taught how to fish by the grandparents, there's something for everyone at this family-friendly park.
When you're this close to Hastings, you'll want to make the most of it! With beautiful beachfront buildings and charming museums, Hastings is full of things to see & do for all the family. 
Facilities: Why leave England when you have fantastic holiday parks like these to choose from? As well as kids clubs and an adventure play area, there's also evening entertainment 7 nights a week and a heated indoor swimming pool – so you'll have a fab time in East Sussex come rain or shine. Bring all the family along when you book a dog-friendly holiday home, whether that's a cosy caravan or one of the spacious lodges. With a whole range of models to choose from, you're sure to find the perfect accommodation at this site. 
Find out more about Park Holidays UK Coghurst Hall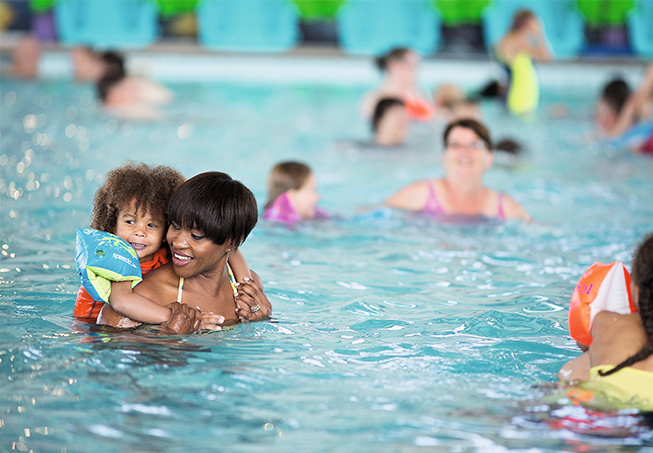 7. Haven Combe Haven
Location: Nr. Hastings, Sussex
Best for: Sea views and swimming pool fun
Looking to get your fix of excitement at your caravan park? This family-friendly Sussex site has 
plenty to get stuck into, and promises to be the perfect place to reconnect with your family. 
Hands down Combe Haven has the best swimming pool complex out of the Sussex parks – as well as an indoor pool there's an outdoor fun pool with a thrilling Space Bowl flume!
Hastings is close by, and those much-needed ice creams on the beach are within easy reach. Why not also check out these 12 Unbeatable Caravan Parks That Kids Will Love? We think you'll like what you see.
Facilities: Sure we all hope for glorious weather on holiday, but if the Sussex sun is being a bit shy you'll have fun no matter what with the choice of indoor and outdoor pools. Kids will absolutely love the Nature Rockz activities and the adventure play area, and this is one of the top Sussex parks for active kids. With a range of accommodation on offer, you'll find a great home for your pocket and your family.
Find out more about Haven Combe Haven
Still On The Search For The Perfect Caravan Parks?
We reckon you're all set to have a fantastic holiday at one of these Sussex caravan parks, but if you're still on the search for the perfect site why not check out our full range of outstanding parks on the website?We know not every family is looking for the same things from their holidays, but with parks across Wales, Scotland, and England, we're sure the perfect getaway is just waiting for you to discover.