As life returns back to normal (yay!), love is in the air once again.
Many of us love to soak away our troubles in the hot tub too – so what could make a more perfect pair when looking for that wonderfully relaxing break?
From the Yorkshire Dales to the green grass of Suffolk, cottages and hot tubs across England and Wales are soon to be hot spots for spending some much-needed quality time with a loved one.
We're feeling the love with our top 7 choices for romantic breaks with a private hot tub… the ultimate 2021 staycation!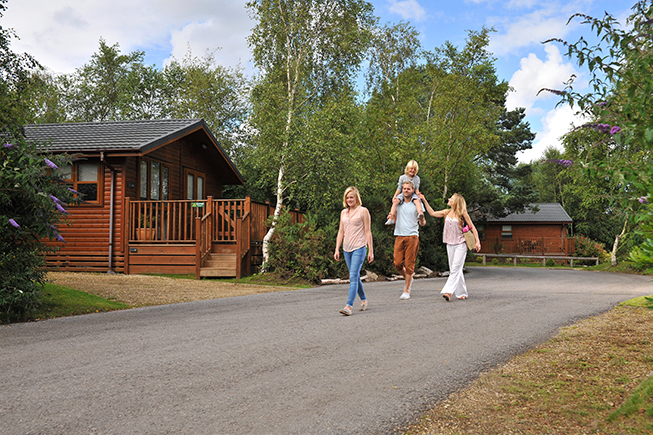 Parkdean Resorts Warmwell
Holiday park location: Dorchester, Nr. Weymouth, Dorset
Great for: quiet woodland romantic retreat 
Quality time to unwind with a loved one is a must this year, and Warmwell resort provides a perfect romantic getaway for two. With stunning views of the surrounding woodland, the lodges are a beautiful backdrop for soaking the weekend away in your own hot tub. 
If you can tear yourself away from the hot tub, there's plenty to discover on your romantic break. Swim some laps in the heated pool, play a few rounds of crazy golf or show off your skills on the all-weather ski slope – there's always something unique to enjoy. Close to the forest as well as the water, enjoy the best of both countryside views, making for a special way to enjoy nights in the hot tub. 
A stone's throw away from the seaside, spend lazy days at the beach when you're not soaking in the hot tubs. With amazing views of the Southern coastline, lose yourself in the stunning scenery away from the lodge to fully unwind and relax. Take a walk back to your cottage to finish the night with a hot tub soak under the stars. 
Make your getaway completely accessible with wheelchair friendly hot tub lodges, a brand new addition to the Warmwell accommodation. Each cottage sleeps up to four people, set with access ramps, wider corridors and a hoist in the all-important hot tub. This is a romantic stay all couples can enjoy – get booking to secure your romantic get away! 
Facilities: Warmwell is a lodge only park, so there's an unrivalled choice of accommodation. Pet friendly, the latest luxury lodges each come complete with an outdoor hot tub. Services such as a bar and restaurant, takeaways and convenience stores are available on site. For an extra treat, get your skate on at the roller rink, or hire a mountain bike to explore for the day.  
Find out more about Parkdean Resorts Warmwell 

Parkdean Resorts Carmarthen Bay
Holiday park location: Carmarthen, Carmarthenshire
Great for: Welsh seaside romantic cottages
Nothing clears the mind quite like a holiday break near the coast, and this beautiful stay in Wales adds a special something to any romantic break away. Carmarthen bay is home to romantic cottages overlooking the countryside and stunning scenery of Wales' coastlines – a perfect place to chill out in a hot tub for two. 
Cabins are close to a wide range of amenities, with plenty to keep all the family occupied for couples with kids. With luxurious log cabins to choose from, a romantic break sleeps at least four, if you'd like to bring an extra loved one. Take a break from the hot tub to hit the flumes in the indoor pool, or test your skills in the amusements arcade. Hungry for more? Stop by the Boathouse restaurant for a bite, or take a meal back to the garden for a full night in the hot tub. 
With a beach on your doorstep, holidays at Carmarthen Bay are always something special. Take your log cabin retreat to the sand and sea, taking in the beautiful views while catching some summer rays. Settle down with a drink to watch the waves roll in, or find time to take a swim and discover the best of the coast for yourself. Enjoy a dip in the hot tub to soothe your bones into the night, or set yourself up for a cozy night in the luxury cottages. 
Facilities: Pet friendly accommodation, lodges have a choice of two or three bedrooms to embrace the feel of a romantic break. Kids clubs, all-weather playgrounds and a heated indoor pool are just some of the extras on offer, should you choose to venture past your hot tub. See the best entertainment in the Showbar any night during your stay, or try your hand at a game of darts and be the one to beat on your romantic break away. 
Find out more about Parkdean Resorts Carmarthen Bay 

Parkdean Resorts White Cross Bay
Holiday park location: Lake District National Park 
Great for: log cabin romantic getaway
Where better to enjoy romantic breaks than the Lake District National Park? Teeming with wildlife and beautiful views, See the best countryside that Britain offers – all from the comfort of a hot tub. 
Luxury lodges feel like a romantic treat as well as a home from home, a perfect base to spend some quality time with the one you love. Stay in to enjoy the private hot tub at the log cabin, or find something new to get stuck into near to the cottage. With cabins set within beautiful scenery, relax and watch the world go by from the garden, or venture out to the forest by enjoying a hike or cycle through the wonderful woodland.
People come from far and wide to explore the unique charm of the Lake District, one of the UK's best loved holidays and weekend breaks. What better way to experience the magic than from a stunning luxury lodge… with its own hot tub? The friendly people are a perfect match, making a trip to any village close by an unforgettable one. Pet friendly accommodation, take the dogs to enjoy a romantic break as much as a special couple, cottage spacious enough for all to relax in.
One unique asset of White Cross Bay holidays is having the chance to make full use of the private Marina – even sailing your own boat across the lakes on a summer's day. If you fancy a more chilled break from the hot tub, stroll down to the restaurant for a bite to eat and spend some quality couples time in the beer garden. The luxury cottages are holidays with friendly service and lively entertainment – whether you just want to relax within the hot tub or head out from the lodges. For a romantic break with plenty of options, look no further.
Facilities: The romantic cottages with a hot tub are always the star of the show at this site, but amenities are plentiful. The outdoor adventure playground and organised activities are bound to keep children entertained, with selected lodges and accommodation pet friendly. Cabins are close to a gym, heated swimming pool and outdoor picnic areas – perfect for taking in those beautiful views. The site offers fully accessible cottages, while brand new spa facilities are the luxury icing on the cake. 
Find out more about Parkdean Resorts White Cross Bay 

Parkdean Resorts Ruda
Holiday park location: Croyde Bay, Devon 
Great for: friendly romantic break for sporty couples
For the best of the forest and the sea on your romantic break, look no further than Ruda. Romantic cottages create the feel of a luxury weekend break escaping from the city, while the site offers a range of treats for those couples with a daredevil attitude. 
Surf's always up on a holiday to Devon – and not just in the hot tub. Use your retreat to ride the waves, with equipment for hire and daily lessons at the surf school. There's plenty of space for people to grab a team for a ball game, or just relax with an ice cream watching the world go by. Devon breaks are perfect for exploring a new adventure, with hot tub log cabins offering the perfect respite.
Brand new to Ruda is Croyde Burrows, an exclusive area home to romantic lodges and accommodation, each with their own private hot tub. After one day or weekend of adventuring, the hot tub will be calling your name to relax in. Cabins are spacious with beautiful luxury designs – which offers an ideal base for any romantic break holidays.
Facilities: Alongside the hot tubs and pet friendly romantic cottages, this site is home to the forest feel Tropical Adventures pool, fishing ponds and wildlife nature trail. Catch a night show at the entertainment lounge or spend a romantic evening for two at the Coast bar & kitchen. Take a break from romantic hot tub moments to try your hand on the tennis courts, or let the kids explore the indoor play area. With your pick of cozy log cabins, this luxury romantic hot tub break is the best of both worlds. 
Find out more about Parkdean Resorts Ruda 

Parkdean Resorts Tummel Valley
Holiday park location: Perthshire, Scotland 
Great for: secluded romantic breaks with stunning views 
Want a luxury romantic holiday in bonnie Scotland? Tummel Valley offers a rustic forest getaway, a unique chance to relax away from crowds of people and city life. The tranquil forest park sits alongside a quiet river, making romantic holidays a little slice of something special. 
Immerse yourself in forest life and retreat to the luxury lodges, watching for wildlife such as red deer or taking a romantic stroll through the woodland nature. Add to the hot tub luxury experience by taking a trip to the heated indoor sauna, taking time out to relax and recharge on your holiday break. One key feature Tummel Valley offers is the friendly service and atmosphere – even if your holiday break is a romantic trip for two, there's always a wonderful community around you.
Use your romantic holiday break as a chance to explore the beauty of North Scotland, whether that's through the forest or embracing the local history. Sightsee the local castles find time to sample a delicacy or two. Choose to harness your inner explorer with a visit to the near Highlands – climb up the mountainside for a once-in-a-lifetime view, or get lost on the Tay Forest floor with different hikes or cycle paths. Breaks in North Scotland aren't complete without taking in as many views as possible – even if that's from the luxury of your hot tub!
Dance the night away in the Entertainment lounge or enjoy a hearty meal in the Riverside restaurant ready for a day of discovery. If you feel like staying in to relax, the romantic cottages offer everything you need to hunker down for some quality time together. Soak the tensions of the day away in the hot tub or make a romantic luxury night in for two. Whichever you choose, holidays at Tummel Valley cabins hold something for everyone. 
Facilities: Pet friendly cottages are located close to a variety of services, such as a laundrette and convenience store. Grab a takeaway to enjoy in the hot tub, or make a night of it in the bar and restaurant. No need to choose just one from the amusement arcade, crazy golf or sports court – this site offers the lot. Choose from 2,3 or 4 bedroom luxury lodges, which are stylish, spacious and feature their own hot tubs. 
Find out more about Parkdean Resorts Tummel Valley 

Parkdean Resorts Landguard
Holiday park location: Shanklin, Isle Of Wight
Great for: luxury romantic cottages
For the full feel of luxury, lodges at Landguard are the top choice. Surrounded by a wildlife-filled woodland, the idyllic setting offers a wonderful space to relax and enjoy a romantic holiday you won't forget.
One of Landguard's unique selling points is that cottages are the perfect halfway point between beach beauty, countryside sights and the buzz of the near local towns. Relax with a night in the hot tub, energised for a new day of discovery. The near town of Shankin is a romantic sight in itself, as it offers a cozy selection of pubs and restaurants and distinctively sweet British architecture.
If you fancy something more high octane than the hot tub at the lodge, take a dip in one of the heated indoor or outdoor pools to feel the full holiday spirit. Choose to relax poolside or grab a bite to eat at the nearby restaurant – or sneak a takeaway back to the hot tub for a moment of pure romantic holiday luxury! The site offers a wealth of things to do, including a show-stopping entertainment venue, amusements and family friendly entertainment for the kids. If hot tubs and activities on site aren't quite enough, you have access to the sister Lower Hyde park for an added element of fun. 
Facilities: If you'd like an added companion to your romantic hot tub breaks, selected cottages are pet friendly. Boredom on Landguard holidays is never a problem with the varied entertainment on site – although you might just prefer to chill in the hot tub! Choose from a timber log cabin, spacious lodge or cottages with room for all the family to make your romantic holidays just right for you.  
Find out more about Parkdean Resorts Landguard 

Parkdean Resorts Coopers Beach
Holiday park location: Mersea Island, Essex
Great for: Tranquil beachside romantic breaks 
An idyllic seaside hideaway, Coopers Beach offers everything romantic holiday breaks might need. Perfect for its tranquil setting, relax in the hot tub while overlooking the South Eastern coast, or get stuck in to the fun activities for some quality bonding time. 
An area known for its water sports, the holiday sea is right on your cabin doorstep. Choose to chill in your hot tub and watch the world go by, or set out romantic activity day dates on site. Lodges are near to a multi-sports court and excellent food at the restaurant, as well as the entertainment venue to round the night off. Romantic holidays don't always have to be slow-paced, though the pull of the hot tub might be too strong!
Dip your toe into the nature of the seaside, with plenty of classic coastal walks making for a romantic day out. Use the on site boat launching facilities to charter the waters, or take a splash in your hot tub or the outdoor pool for an on-land alternative. Make sure to have your camera on you for a spot of bird-watching, with flocks frequently migrating over the lodges. 
Embrace the romantic spirit by spending as time in your hot tub as possible – with so much beautiful surrounding scenery, what more could you ask for?
Facilities: Near to the Blackwater estuary, the site also has heated indoor and outdoor pools if you'd like a break from the hot tubs. Take a stroll along the seafront before hitting the bar and restaurant, or stop by the convenience store to stock up on supplies for your lodge. Cottages are pet friendly, modelled with beautiful outdoor verandas. 
Find out more about Parkdean Resorts Coopers Beach 
Across the UK a wide variety of romantic breaks are offered, and not everyone is looking for the same holiday qualities. At Breakfree we know how important it is to get romantic breaks just right, so don't be a stranger to our website if our listed choices aren't quite tickling your fancy. Whether you're looking for romantic breaks in the Peak District and Yorkshire Dales or wanting to soak in other hot tubs across the country, Breakfree holidays have something to offer everyone.