Across the United Kingdom, the log cabin is a holiday trip with a certain magic. 
Lodges and cottages alike are wonderful 'home-from-home' bases to kick off your adventures exploring somewhere new. Whether you're taking in the views of the British countryside, or relaxing away from it all, log lodges are the place to be.
From hot tub holidays to sight-seeing sojurns, Breakfree have compiled a list of the best last minute lodges and properties so you don't have to.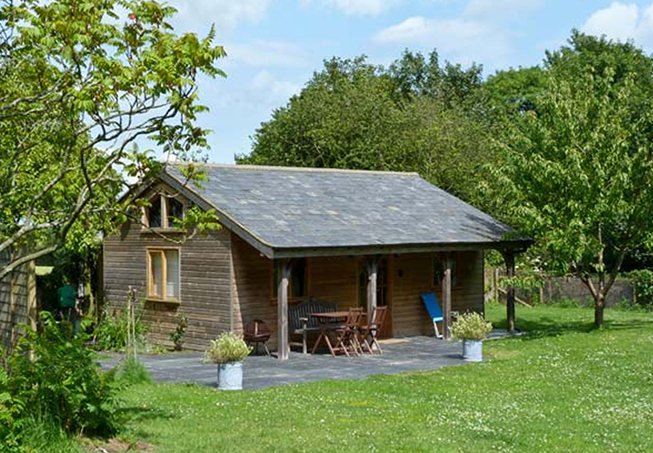 The Springs
Cabin location: Near Brading and Ryde, Isle of Wight 
Great for: last minute rustic hideaway holidays
After the last year, some quality time away from it all on a last minute holiday with new views and open space is just what we all need. If you're looking for the perfect get away for two, The Springs could be the ideal choice for you. 
Immerse yourself in the natural beauty of the Isle of Wight in your own private cottage fitted with a vaulted pine interior. This log cabin has everything you need for a perfect holiday stay, including easy access open plan studio accommodation and a wet room bathroom. One of the best parts of The Springs is that it's not crowded by a village or other neighbours, so there's plenty of space to breathe, soak in the views and take some time for yourself.
The cherry on the cake is the accommodation swimming pool, a beautiful way to spend a romantic summer's day outdoors. Heated for a dip in colder seasons, the swimming pool is also close to a private outdoor seated area, so you can search for forest wildlife or find the stars in the nights' skies. Save a moment to savour the extensive and tranquil gardens surrounding your log cabin area, before dining on a romantic meal for two. 
If you're missing the sea views, the lodge is a mere two miles away from the popular holiday breaks spot of Ryde. Packed with a number of shops and restaurants, the town is a lovely choice for a day out, complete with the beautiful sweeping scenery of the coastline. 
Facilities: A one bedroom lodge, This cottage is more suited to adults and couples rather than pets and young children. For self-catering options, the owner is happy to find local produce to use during your break at the property. Other facilities include available wifi and a possible red squirrel sighting. Price may vary depending on time and season – book early for the best choices! 
Find out more about The Springs from Skyes Holiday Cottages


Lodge 11
Cabin location: Tavistock, Devon
Great for: last minute rural countryside views 
Snug in the heart of Dartmoor National Park, this cottage has all the best of what Devon has to offer. Overlooking the beautiful fields of the South West of the United Kingdom, Lodge 11 is the perfect find for family holidays. 
Start your day sitting out on the outdoor decked area of the log cabin, taking in the lovely views of miles of open space or getting stuck into a good book. Get the best out of the lodge area by setting out for a hike in the natural beauty and search for the ideal mountain (or hill) to climb and take it all in. Head back to the log cabin for a break to take advantage of the well-equipped dining area or grab a refreshing drink. 
With a bath the size of a private hot tub, you'll feel the cozy luxury in every corner of the cottage. Kitted out with a plush sitting area, a master king-size suite and a contemporary stylish interior, Lodge 11 truly feels like a home away from home. An extra special addition is the veranda – the perfect place to unwind on warm nights. 
One of many National Trust sites across the uk, the surrounding area to the lodge site has a great deal to offer. Route 27 of the National Cycle network is just three miles away, while six golf courses, lovely gardens and an abundance of open walks to choose from are all accessible during your holiday break. 
Fancy a trip further afield? Plan to visit the sandy views of the near beaches – ideal for exploring on a beautiful summer's day as well as in colder months. The near village of Tavistock offers a wide range of pubs and restaurants to choose from – an ideal alternative for nights out. 
Facilities: With two bedrooms on site, the accommodation offers a thoughtfully furnished holiday base. Facilities including open plan living space, off-road parking and a decked balcony, making a perfect location for holidays and breaks. This property is suitable for adults and families with children but pets are not the right fit. For information on price, reviews and late availability, don't hesitate to visit the link below!
Find out more about Lodge 11 from Skyes Holiday Cottages


Black Mountain View
Cabin location: Llanafan Fawr near Builth Wells, Mid Wales
Great for: last minute 'quality time' holiday breaks 
Looking for somewhere to reconnect and unwind with a loved one? Black Mountain view is a perfect choice. With a bedroom sleeping two, this is a cottage with views of its own, looking down on the miles of Welsh countryside. A neighbouring property also near, these cottages are both lovely and perfect for a last minute romantic holidays.
The log cabins are each open plan and provide a wonderful chance to see the Welsh rural landscape in a new light. A different view can be seen from the lounge to the bedrooms, giving the effect of an immersive 360 experience that can't be felt anywhere else. Find things to do further afield by exploring the surrounding walks and cycle paths or opt to save your energy for a cozy break away from the efforts of the day.
If you fancy taking in the view a little closer than the bedroom or spot by the wood burner, plan to visit the near Black Mountains for the day. If you fancy a trip into the village for a spot of local flavour, the log cabins are also close to Llanafan Fawr, home to unspoiled countryside as well as a pub for the perfect evening meal. For some sporty activities, find species of bird at the Wye River or bring your fishing gear to search for your best catch of the day. 
Facilities: This accommodation sleeps two, but next-door properties can be booked together for larger holidays. Best suited to adults and babes in arms, the cottages boast a fully-furnished veranda, lockable bike storage and open plan living. There's even a starter pack for the wood burner for those cozy lodge nights! With wifi fully available on site and private outdoor space, we recommend booking soon to guarantee your last minute log cabin break!
Find out more about Black Mountain View from Skyes Holiday Cottages  


1 Lake View
Cabin location: Lanreath, Cornwall
Great for: last minute spa and hot tub breaks 
As far as lodges with hot tubs go, 1 Lake View is a real treat. Tucked away in the village of Lanreath, this cottage is an ideal antidote to modern living. A lovely cottage for couples, this holiday will make the log cabin experience feel brand new after recent property renovation for extra tranquility.
The bathroom is the star of the show – fitted with a private hot tub and sauna to make your stay all the more romantic. Find your inner peace under the bubbles or sweat out some stress relaxed and new. A one bedroom holiday, enjoy the view from the comfort of the cottage living space or outside in the enclosed decking area.
Surrounded by miles of the great outdoors, get into the spirit of the Cornish countryside with a visit into Lanreath village itself, teeming with character from farms and fishing to spooky ghost legends. Save time to visit the miles of coastline to search for ships on the horizon, or grab a new shell souvenir from the beach. Head back to the lodge to start your evening in style, with the option of the Old Mill Bar, or choose to take the Stonerush Lake sights in from the comfort of the log cabin.
The reviews speak from themselves – 1 Lake View is a wonderful last minute retreat to book in your search for cottages or lodges for you!
Facilities: Not one for pets, but if you are in need of more bedrooms, properties are close together for the benefit of larger bookings. Extra facilities are available for babes in arms, while each living area is bright and highly-furnished. Park nearby the properties for easy access to search for your nearest shops a few miles away. Did we mention they are lodges with hot tubs?
Find out more about 1 Lake View from Skyes Holiday Cottages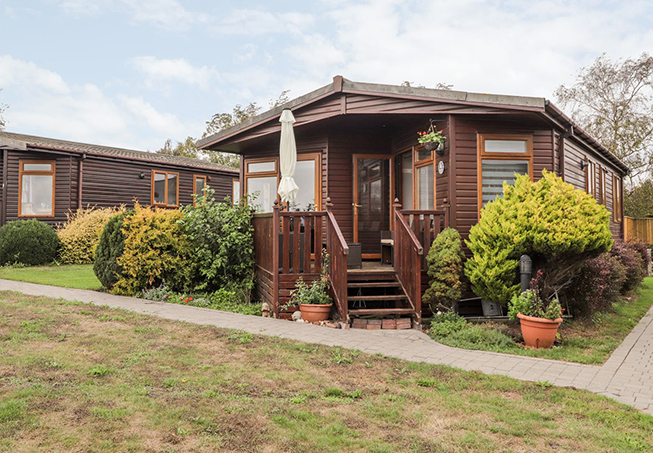 4 Country View Park
Cabin location: Graveney near Seasalter, Kent
Great for: A last minute group holiday
Start to spend time with your favourite people when booking this last minute lodge. 4 Country View Park is a hub for shared quality time with two bedrooms and plenty of relaxed lodge living space. With rave reviews and a cluster of properties close by, this is a holiday area you'll come back to time and time again.
Have some chilled down time in front of the electric fire before you get your feast on around the spacious dining table. Take your holiday at a relaxing slow pace while savouring your cup of coffee on the outside decking while soaking up that summer sun. The two bedrooms boast a range of features, from plentiful storage to a private en-suite bathroom. Pretty soon, you'll start feeling like you never want to leave!
For an extra holiday treat, make a booking at one of the popular seafood restaurants to sample the local delicacies. Choose to bring your own food for a stash of snacks, and pop the champagne cork to watch the sunset across the classic rolling English countryside. However you decide to spend it, we guarantee you'll always have an amazing time!
The lodge is surrounded by miles of the gorgeous Kent Downs, making it easy to search for a new walk, hike or adventure to fill your day. If you do fancy a change of scene, the seaside towns of Seasalter and Whitstable are a stone's throw away, offering miles of glorious coastline alongside a host of shops and restaurants. Save time for a trip to Joe Bow's Falconry for the thrill of a once-in-a-lifetime experience.
Facilities: Cabins are best suited for couples and groups of adults rather than pets or children. Park two cars close by for trips out or take full advantage of the fully furnished kitchen. Wifi is available with options of central heating and the all-important electric fire. Book now to avoid disappointment!
Find out more about 4 Country View Park from Skyes Holiday Cottages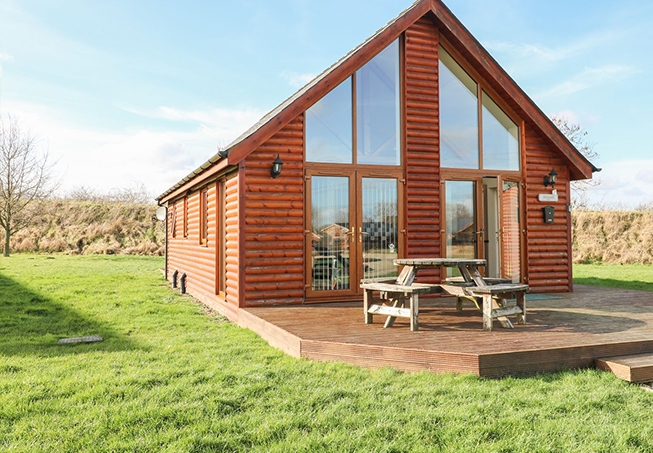 Birkdale Lodge
Cabin location: Thorpe-On-The-Hill, Lincolnshire
Great for: last minute 'home-from-home' holiday
Don't want to miss out on a homely feeling while splurging on a little luxury? This lodge could be the ideal choice for you. We love lodges with hot tubs, and Birkdale Lodge is certainly no exception. Looking out across the miles of Lincolnshire countryside as you soak in the hot tub could be the only reason you need to start booking sooner rather than later.
Start feeling the holiday spirit as soon as you open the door, with two bedrooms and an open plan living area all bursting with sunlight. Next to your hot tub you'll find a perfect alfresco dining spot in a private outdoor decking area. These lodges have the extra benefit of a variety of on-site facilities, including a golf course, fishing and beauty services.
No need to search for new things to do as the surrounding area is steeped in natural views and rural charm. As well as miles of possible walks and cycle trails, the Whisby Nature Reserve is mere minutes away, home to breathtaking views across the nearby lake. Take a trip into Lincoln to see the stunning cathedral and grab a bite to eat. For a seaside day out, head to Skegness to search for crabs, shells or to mark the start of summertime. 
There are wonderful reviews for this lodge, so don't just take our word for it!
Facilities: Aside from the glorious hot tub, features include shared use of 7 acre grounds, off-road parking and access to new linen. Two bedrooms and two bathrooms are available in this lodge, but the close by lodges can sleep 14 in total if you have a larger booking. Pets on their best behaviour can also get the chance to stay here. Price may vary depending on season. 
Find out more about Birkdale Lodge from Skyes Holiday Cottages


Bryn Eiddon Log Cabin
Cabin location: Aberhosan near Machynlleth, Mid Wales
Great for: last minute romantic luxury get away 
For the full-on luxury experience, Bryn Eiddon is a top choice. A new lodge with a hot tub, two bedrooms and fantastic reviews, there's a reason for everyone to start feeling excited before you've even booked. 
With your own private hot tub, this lodge takes design inspiration from traditional open-plan cottages, complete with wide patio doors to let in that fresh countryside air. The kitchen is ideal for delicious home-cooking, while the bedrooms have plenty of space for you and your belongings. Don't forget to check out what's on TV from anywhere in the lodge!
Soak in your hot tub while you search the skies for the local wildlife, or start to take in the scenery of the Welsh rolling hills. From your own private balcony, each view is as unique as the next. In the colder months, spend some quality time around the wood burning fire, or cuddle up to watch the world go by from the comfort of the bedrooms. 
The site is just as suited to pets as it is to humans, with lots of choices of dogs walks or hikes in the nearby Snowdonia National Park. The small market town of Machynlleth is also a must-visit, home to two art galleries and the Museum of Modern Arts. Want to try something new on your break? Pick from a choice of riding, fishing and rock-climbing sits close by.
Facilities: The star of the show is the private hot tub situated on the balcony, which is also brilliant for alfresco dining. Underfloor heating is throughout, with room for two parked cars and one well-behaved pet. There's a starter pack for the wood burner stove as well as electric alternatives in the kitchen if you don't fancy toasting some marshmallows. 
Find out more about Bryn Eiddon Log Cabin from Skyes Holiday Cottages 

 At Breakfree, we know how important it is to get every detail of your trip just right. From properties by the Scottish borders or lake district, to more bedrooms or more sites across England and Wales, not everyone is looking for the same thing. To enjoy more hot tub holidays, deals and lodges without going anywhere else, don't be a stranger to the Breakfree website. The right lodges for you are waiting to be discovered!