If you're anything like us, the dream of an awesome holiday has been keeping you going these last few months (… but where on earth have we put those sunglasses?)
If you're starting to get envious hearing about all the amazing breaks your friends are booking, don't panic – with plenty of last minute holiday cottages on offer, your perfect Norfolk retreat could be just a click away.
Norfolk is full of beautiful properties, and whether you're on the search for a steal of a price, or an indulgent house on the coast to luxuriate in, you'll find it in this amazing region. So get the kettle on and have a look-see at these 9 unbeatable last minute getaways:
1. Oaktree Lodge

Location: Crostwick near Norwich, Norfolk
Best for: A restful retreat near Norwich and the Norfolk Broads
Have your cake and eat it at this amazing Norfolk holiday home – set in the beautiful countryside, but only 5 miles away from the lively city of Norwich, you can choose to relax in nature or see the sights whenever you like.
You'll also be staying near the incredible Norfolk Broads. With plenty of walking trails for all abilities, why not spend an afternoon strolling along picturesque canals and through idyllic villages (a stop for a cream tea is optional, but advised!)
If that wasn't enough, Norfolk's beautiful coastline is within easy reach as is Great Yarmouth. So if you're looking for a beach holiday with excellent walks, snap this last minute offer up quick.
Facilities: This Norfolk holiday cottage is decorated and furnished to an impressive standard, and is one of the prettiest properties in the region. With three bedrooms, the house sleeps six guests and each one of them is bound to enjoy the amazing hot tub. After chilling with some bubbly in the hot tub, head in to dry off by the cosy wood burning stove (why not check out these 7 last minute hot tub breaks for even more ideas). The house has great self-catering facilities, and you can always treat yourself to a night out at the village pub, which is under 1 mile away. Of course there's always WiFi and the Smart TV for those movie nights. Prices per week start at £948, so we'd recommend nabbing this booking while it's still available.
Find out more about Oaktree Lodge from Sykes 
2. The Boathouse

Location: Wayford, Norfolk
Best for: Canoeing down river and relaxing waterside
Is there anything better than a gentle canoe along the river? How about taking out your own dinghy too? At this last minute holiday cottage you'll be staying by the riverside, and have your very own canoe and sailboat to enjoy life on the water. If you want something a little more zippy from which to explore the area by river, you can always hire a motorboat from the nearby provider.
Back on land, you'll still have amazing views over the marina, and the decked garden space is perfect for BBQs and al fresco dining. After a busy day exploring the friendly villages and stunning local coast, head back to your gorgeous property and throw a couple of shrimps on the grill.
Facilities: On the ground floor of this tranquil accommodation you'll be treated to an open plan sitting room with cosy log burner. With lovely views over the water from the sitting room and kitchen, you'll feel relaxed all week – you might even enjoy doing the washing up… Upstairs there's a double room and a room with two single beds, meaning the property sleeps 4 guests. Both rooms have ensuites, making for an extremely comfortable stay. Prices for a week at this last minute holiday cottage start at £958, subject to availability and season, and though you'll be in a calm and peaceful part of Norfolk, the strong WiFi at this house will make keeping connected with the outside world a doddle.
Find out more about the Boathouse from Sykes 
3. Modney Hall

Location: Hilgay near Downham Market, Norfolk
Best for: A large group stay in a grand house with a swimming pool
Stay in a house, a very big house in the country! Or we might just get a booking in there before you. 
And who would blame us? This stunning hall sleeps up to 8 guests across three bedrooms and is the perfect place to enjoy a last minute holiday in style. On top of that, you can also book the garden cottage (a single storey bungalow, so perfect for those who prefer ground floor living) which will accommodate an extra 4 people. 
We absolutely love the dining space, which is light and airy during the day, and atmospherically cosy at night thanks to the log burner. During the warmer months, you'll want to spend all day in the heated swimming pool (shared with the cottage property) and there's fab outdoor furniture and a BBQ to enjoy. 
Facilities: This amazing last minute Norfolk holiday cottage gets some of the best reviews and it's not hard to see why. Presented to a very high standard, there are top self-catering facilities in the kitchen and an impressive three bedrooms (with additional accommodation available with a garden cottage booking). The reception rooms are bright and calming, while comfy and intimate come the evening. The cottage is pet-friendly and family-friendly but there are unfenced ponds on the property so young children need to be supervised in the garden. Prices for 7 nights at the cottage start at £1260, and late availability doesn't usually last for long before getting snapped up. 
Find out more about Modney Hall from Sykes 
4. West Farm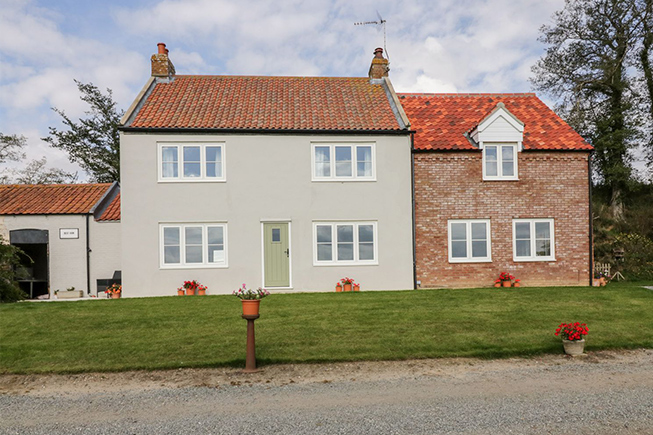 Location: Caister-on-Sea, Norfolk
Best for: Quiet country life in a renovated farmhouse 
If you've never been to the Norfolk Coast, you've really been missing out. Luckily this great farmhouse is within walking distance of a lovely beach, so you can make up for lost time and enjoy a holiday near the coast. You definitely deserve one! The cottage is even near the charming village of Caister-on-Sea, which has long been a favourite coastal resort amongst holidaymakers. 
Whether you're in Norfolk for a short break or an extended booking, this is one of the best holiday cottages for a peaceful and restorative family-friendly holiday, as there are no other properties close by. Which also works well if you like to make a lot of noise as a family and watch the kids let loose.
After a busy beach day on the Norfolk Coast, you can head back to the haven of your own holiday accommodation and cosy up with your family. 
Facilities: With last minute Norfolk cottages this good, we reckon you should start packing now. The property sleeps 8 across 4 bedrooms and has plenty of room for a large group to spend time altogether. At £1123 per week, this is a great price for a house that can fit so many people. Of course this price is a pretty tempting offer, so may not be available for very long (don't say we didn't warn you). Pets aren't allowed at this property, so read on for some more pet-friendly options.
Find out more about West Farm from Sykes 
5. Norbank Garden Studio

Location: Bressingham, Norfolk
Best for: A romantic retreat for two/great base for exploring Norfolk & Suffolk
Fancy a log cabin style retreat? This studio in the village of Bressingham is the ideal base for a couples walking holiday, or for a perfect holiday alone. Close to the border, you'll be able to explore both Norfolk and Suffolk easily, so don't forget your boots.
The studio is within walking distance of the village shop, and near to the lovely Bressingham Steam and Gardens. You'll also be only a few miles away from the popular market town of Diss, which is full of independent shops and friendly pubs.
For even more inspiration, why not check out these 7 Last Minute Log Cabins? We think you'll love what you see.
Facilities: This open plan studio property is set in a large, lush garden, and you'll have your own little patio to sit out on and enjoy the fresh Norfolk air. The cottage sleeps two, though you could always make a booking for the other studio too, if you're on the search for a four person holiday. The cottage has great self-catering facilities, and good late availability. If you're looking to book a short stay, bookings for 3 nights start at £422 – but 7 nights is also £442 and, with WiFi in the cottage, you may as well book for a week even if you have to do a bit of work from your snug cabin! 
Find out more about Norbank Garden Studio from Sykes 
6. Megs Cottage

Location: Norwich, Norfolk
Best for: A quiet and cosy property by Norfolk
If you want to have super easy access to Norwich, but have a safe haven away from the crowds, this is the cottage for you. 
Built in the 1840s, the house is full of cosy country charm and the perfect bolt hole for a chilled holiday in Norwich – you'll be staying in the suburban village of Drayton, just 4 miles out of the city. 
Norwich is full of great museums and galleries, and if you want to spend time in the local area, then Drayton has plenty of fab amenities like the Red Lion Pub and a butchers.
Facilities: This pet-friendly cottage is available for groups with one dog, and there's a cute courtyard garden to relax in. The accommodation sleeps 4 people across 2 upstairs bedrooms with a family bathroom on the ground floor. There is quite a steep spiral staircase in the property (with a handrail) so this might not suit everyone, but at £483 per week this isn't an offer to be sniffed at. If you're looking for short weekend breaks close to Norwich, then a 3 night stay is a little cheaper at £461.
Find out more about Megs Cottage from Sykes 
7. The Hayloft

Location: Necton near Swaffham, Norfolk
Best for: A cosy couple's retreat in a barn conversion
Who knew a stay in a barn could be so nice? Well, a converted barn, of course… This lovely accommodation is the perfect hideaway for a couple, or it can be booked with the accommodation beneath which sleeps 13 people across the two properties. 
You'll be properly immersed in idyllic countryside life at this comfy cottage – set in the rural hamlet of West End (2 miles away from Necton) the barn is surrounded by a lovely garden with its own babbling brook, and beyond that 2 acres of land with free roaming chickens and ducks. 
This is a pet-friendly cottage and two well-behaved dogs are welcome, though be advised that dogs will need to be kept on a lead around the cottage because of the cute chicks and ducks!
Facilities: Out of all the amazing Norfolk properties out there, it's no wonder this gets some of the best reviews – with some guests having stayed multiple times. There are steep steps leading up to the top of the barn, and wifi can be a little patchy, but in our opinion that just adds to the feeling that you'll really be able to get away from it all at this secluded loft. Currently the price of a last minute getaway starts at £416 per 7 nights, though we don't expect this offer to be around for long!
Find out more about The Hayloft from Sykes 
8. Sleepeezy

Location: Little Snoring, Norfolk
Best for: A stay near the North Norfolk Coast
Out of all the Norfolk cottages out there we reckon this one has the best name, hands down, and we know you'll love telling everyone about your upcoming stay at Sleepeezy in the quaint North Norfolk village of Little Snoring.
Little Snoring is a lovely little village with its own shop and pub, while nearby Little Wallsingham is another historic village that's well worth a visit. Or why not head over to the traditional market town of Fakenham? With plenty to see & do within easy reach of the local area, you'll need to give yourself enough time for some days at the beach.
The beach itself is only a short drive from the property, and there are great walks along the North Norfolk Coast to enjoy. You'll definitely want to head to one of the seaside towns within the area, and enjoy some fish 'n' chips on the beach at Sheringham. 
Sleepeezy is a beautiful flint house, and sleeps 5 guests across 3 bedrooms, so has plenty of space for a family to enjoy.
Facilities: Last minute holidays at this fantastic property are getting booked quickly, so you'll want to get in there asap. Breaks start at £571 for a 7 night North Norfolk getaway, which is a great price considering how many guests this property sleeps, and the amount of room. There is a lovely enclosed garden (though no pets allowed at this house), with views over the enclosed garden from the comfy sitting room on the ground floor. 
Find out more about Sleepeezy from Sykes 
9. 3 Station Cottages

Location: Wymondham, Norfolk
Best for: A tranquil stay in a charming market town
We think we might be in love with this Grade II listed cottage, and who would blame us? With a cosy wood burning stove in the sitting room, you can cuddle up close with your loved ones during the winter months, and come summer the enclosed garden is perfect for sitting out with a glass of wine and enjoying the warm evenings. 
There are fab shops, pubs, and restaurants within a short walk of the house, and you'll have plenty to see & do in the surrounding area. This is such a great choice that last minute deals don't often hang around for long – in fact lots of the availability was booked while we were choosing, and the best price currently available for 7 nights is £687 – which is bound to go quickly!
Facilities: The historic house sleeps 4 across 2 bedrooms and has been furnished to a lovely standard. The house is next to the train station, so there is some noise from this, but reviewers have commented on enjoying hearing the trains. It also means the property is well connected and the perfect choice for those without a car. At the price of £687, this place does often get booked up within a short space of time. 
Find out more about 3 Station Cottages from Sykes 
Search For More Top Breaks On Our Website
We'd love to go to stay at all of these amazing properties – in fact we're already getting a little jealous! With great prices on offer, we reckon you'll want to get in there quick while these breaks are still around. Of course if they do get snapped up, we've plenty of holiday cottages and getaways across England and Wales to choose from. Why not check out the full range on the Breakfree website? We know you'll love what you see – so why not start dusting off that neglected suitcase and start looking forward to a holiday with your loved ones.