Devon is well-known for its golden beaches, bustling seaside towns and sub-tropical plantlife – why else would we call it the English Riviera? But there is so much more to Devon than that. There is outstanding natural beauty wherever you go, not just on the Jurassic Coast. It boasts not one, but two nationals parks – Dartmoor and Exmoor.
Dartmoor is an absolutely mesmerising place, with windswept high moorland, topped by rocky crags known as 'Tors', ancient oak forests carpeted with mosses and lichens and has many a river or stream flowing through. You might even spot some wild ponies! Exmoor is known for its exceptional surfing beaches, and rolling heather topped hills with sea views – accessible via a network of footpaths and bridleways (perfect for horse-riding or hiking). Ideal for visiting at any time of year, this county really has something for everyone.
We may be biased, but we believe that holiday parks are the best places to stay for getting the most out of your holiday. They are often right next to a beach for starters. They usually have a range of family activities and facilities on offer – including their own restaurants, kids clubs, entertainment venues and family-friendly bars, making it easy for you to enjoy a relaxing holiday. There's usually use of a swimming pool included too!
Most parks offer a selection of comfortable caravans for hire, but some will also have luxury lodges, apartments and cottages – many of which will be pet friendly. If you take a liking to a particular park and want to come back year after year, you could even invest in buying your own caravan there! Whatever you decide, you can be sure to benefit from all of the above at absolutely unbeatable prices.
We've made it easy for you to find the most luxury holiday parks in Devon, by putting together a list of some of our favourites, located near the best beaches, the most beautiful countryside and with the very best facilities. To find out more information about each of the parks or look at prices for any of these caravan parks, click here.
8 Best Holiday Parks in Devon (Updated for 2021)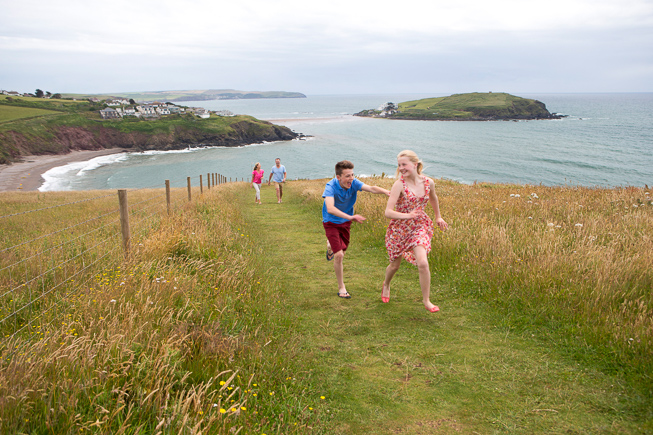 1. Parkdean Resorts Challaborough Bay
Location – Challaborough, Devon
Best for – Experiencing South Devon's stunning sea views
This holiday park is right next to one of the best beaches in the country – Challaborough Bay. This Blue Flag award-winning beach is a classic horseshoe-shaped cove, surrounded by high cliff tops which are home to part of the South West Coast Path. If you follow this path a short way along toward the east of the holiday park, you will shortly come to Bigbury-on-Sea where, if the tide is out, you can walk across to Burgh Island. Here there is a vast art-deco hotel and a small pub looking back out towards the mainland. At the top of the island, you'll find ruins of an old chapel.
This site is one of the best for south Devon caravan holidays, with a vast selection of caravans sleeping up to 8 people, all perfectly spaced out, looking out towards the bay. However, they also have a choice of other accommodation available, including lodges and holiday cottages.
Facilities
The selection of activities on offer here for children includes a kids club, soft play area and a toddlers swimming pool. There is an indoor pool complex for older kids and adults, as well as a PADI Scuba Diving centre, so the whole family can learn how to scuba dive on-site!
Other facilities include a bar and family restaurant, an entertainment venue where you'll often be able to enjoy a live show, and all the amenities you'd expect from most holiday parks such as a laundrette and convenience store.
Read more about Parkdean Resorts Challaborough Bay Holiday Park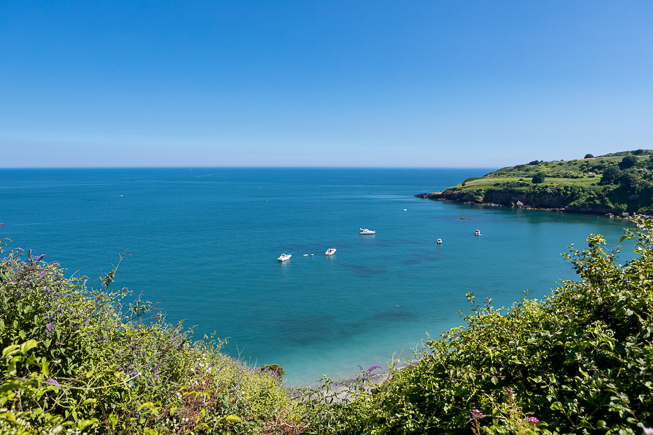 2. Park Holidays UK Riviera Bay
Location – Brixham Devon
Best for – Visiting the Dartmoor National Park and The English Riviera
This park in South Devon is located right next to St. Mary's Bay beach; a secluded feeling, sandy cove not too far from the bustling town of Brixham. You'll be able to walk to the beach in minutes and spend a day relaxing in the sun with your family, before wandering back to the site, ready to enjoy some fun evening entertainment.
One of the best things about this park is that it is currently being transformed, with all the old chalet-style accommodation being replaced with brand new, luxury lodges. You also get two parks for the prices of one! Less than a mile away is Landscove Holiday Park, where guests of Riviera Bay can go to enjoy the swimming pools and restaurant, and play at the arcades.
Facilities
This park has the use of facilities at nearby sister park Landscove, where there's a family bar which welcomes children, as well as an entertainment venue and outdoor pool. Here you'll also find a convenience store and laundrette.
Read more about Park Holidays UK Riviera Bay Holiday Park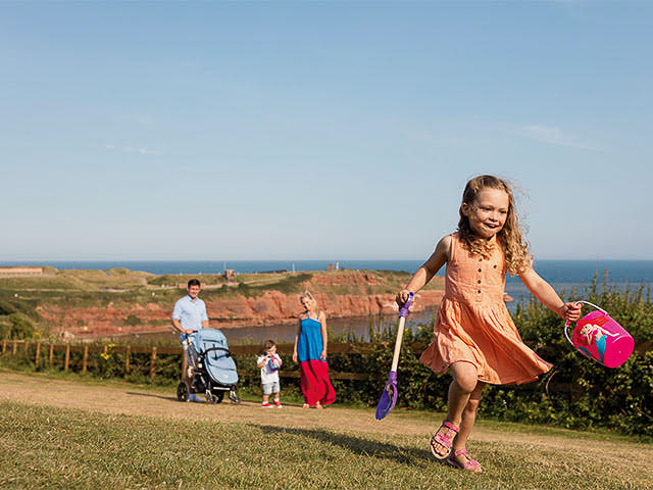 3. Haven Devon Cliffs
Location – Exmouth, Devon
Best for – Fossil hunting along the Jurassic Coast and walking the South West Coast Path
For us, this is not only one of the best caravan parks in Devon, but it also made it on to our list of 15 Best Holiday Parks in the UK! Haven Devon Cliffs Holiday Park is located in next to Sandy Bay Beach in South Devon, on the edge of the Jurrasic Coast, with the park itself perched up high on the red cliffs overlooking the sea. As well as caravans, this site also has some luxury lodges, so you can really treat yourself on holiday here.
The Jurassic Coast is a UNESCO world heritage site – the only location in England, so it's pretty special! It was named so, for its unique fossils and rock formations. This is a fantastic place for any budding palaeontologist in the family and makes for a low-cost day out. You can spend a whole day searching for fossils to keep as a souvenir – just make sure you read the guidelines on the Jurrasic Coast website before you go – this is important for safety and sustainability.
Facilities
Like most caravan sites in devon, the facilities here are perfect for families with children to get the most out of their holiday. There is a large indoor swimming pool, two heated outdoor swimming pools, day and evening entertainment, a climbing wall, play area and an on-site nature activity provider. The kids will never be bored, and you can unwind by the swimming pool whilst they have lots of fun.
Read more about Haven Devon Cliffs Holiday Park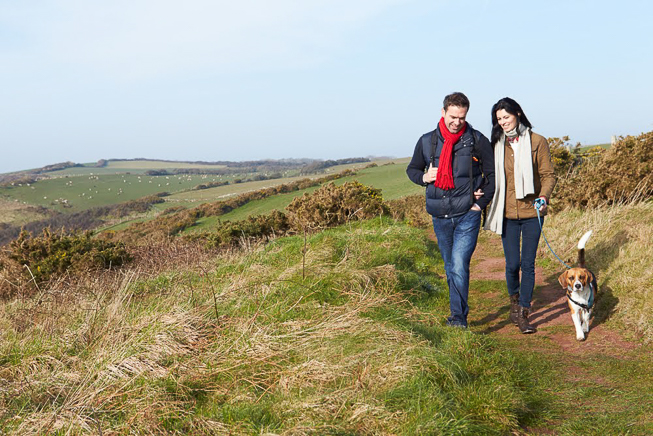 4. Hedley Wood
Location – Holsworthy, Devon
Best for – Pet-friendly holidays and exploring North Devon (and a little of Cornwall too!)
This park would probably be number one if we were making a list of the best dog-friendly holiday parks in Devon! It has so many facilities for people holidaying with dogs that it is the perfect place for a truly family holiday – one where fido comes too,
Situated on the Devon and Cornwall border, only 15 minutes from Bude and 30 minutes from Tintagel, this park allows guests to easily enjoy the best of North Cornwall, as well as North Devon. Its nearest beach is Widemouth Bay in Bude which is only an 11-minute drive. The site itself is nestled among the trees, perfect for a shady dog walk in the heat of summer.
The accommodation at this park is also among some of the best on offer on this list – not only is this one great for touring and camping, but it also has glamping! With a large selection of luxurious safari tents available, equipped with everything you need for a wonderful holiday. Here you'll also find a selection of static caravans to rent, or you can even leave your own caravan here all year round.
Facilities
This park is unparalleled on this list for dog-friendliness. It has dog showers, a dog walking trail, and day kennels for days when you want to go somewhere that isn't as pooch-friendly as Hedly Wood. Doggy guests get a free welcome pack helping them to find all of the dog-friendly beaches nearby. For two-legged guests, there is a play area, a bar serving food and drink and a shop on site. To find out prices for a holiday at this park, click below.
Read more about Hedley Wood Holiday Park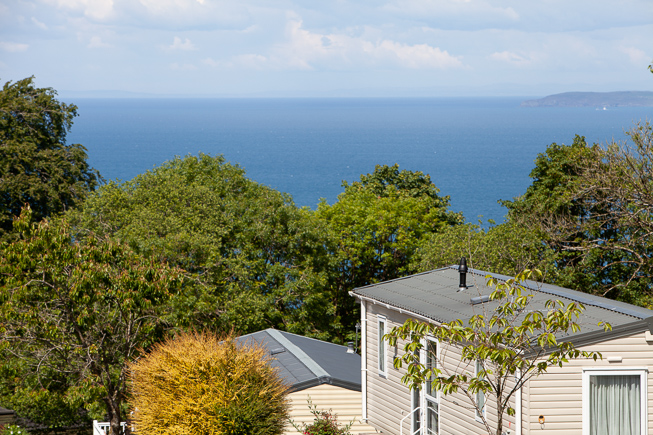 5. Parkdean Resorts Bideford Bay
Location – Bideford, Devon
Best for – Visiting Westward Ho! and the Hartland Devon Heritage Coast
This member of the Parkdean Resorts family is located on the North Devon Coast, 15-minutes away from the joyfully named seaside village of Westward Ho! – named after the novel by Charles Kingsley which was set in the area. This caravan and lodge park is near to some of the most excellent beaches in Devon, with Westward Ho! beach being the best for rock pooling and beachcombing, with its mixture of rocky boulders and vast stretches of sand.
Nearby is also Peppercombe Beach which is a rocky beach, contrasting dramatically with the sand of Westward Ho! Whilst not the most comfortable for sunbathing, it is excellent for rock pooling and wildlife spotting, with dolphins sometimes visiting this part of the sea.
Facilities
This park has all the great activities you'd expect from Parkdean caravan parks, such as outdoor and indoor swimming pools, crazy golf and a soft play area for younger kids.
Read more about Parkdean Resorts Bideford Bay Holiday Park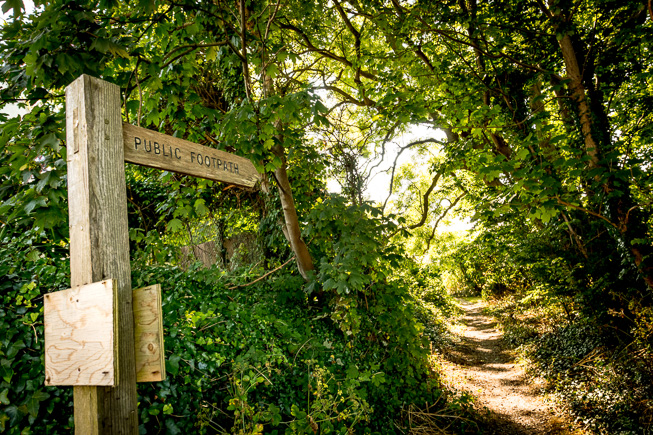 6. Hornbeam Country Park
Location – Honiton, Devon
Best for – Getting out and about in Devon – and hot tubs!
This park in Devon is very different from most of the parks we have on our list, but no doubt still one of the best holiday parks in Devon in our opinion! It doesn't have all of the on-site activities for children that most other parks at Breakfree Holidays, but for what it lacks in catered fun, it makes up for with – hot tubs! This gives it a much more tranquil and adult centred feeling.
Nestled in the Blackdown Hills ANOB, this park is also suitable for those who want to explore rural Devon and care less about having a beach on their doorstep. However, the closest beach is only 30 minutes away by car in the village of Beer. This shingle beach is stunning, backed by tall limestone cliffs and close to the picturesque town, it's perfect for a day out. Here you'll find something for everyone to enjoy – with plenty of places to eat and activities to enjoy nearby – you can even go for a sail on a mackerel fishing boat!
Facilities
The lodges here are beautifully decorated and equipped for a comfortable family holiday, and many have their own hot tub – a big bonus! With no activities or entertainment on-site, however, this gives you every excuse to get out and about.
Read more about Hornbeam Country Park Holiday Park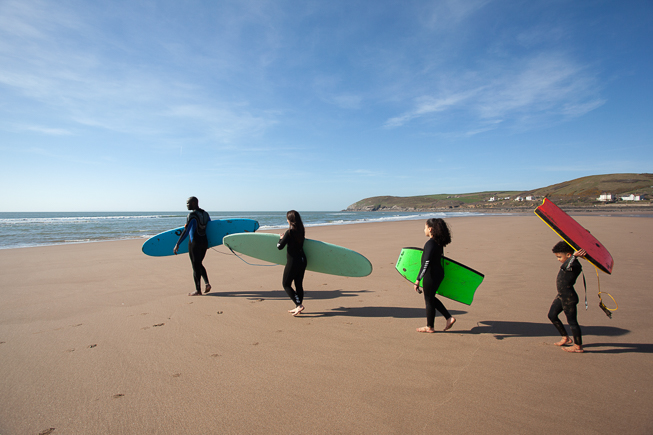 7. Parkdean Resorts Ruda
Location – Croyde Bay, Devon
Best for – Beach lovers and those who want to surf!
Another Parkdean park that has made it onto our list of best caravan parks in Devon is Ruda Holiday Park, which is located in between Croyde Bay and Woolacombe Beach.
Woolacombe and Croyde are both stunning beaches, so you're so spoiled for choice at Ruda Holiday Park. Croyde is the closest, and this golden sandy stretch is backed by pretty dunes – no wonder it is one of the most popular in the county, and not only because it's one of the best places to surf! Woolacombe is also great for surfing but is much larger than Croyde. With its pretty beach houses and enough room for 2000 cars to park nearby, it has won multiple awards as one of the finest beaches in Devon.
Facilities
This park is perfect for a caravan holiday, but it also has luxury lodges with hot tubs and options for touring, camping and glamping! So you have the best of everything here.
A holiday here includes the use of an indoor pool and has lots of family-friendly activities, including a fishing lake and adventure play area for children.
Read more about Parkdean Resorts Ruda Holiday Park

8. Park Holidays UK Dawlish Sands
Location – Dawlish, Devon
Best for – A relaxing family holidays with children
There are a few caravan holiday parks in Dawlish, Devon, but this one has to be top of your list if you're planning a holiday to this part of Devon. Popular with holidaymakers, this traditional seaside town is only a 6-minute drive away, or a leisurely 40-minute stroll, where you'll find plenty of shops, cafes and amusements.
The closest beach is a ten-minute walk from the park, and it's a huge Blue-flag award-winning resort known as Dawlish Warren. Here you can enjoy all the usual beach activities of sandcastles and swimming, or there is an 18-hole links golf course for you to enjoy. This is also an excellent place to try horse riding, with some great stables and a miniature pony centre nearby.
Facilities
This park has an indoor pool, clubhouse with evening entertainment, and a family bar where kids are welcome. You can also use the facilities at its sister park where there is a second and third pool.
Read more about Park Holidays UK Dawlish Sands Holiday Park
Thank you for reading our list of Best Holiday Parks in Devon – We hope you have found the perfect place for your next Devon holiday!