Bucket List Britain 2019

Many of us have a bucket list. A whole list of things we want to see and do in our lifetime. But what would it look like if you were to focus just on the UK?
Adventuring on home turf is becoming more and more popular – but how many of these places can you say you've conquered? We would love to add to this list, so please do let us know if you have any more hidden gems.
So pack up, head off for some time away and add these amazing places to your list this year!
BreakFree Holidays – Our top 25 UK bucket list travels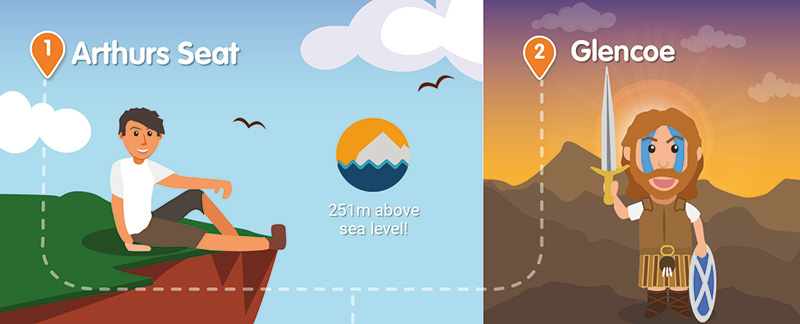 1. Arthurs Seat –At 251m above sea level, Arthurs Seat in Edinburgh enjoys breath-taking views across the Scottish capital. You won't be disappointed.
2. Glencoe –Just two hours from Glasgow, this is one of Scotland's marvels and also where both Braveheart and Highlander were filmed. It's a beautiful place just waiting to be discovered.
3. Climb Ben Nevis –For those who just can't get to Kilimanjaro, tackle Ben Nevis instead. Ben Nevis is the highest peak in Scotland and it's also the tallest mountain in the British Isles.
4. Lake District –There's something for everyone here with the Lake District National Park covering a total area of just over 885 square miles. It's without a doubt, Britain's best outdoor playground where you can walk, sail and cycle to your hearts content. Don't forget to take a boat ride on Lake Windermere.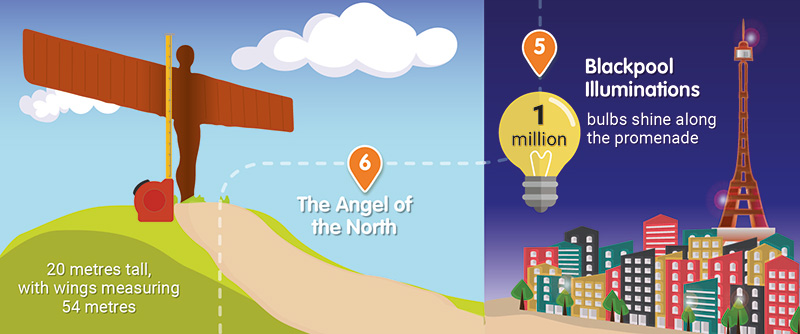 5. Blackpool Illuminations –Don't miss the greatest free light show on earth! From late August to early November you'll see over 1 million bulbs shine brightly along the promenade.
6. The Angel of the North –Such an iconic sculpture. It's located in Gateshead, Tyne and Wear and is 20 metres tall, with wings measuring a massive 54 metres. You certainly won't miss it!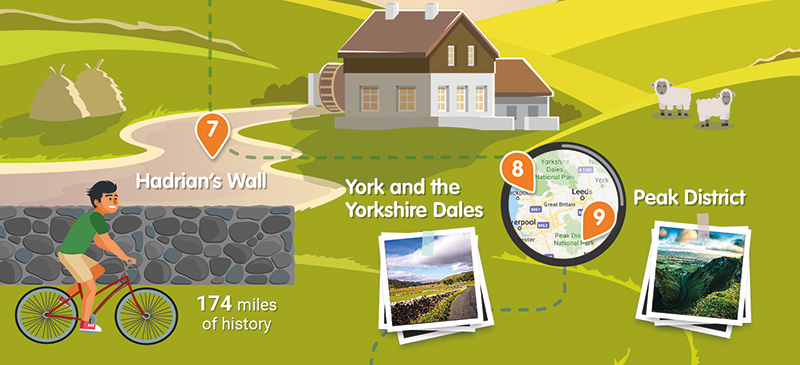 7. Hadrian's Wall –Hadrian's Wall Cycleway takes you from Ravenglass in Cumbria along 174 miles of history to Tynemouth in Tyne and Wear, following the route of the Roman Wall.
8. York and the Yorkshire Dales –This is a city jam packed with excitement. Visit York Minster, take a walk along the cobbled streets or perhaps some well-earned time out in the Yorkshire Dales.
9. Peak District –The Peak District attracts thousands of bikers, walkers and those that love the stunning rugged scenery. It's a sight to behold.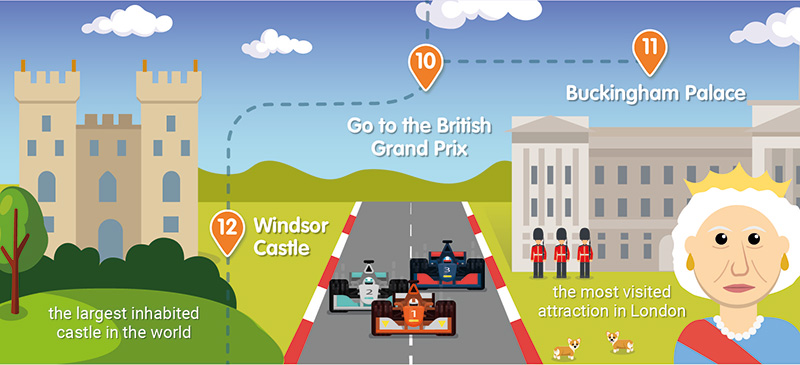 10. Go to the British Grand Prix –A 'must do' experience where you can catch the speed, thrills and noise of the race track.
11. Buckingham Palace –This is the most visited attraction in London with its picturesque statues, ornate gates and the world famous changing of the guard ceremony.
12. Windsor Castle –Did you know that Windsor Castle is the largest inhabited castle in the world. Steeped in history, it's a day out everyone will enjoy.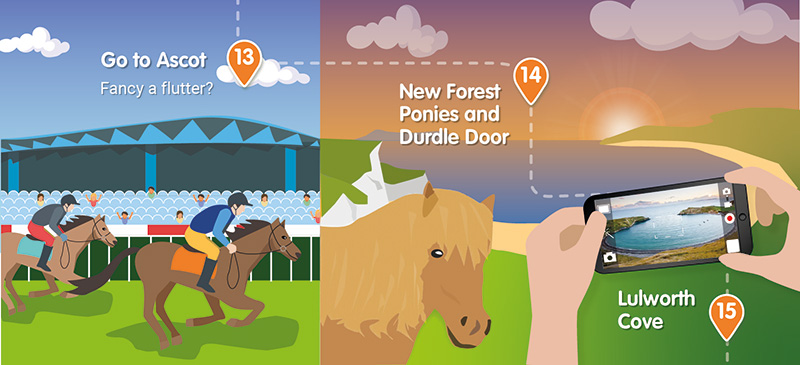 13. Go to Ascot –Fancy a flutter? There are lots of meetings throughout the year. But for something special experience Royal Ascot. From the arrival of the Royal Procession at 2pm to the communal singing around the Bandstand, with six top class races between, each of the five days is unforgettable.
14. New Forest Ponies and Durdle Door –Having a picnic in the New Forest surrounded by ponies is a must. If the coast is more your scene, head over to Durdle Door for jaw dropping views.
15. Lulworth Cove –The beautiful Lulworth Cove on the Jurassic coast in Dorset is a must see destination to visit at any time of the year.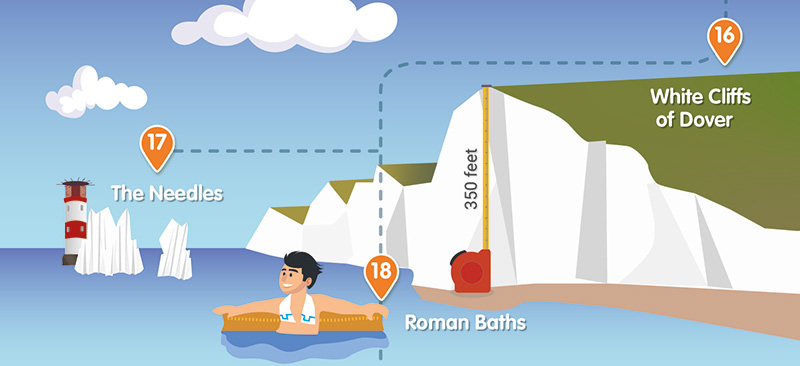 16. White Cliffs of Dover –We've all heard about the White Cliffs of Dover, but how many of us have actually been? The cliff face, which reaches up to 350 feet (110 m), owes its striking appearance to its composition of chalk accented by streaks of black flint.
17. The Needles –Set in an area of outstanding natural beauty on the Isle of Wight, The Needles are a row of three distinctive stacks of chalk that rise 30m out of the sea. It's the Islands most famous landmark attraction.
18. Roman Baths –Fascinating for visitors of all ages The Roman Baths are one of the finest historic sites in Northern Europe.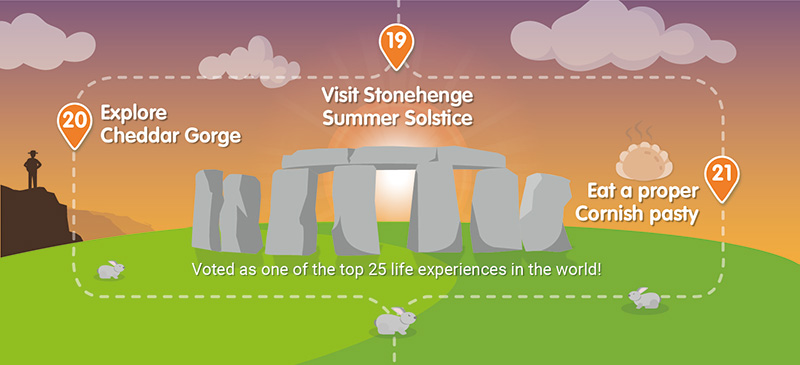 19. Visit Stonehenge Summer Solstice –Visiting Stonehenge during the Summer Solstice has been voted as one of the top 25 life experiences in the world today.
20. Explore Chedder Gorge –The completely natural, limestone Cheddar Gorge not only has drops of 450ft (137m) but is home to the cave where you can stare in awe at the breath-taking stalagmites and stalactites.
21. Eat a proper Cornish pasty –Eating a Cornish Pasty on a Cornish beach, just perfect! (watch out for Seagulls).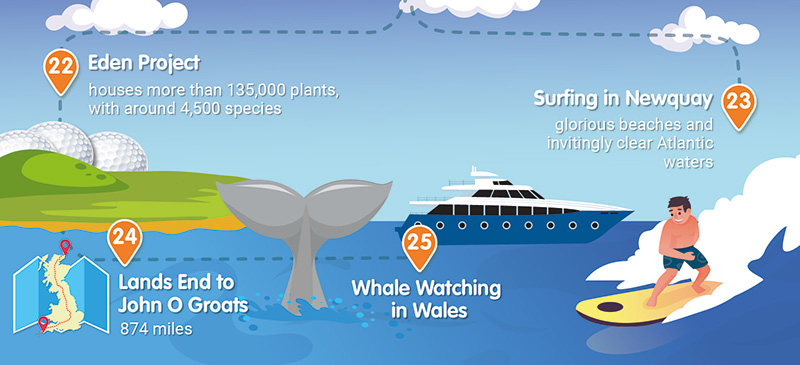 22. Eden Project –The largest garden you'll ever visit. The Eden Project houses more than 135,000 plants, with around 4,500 species.
23. Surfing in Newquay – Newquay is known for its glorious beaches and invitingly clear Atlantic waters. Perfect for its world famous surfing.
24. Lands End to John O Groats –874 miles (1,407 km). That's the distance between the two well-known hotspots. It takes most cyclists ten to fourteen days; the record for running the route is nine days.
25. Whale Watching in Wales – A boat trip to the deep waters off Pembrokeshire is best for sightings. If you've ever seen whales up close and personal you'll know why this is a bucket list must!