It's back – we've teamed up with the Daily Mail to bring you holidays from £20 per person.
And whether you've booked before or this is your first time, we've written a handy guide to answer your most frequently asked questions. If there's something we've missed, use our comments section below and we'll answer your query.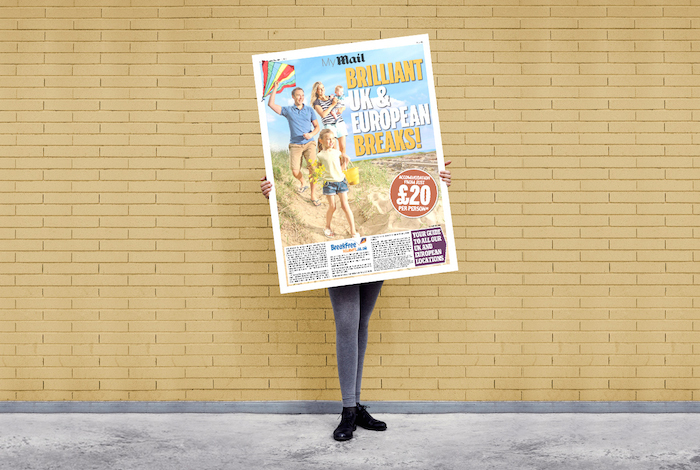 Destinations
1/ There are more than 150 UK holiday parks to choose from, and they're located around the UK coast.
2/ We've included more than 100 European parks in 8 countries, including Croatia, Corsica and Austria (and lots in France, Spain and Italy).
See UK and European parks here: www.breakfreeholidays.co.uk/dailymail
3/ All prices for European breaks include an off-peak Dover to Calais ferry crossings.
4/ The promotion features major operators including Haven, Park Resorts, Parkdean and Park Holidays, Eurocamp, Butlins, AND independent holiday parks.
Dates
5/ Choose from dates in April, May, June, July, September and October.
6/ Summer school holidays are not included in this promotion (sorry!).
7/ Weekend breaks run for 3-nights from Friday to Monday; midweek breaks for 4-nights from Monday to Friday.
See available dates: www.breakfreeholidays.co.uk/dailymail
Prices
8/ The cheapest accommodation (Standard) is from £10 per person for three or four nights in spring and autumn, with service charges (for gas and electricity) and optional entertainment passes (to use the pools, kids clubs and evening entertainment) bumping up the cost. On selected breaks these charges are FREE.
9/ Prices are based on a minimum of four people travelling. If more than four people are in your party, you'll pay a little bit extra.
10/ At most parks you can choose to pay a small extra charge for entertainments passes which give you access to pools, children's clubs and evening shows. Prices range from £3 per person to £17pp, with the average price around £7pp.
11/ You will pay a service charge on most breaks to cover the cost of electricity, gas and cleaning. This charge ranges from £5 per unit per night to £12.50 per unit per night.
12/ On selected dates, you can find free and half price dates for entertainment passes and service charges.
13/ If you want to save on luggage space, you can choose to pay for bed linen, at a cost of up to £10 per bed.
See prices, charges and a breakdown of free charges here: www.breakfreeholidays.co.uk/dailymail
What's included?
14/ This offer is for self-catering holidays, so meals are not included in the price. All accommodation is equipped with pots, pans, cutlery and crockery, with an oven, microwave and fridge.
15/ Most of the parks included in this promotion have their own restaurants and bars, and many have takeaways.
Pets
16/ Sorry, but pets are not included in this promotion. We advise that you contact the park before making your booking to ensure pets are allowed at the accommodation grade of your choice. Once your booking is confirmed with us you are able to contact your chosen holiday park and add this onto your booking and pay any extra charge, if applicable.
Why choose a holiday park?
17/ Holiday parks come in all shapes and sizes – there are giant resorts packed full of activities and entertainment, and small and peaceful parks that let their location do the talking.
18/ Holiday parks are a great choice for grandparents – bring your grandkids and make the most of the fantastic facilities.
19/ With locations close to dreamy beaches, iconic seaside towns, enthralling countryside and famous attractions, holiday parks are a handy and affordable way for couples to see the UK.
20/ Haven has its Funstars; Park Resorts has Teamstars, and Butlins its famous Redcoats. Cheesy pop and rock is top of the bill at most holiday parks and you'll enjoy shows and live music every evening.
How to book
21/ Join or sign into your account at mymail.co.uk. It's FREE to join: www.mymail.co.uk/home
22/ Collect four unique numbers from the back page of the Daily Mail and Mail on Sunday between Saturday 11 April and Sunday 10 May and enter them into your MyMail account. Unique numbers must be entered by 11.59pm, four days from the date of publication.
23/ After entering your fourth Unique Number you can book your £20pp* holiday using a code and link that takes you to the booking page
What you pay
24/ You only pay for the cost of your accommodation at the time of booking. The operator will invoice your for entertainments passes and services charges, and give you the chance to upgrade or to add extras such as linen or a high chair, a few weeks after your booking.
Don't delay
25/ Breaks sell quickly, so when you find one you like, book to guarantee it.
Have we answered all your questions? If there's anything we've not covered, please add a comments below and we'll respond.