After the year we've all had, it's fair to say Brits deserve a summer holiday – so we're delighted to see the return of The Sun's Hols from £9.50.
There are more than 80 parks to choose from in the UK, France and Italy. Not only do Hols from £9.50 have thousands of holidays available as usual in September and October, but they also have lots of November dates with many parks extending their season. Read on to find out everything you need to know and how to book
If you can't find the break you're looking for then try searching Breakfree Holidays for hundreds of breaks at your favourite brands including Parkdean Resorts and Park Holidays UK.
What are Hols from £9.50?
Thousands of holidaymakers enjoy our breaks every year, after saving up code words in The Sun newspaper.
With lots of holiday parks to choose from, there's something for the whole family – from relaxing breaks to adventure trips, and bowling to bingo.
So when does Hols from £9.50 start? The latest promotion starts on Saturday, July 10, 2021 with booking opening on Sunday, July 18th 2021 .
How to book Hols from £9.50
All you need to do is collect TEN codewords or tokens printed daily in The Sun.
Don't forget, if you are a Sun Saver you can pay or part-pay for your holiday using your wallet.
How do I book my Hols from £9.50 and when can I do it?
There are three ways to collect towards your Holiday from £9.50:
Sun Savers: You can collect via Sun Savers by opting into Hols from £9.50 on Sun Savers and scanning or entering TEN Sun Savers codes. Sun Savers codes are eight letters/numbers long and printed at the bottom of the Sun Savers page each day. If you book via Sun Savers you can use your Sun Savers wallet to pay or part pay for your holiday. If you are not a member, sign up by downloading the Sun Savers app or register at sunsavers.co.uk.
Codewords in your paper: You can also collect and use TEN codewords printed every day in The Sun. These are a four letter words written down the side of the numbered token in paper.  You can book online at thesun.co.uk/holidays.
Tokens in your paper: Finally, you can also collect tokens printed in The Sun each day. Cut out TEN tokens differently numbered and send with your completed booking form.
Once you've entered your tokens and bookings open you will be able to book a four-night midweek break or three-night weekend break to stay in comfortable caravans, chalets, apartments, tents, lodges and even bungalows or cottages.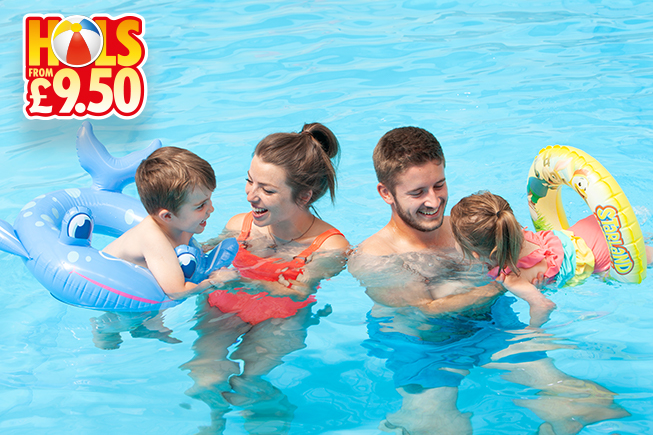 How do I use the money in my Sun Savers wallet for Hols from £9.50?
Sun Savers can pay or part pay for their break using any money previously saved in their Sun Savers wallet. Just select the amount you wish to use when prompted during booking and this will be taken off the cost of your holiday. You can then pay the remaining balance in the normal way.
How many holidays can I book?
As many as you like! With many of us not having been able to get away as much as we'd have liked in 2020. Why not treat yourself this year and get your 2021 holidays booked in now?
When can I go on holiday?
There is a selection of dates included in this promotion with Autumn 2021 breaks. Not all locations are available on all dates. The accommodation price varies depending on the type of unit you select and your chosen holiday start date. All dates and parks are subject to promotional availability. These holiday parks offer clean and safe, self-contained, self-catering accommodation in spacious locations across the UK.
What if my holiday is cancelled?
In the event that your holiday park has to close, or you cannot travel to your holiday park, due to government guidelines, you will be offered the opportunity to rebook for a later date at no extra charge, unless selecting a holiday of higher value, offered a full credit against a future holiday booking or your payment refunded. Cancellation may also be permitted on the same terms in the event of medically certified self-isolation of one or more of your holiday party. All other terms relating to changing or cancelling your booking apply.
£9.50 is the price per person based on four sharing. Subject to availability. Terms and conditions and date restrictions apply. For full T&Cs see thesun.co.uk/holidays.
How are holiday operators making their parks safe for customers?
All participating park operators have the necessary restrictions in place to ensure compliance with government advice relating to the Coronavirus situation. All holiday parks are scrupulously cleaned and social distancing guidelines are in place. The holiday parks offer clean and safe, self-contained, self-catering accommodation in spacious, beautiful locations across the UK.
Will the holiday park facilities be open?
Some parks may have restricted facilities and activities as a result of the Coronavirus pandemic; however, your park operator will be in contact leading up to your holiday date if there are any changes to your holiday experience. Facilities opening depend on Government restrictions at the time.
How much do the holidays cost?
Break prices start from:
£9.50pp for Comfort (minimum charge of £38.00)

£16.50pp for Comfort Plus (minimum charge of £66.00)

£22.00pp for Comfort Extra Wide (minimum charge of £88.00)

£35.00pp for Premier Plus* (minimum charge of £140.00)
* Premier Plus accommodation includes linen with beds made up on arrival.
The following extra charges will be made on selected dates and at selected parks. Please see the individual park pages for full details.
Supplements up to £7 per person may apply in popular times. 

A service charge covering the cost of cleaning, gas and electricity.

An optional Entertainment Pass for access to open park facilities.

There is an extra charge for dogs.
How do the accommodation options differ?
COMFORT – £9.50 per person
The choice of millions of happy Sun holidaymakers! Comfort caravans are 10ft wide, comfortable and well-fitted. At some parks, these are chalets, apartments, lodges, bungalows or cottages. Bed linen is available for hire, at an additional charge, but beds will not be made up.
COMFORT PLUS CARAVANS – £16.50 per person
These caravans are available at some parks for a supplement of £7 per person. They are 10ft wide and have all the features of a Comfort caravan with the added benefit of multi-room heating. Plus, if bed linen is hired, beds will be made up for your arrival – additional charges apply.
COMFORT EXTRA WIDE CARAVANS – £22 per person
Available at some parks for a supplement of £12 per person, these caravans are extra spacious, modern and 12ft wide. You'll really notice the extra 2ft! Available with two or three bedrooms and sleeping up to eight, they feature stylish interiors and higher quality. If you hire bed linen, beds will be made up for your arrival – additional charges apply.
PREMIER PLUS CARAVANS – £35 per person
Premier plus caravans are the best we offer and are only at selected parks. They're 12ft wide, ultra-modern with stylish fittings, central heating throughout and double glazing. Availability is limited and there's a supplement of £24.50 per person. These caravans have two or three bedrooms sleeping up to eight. Bed linen is included and beds will be made up for your arrival.
DOG-FRIENDLY CARAVANS
Look out for parks that accept dogs – take a maximum of two dogs in specific dog-friendly accommodation. Some parks even have dog-friendly Comfort Plus, Comfort Extra Wide or Premier Plus accommodation too. Charges for dogs are shown under each park listing. Some breeds, including those listed in the Dangerous Dogs Act, are not allowed (see T&Cs for full details).
If available, payment for dog supplements will be taken at the time of online booking. Dog-friendly caravans cannot be booked by post. If no dog caravans are available, you may be able to add dogs once you receive your confirmation at selected parks.
When booking online you can pay for your upgrade there and then. If you're booking by post, tick the upgrade box on the application form. Do not send payment with your postal application. If an upgraded caravan is not available you'll be given a Comfort caravan.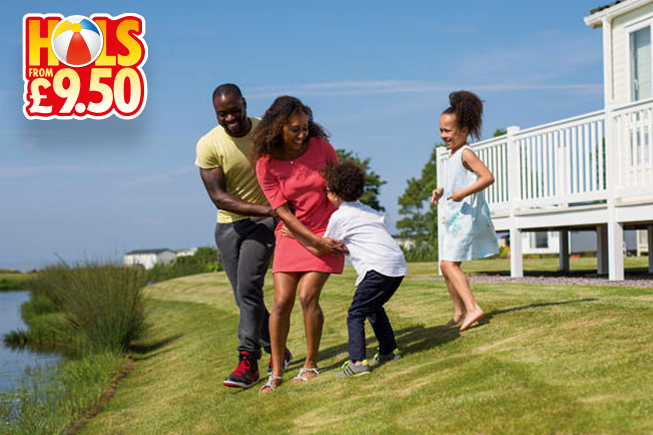 When is the closing date for the promotion?
Online and postal booking will close at midnight on Friday 13th August 2021. Postal applications must be received by this date.
What are the service charges?
Service charges may apply at your selected park and date. The charge is primarily for pre-arrival cleaning of your holiday home, and heat and light are included. These range from £4.50 to £15 per unit per night (pupn). You will be charged directly by your park.
How much are entertainment and clubroom passes?
Some parks charge for passes which give you access to facilities such as entertainment centres, bars and indoor pools. Passes range from £2 to £32.50 per person per break (pppb). You will be charged directly by your park. These passes are optional unless otherwise stated.
Can I purchase holiday insurance?
You never know when the unexpected is going to happen so for complete peace of mind on your Sun Holiday, be sure to take our travel insurance when booking your holiday. Just £10 covers your entire party on a UK holiday and £29.50 for a holiday in Europe.
The summary of benefits for UK Trips per person includes:
Personal Accident: Up to £5,000, Excess Nil
Accommodation & Repatriation Expenses: Up to £2,000, Excess Nil
Hospital Benefit: Up to £300 (£15 per day), Excess Nil
Baggage & Personal Money: Up to £1,000, Excess £15
Personal Liability: Up to £1,000,000, Excess £100
Vehicle Breakdown: Up to £3,000, Excess Nil
Insurance is offered by Breakfree Holidays Ltd as an Appointed Representative of Global Travel Insurance Services Ltd. The insurance is underwritten by ERGO Travel Insurance Services Limited (ETI) on behalf of Great Lakes Insurance SE (GLISE).  We regret that we are unable to accept insurance requests with postal applications.
Please note that any claims relating to epidemic, pandemic or the coronavirus unless for medical and related expenses, excluding curtailment, will not be covered for (a) any new policies purchased and (b) existing policies amended on or after 26 May 2020.
Are there any additional charges?
On selected dates some parks will charge a peak supplement of up to £7 per person, per break. For details of these charges, please refer to individual park pages.
All UK holiday parks will make additional charges for services and any entertainment that is available.
Service charges cover the cost of pre-arrival cleaning and the preparation of your UK holiday home and include the cost of gas and electricity.

Some UK parks will have entertainment programmes on offer and charge for Entertainment and Clubroom Passes. Purchase of these is optional.  These charges will be invoiced to you directly from your holiday park and they are payable after you receive your holiday confirmation. These charges vary between parks & may be free on some dates. Please see the link on the homepage for a full list of free dates. Please note that some facilities may be seasonal and therefore not open during your holiday. The Entertainment pass does not cover extra-charge activities such as fishing, sports coaching, rock climbing, etc. If in doubt, please contact the park for details.

Some parks may also charge an additional refundable cleaning/damage waiver deposit. This charge, if applicable, will be invoiced to you directly from your holiday park and is payable after you receive your holiday confirmation
How many bedrooms will I get in my accommodation?
Your accommodation will be allocated by the park based on the size of your party. Details will be sent to you within 21 days of your booking.
Is there a booking fee?
There is an online non refundable fee of £2.80 per booking.
When will I receive confirmation of my booking?
If you book online, confirmation of your holiday will be e-mailed to you immediately. UK holiday parks will also send confirmation by post within 21 days. Any service and entertainment pass charges will be invoiced to you directly from your holiday park and they are payable after you receive your holiday confirmation. If you book by post, the park will send confirmation of your holiday and this may take up to 21 days.
Where can I find my booking reference number?
Your booking reference can be found on your confirmation email. This should be quoted on all correspondence or if you wish to speak to someone about your holiday.
What happens if my postal application is unsuccessful?
If we are unable to find you a holiday based on your selections, we will write to you to see if we can find you an alternative. If we still cannot find anything suitable, your original application and your payment will be returned to you.
Are pets welcome?
Yes, pets can now be booked as part of this promotion. To bring a dog, please book a pet-friendly caravan and then choose 1 or 2 pets. There is an additional charge for each pet, which varies by park. Please note that there are restrictions on which breeds can be accepted. If you have any questions, please contact your preferred park to check.
Do we have to take 4 people?
All prices are based on a minimum of four people booking. Fewer than four people can book a holiday as long as the four-person minimum holiday price is paid.
How much is it to upgrade my holiday home? Can this be done at time of booking?
Book online and you can see all accommodation types listed by price and book the one you want. Otherwise, please contact your park directly after you have received the booking confirmation from your holiday park. Details of your park will be included with your confirmation.
Do bookings run Sat to Sat or can customers pick their own dates?
UK holidays run from Monday to Friday (4 nights) or from Friday to Monday (3 nights). Multiple breaks can be booked to make a longer holiday. Please note that with multiple bookings you may be required to change caravans during your stay and we would advise you to call your chosen holiday park to discuss this with them.
How can I search for UK parks with free entertainment passes?
Please check your chosen holiday park for details of optional entertainment pass charges. You can see all UK breaks with free entertainment passes and no service charge via the link on the home page.
Pay No Extras dates
Most parks will charge extra for service charges and entertainment passes. These charges will be shown to you before you book. There are free dates available – see the link on the Holiday promotion website for details.
How do I book by post and where can I find the booking form?
If you've not got one already, print a booking form or use the one in The Sun. Enter your 4 park choices and 4 start dates. If you're happy to go to ANY park in an area, or have more than 4 date choices, indicate this on the form. Please make a record of your park and date choices and keep this safe. Make out a cheque or postal order for £9.50 per person (including children and babies), payable to UK Holidays in The Sun. Write your name and address on the back and staple/clip this to your form. Do not send cash and do not include payment for entertainment/clubroom passes, service charges, peak date supplements or upgrades. Unsuccessful applicants will get their payments back. Retain postal order counterfoils as you will need these to cash the postal orders if we have to return your payment. Once completed, send the form, payment and tokens to the address on the form. If you require wheelchair access accommodation, which may be limited, please attach a note to your form. Note: insurance cannot be included with postal booking.
Do I send a cheque / tokens if I book online?
No. Simply pay online with your debit or credit card. Please note there is a £2.80 online booking fee. When booking online you will need to enter the four-letter codewords that are printed on the tokens in the newspaper. Alternatively, you can book by entering Sun Savers codes in the app or sunsavers.co.uk.
Didn't find the break you were looking for?
Don't forget to check out Breakfree Holidays if you can't find what you were looking for. At Breakfree Holidays we have the widest selection of UK and European Holiday Parks, Cottages, Lodges, Hotels, Ferries, Attractions and Boating holidays from all your favourite brands and we have sent over 20 million people on holiday in the last 30 years – so you're in good company! So why wait, secure your 2021 Breakfree today!