More people than ever are taking their dogs on pet-friendly holidays within the UK. Will yours be joining you on your next staycation?
Did you know that in the UK alone, there are over 8.5 million dogs with their owners all smitten by their four-legged friend? So, what happens when you want a break away? It is a common dilemma, with only one question. Should they come with you or stay at home?
Let's be honest, they are part of the family and many of us can't be parted from our fluff ball for too long. In fact, it feels like something is missing if they aren't there. The nations tourism sector now offers more pet-friendly holidays than ever before and you will be surprised at the fantastic choice of accommodation options now available at all our holiday parks.

Top 5 reasons why you should take your dog on a pet-friendly holiday
It is great for their wellbeing and relaxation – Dogs love to explore the fascinating world around them, meaning a holiday is the perfect chance for them to get their paws dirty exploring sandy beaches and the beautiful countryside. They have got your full attention too – which is great for their wellbeing and discovering new experiences.
Exercise – They probably love their daily walks, but on holiday their walk begins right at the front door. This is brilliant for their exercise needs and being active.
Home from home – Holidaying in the UK is fantastic for pets because you can pack up all their favourite toys and dog basket. Bliss!
Zero kennel fees. There's no getting away from it, leaving your pooch at home can be very expensive with the average holiday bill around £130. Most holiday parks only charge £40 per pet – so financially it makes a lot of sense to make the holiday more affordable and most importantly more fun! You'll also know they are safe too – meaning you won't worry whilst you are away.
You can holiday off-peak – Off-peak times are perfect for dog-friendly holidays. Not only can you access beaches that are often "off-limits" to dogs during the summer months, but you can enjoy quality time with your four-legged friend away from the crowds. Don't worry about the weather, your dog certainly won't mind.
Pet-Friendly Holidays – Top Tips
Tips before you go
Check that all microchip information is up to date and that they are wearing a collar with all your current contact details
Make sure all vaccinations are up to date and that they have had a quick health check
Make a list of all the dog-friendly places you can visit on your trip, from beaches to pubs
Check where the closest vet is from your holiday park
Tips while you are away
Dogs should always be well behaved and kept on a lead
Always clean up after your dog
Always carry fresh water (and keep some extra supplies in the car)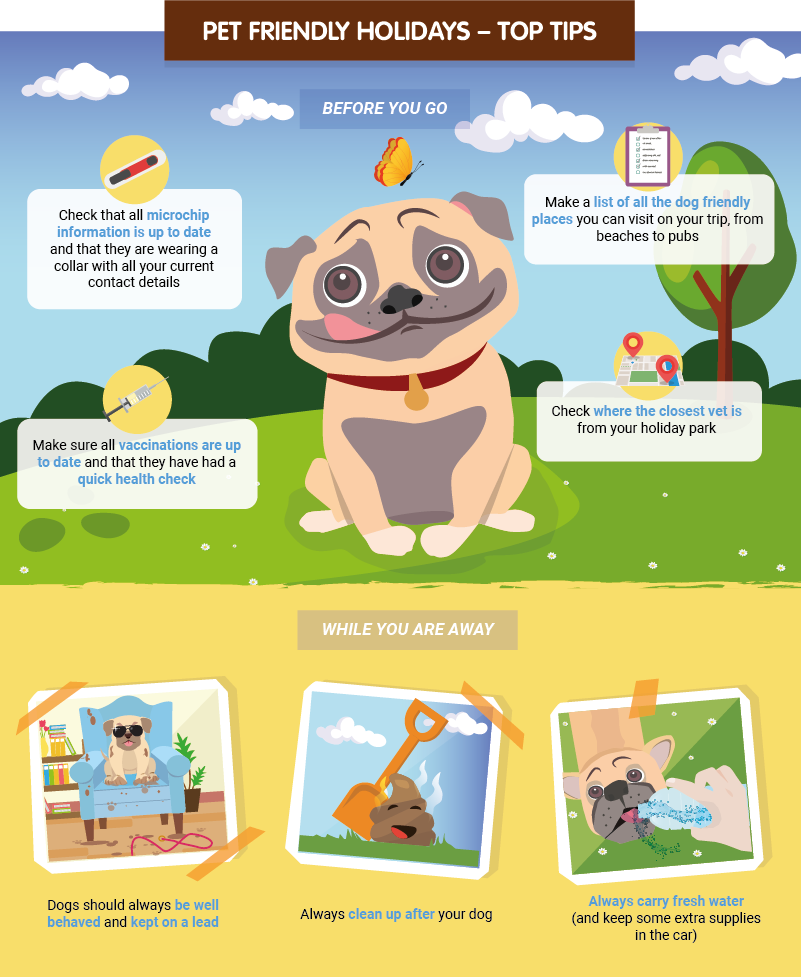 Pet-Friendly Parks
Haven Except for Burnham-on-Sea, Riviere Sands and Lydstep Beach, all offer pet-friendly accommodation at 33 holiday parks. The price of pet-friendly accommodation is inclusive for up to two pets.
Parkdean Resorts Except for Ruda and Vauxhall Holiday Parks, all offer pet-friendly accommodation. That's 67 locations throughout the UK to choose from. The only problem you may have is deciding where to go. For caravan, lodge or other accommodation bookings, a supplement of £40 per pet per week or part week applies.
Park Holidays UK All parks are pet-friendly. What's more, for a limited time, pets go completely FREE  – saving £25 per pet on 3 or 4-night breaks and £40 per pet on a 7-night break.