After a tough year, we're all feeling the need to get away from the hustle and bustle, and reconnect with our loved ones on a fun family holiday. 
There are hundreds of family friendly UK holiday destinations on offer, so it can be difficult to know which ones are the best. Luckily, we have compiled a list of all the best holiday destinations around, so booking your family holiday couldn't be easier!
So, whether it's a little seaside town you're looking for, or countryside rambles, this breakdown of the best UK holiday destinations for families will surely have the ideal parks you've been looking for.
UK Holiday Destinations For Families:

1. Parkdean Resorts Nodes Point
Location:
St Helens, Ryde, Isle Of Wight
Good for:
The Needles 
The Isle of Wight is one of the most classic UK family holiday destinations. There is so much to do here, act now and book your family break today!
Nodes Point offers everything you could ever want from a family holiday. There is something for everyone here, including a sports court, adventure playground and an amazing waterslide!
This is one of the most well-situated holiday parks in the Isle of Wight, making it the ideal family holiday destination. You can explore the beautiful St Helen's beach and spend your days sunning on the sand or hunting for fossils. 
The coastal trails owned by the National Trust are a fantastic place to take in the beauty of nature and breathe in some much-needed fresh air. 
From Nodes Point, it's less than an hour's drive to The Needles, one of the UK's most famous landmarks. With its coloured sand and stunning cliffs, The Needles is an iconic location that you and the little ones will love. 
The spectacular chairlift ride will soar you past the colourful cliffs to the beach. You can make and take home your own coloured sand souvenirs, and at Alum Bay Glass, you can admire the fascinating art of glass blowing.
Facilities:
There is plenty to keep the whole family entertained at this Parkdean Resort. Whoosh down the giant water slides and splash right into the swimming pool. Your children can have a great time in the adventure playground and then crash with a tasty meal at the Boathouse Bar & Restaurant.

2. Parkdean Resorts White Acres
Location:
Cornwall
Good for:
The Eden Project
Set among 184 acres of rolling countryside, this is one of the most idyllic family holiday destinations on offer.
There are plenty of activities to keep children entertained all day long here. The lake is perfect for fishing, so why not try out a new skill? With its lush scenery perfect for picnics and good access to beaches, this child-friendly resort is certainly one of the more picturesque UK holiday destinations, perfect for both families and couples looking for a summer break
From your hotel, it's less than half an hour's drive to the world-famous Eden Project. Dubbed the Eighth Wonder of the World by some, the tropical gardens welcome almost a million visitors every year. There are themed events, workshops for adults and children, concerts and more, meaning the Eden Project is as educational as it is stunning.
Facilities:
There are plenty of places to explore here so why not book now? The children will love 10-pin bowling and trying to beat their high score in the arcade. The heated indoor pool makes for a great time and there are even spa facilities for the parents. 

3. Park Holidays UK Riviera Bay
Location:  Brixham, Devon
Good for: Fossil Hunting at some of Devon's top beaches
You will get the best of the best at this incredible South Devon family destination. 
Riviera Bay has recently been transformed, so guests can truly appreciate the stunning British coastline. The more traditional holiday chalets have been replaced with luxury lodges that mean your family has the space you need to relax in peace amongst beautifully landscaped grounds.
A uniquely peaceful ambience has been created here with the removal of the entertainment facilities, meaning a noise-free environment for all. But that doesn't mean that there's no fun to be had! Riviera Bay's sister park, Landscove Holiday Park, is just a stroll away and welcomes those looking for a dip in the pools or a bite to eat in their lovely restaurant.
Riviera Bay is perfectly situated to walk the wonderful beaches and scenic coastal paths, offering some of the best views in the country. 
The world-famous Jurassic Coast is an iconic landmark set right into the Devonshire coastline. Who doesn't want to find their own piece of world history? The whole family can take a pleasant stroll down the beach and discover ancient fossils.
Facilities: Riviera Bay is the perfect base to discover the many attractions of South Devon. Their range of luxury lodges have an innovative, roomy design and all boast a lovely outside decking area, complete with garden furniture so guests can take in the stunning scenery in peace. Your summer holidays start right here!

4. Lime Cottage
Location:
Backbarrow near Newby Bridge, Cumbria
Good for:
The Lake District and forest walks
If beaches aren't your thing and you'd rather stay somewhere a little different, few UK family holiday destinations are as idyllic as this.
Cumbria is the perfect place to escape to if you want to be free of the hustle and bustle of everyday life. Book your stay in your own beautiful stone cottage for an incredible UK family holiday now!
Situated on a private estate in the national park, these historic stone cottages are adjacent to an incredible 350 acres of ancient woodland, making this one of the prettiest places to stay in the UK. 
With beautiful forest walks and the chance to relax in your own private hot tub, great family holiday destinations don't come more luxurious than this.
Friendly Backbarrow is perfect for those who want a nice relaxing family holiday. Kids will love getting their shoes mucky along stunning forest walks while making new family memories that will last a lifetime. You won't believe the view from this pretty cottage. You may even spot some of the estate's resident deer roaming around. 
There is plenty to explore in this part of the country. With all that woodland just next door, who wouldn't want to go exploring? It's just a short drive to other famous forest trails, then after a day of fun, you can sit back, relax and drink in the view from your bubbling outdoor hot tub. 
This is one of the best UK holiday destinations on offer and truly is a beautiful place to stay. Book now to stay in this gorgeous little cottage!
Facilities:
These cottages have full-fitted, open plan kitchens with dining areas, so they are perfect for self-catering. There is a private enclosed patio with hot tub, furniture and BBQ, so you can relax and enjoy your family friendly holiday in style. 

5. Haven Hafan Y Mor
Location:
Pwllheli, Gwynedd
Good for:
Snowdonia National Park
Hafan y Mor is one of Haven's biggest family holiday destinations and is jam-packed full of activities that all the family will enjoy. A stay here will definitely be a memorable one, so book now! 
This park is right on the coast and is one of the best UK family holiday destinations around. There is so much to do at Hafan y Mor, you'll be spoilt for choice! 
Your stay includes access to nine food and drink venues and nine outdoor play areas, so you won't have to worry about feeding the kids or keeping them entertained. You can also take in the breath-taking views of the Llyn Peninsula from the Aerial Adventure course, or wander down to the stunning nearby beaches. 
How many parks can boast their own beaches? Pwllheli Beach consists of two sandy beaches, an attractive seafront promenade, and is Blue Flag awarded, meaning these beaches are some of the best in the country. The summer holidays wouldn't be complete without fish and chips on the sand, and you can even treat the kids to an ice cream.
Hafan y Mor is also perfectly positioned to explore Snowdonia National Park. Stunning forest walks and countryside picnics are just 25 minutes away! This astounding natural beauty makes for some of the best views in the world; the whole family will love this Welsh treasure. There are 500 acres of incredible forest and country to explore, perfect for a new family adventure. 
Facilities: Boating lakes and gardens to relax in are just some of the features of this wonderful family destination. The SportsDrome is perfect for rainy days and there is a huge range of sports and entertainment facilities that all the family can enjoy. The Dragon Lakes Adventure Village will tire you all out before you settle down for a fantastic meal at the The Pizza Deck.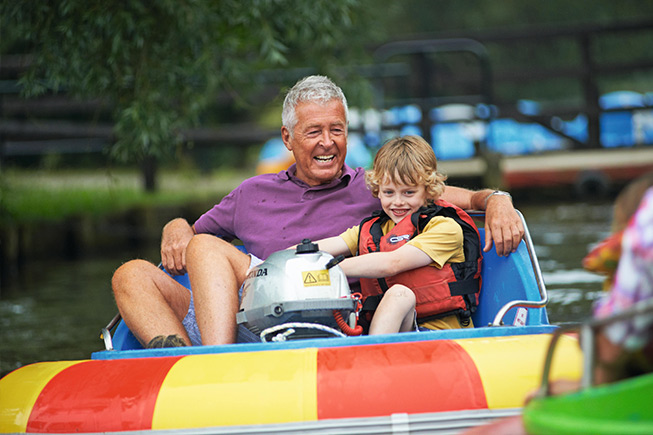 6. Haven Primrose Valley
Location:
Near Filey, Yorkshire
Good for:
The Yorkshire Dales and the beach
Families will love exploring the area that surrounds this stunning holiday destination sat right on the coast. 
Children and adults alike will have fun rambling across the beautiful Yorkshire countryside at Haven Primrose Valley, where you'll feel like you're on top of the world!
Haven Primrose Valley is situated right on top of a cliff near Filey. There's a path that takes you down to a gorgeous golden beach, where you can enjoy amazing coastal views and have a great time topping up your tan. 
Why not visit the incredible Yorkshire Dales while you're here, where the kids get to explore the magnificent countryside and learn about the natural wildlife that England is home to. There is so much to enjoy about the Dales, it's no wonder that they're some of the top visitor destinations in the country. Families are welcome all year round and all for free! So come and enjoy this great outdoor experience, whether you're coming for the day or staying longer.
Or pile the family into the car and take a trip to Playdale Farm Park, a great addition to any family break. The farm is packed with things to do to entertain your children, including a huge indoor play area, tractor zone and adventure trail. Don't forget to drop by Flamingo Land theme park either! This incredible collection of high speed rides and exotic animals is a big hit with families and the kid will have a great time. 
Facilities: There's plenty to do at Haven Primrose Valley, including crazy golf, fishing, kart hire, the thrilling aerial adventure and ropes course, a child-friendly climbing wall, and brilliant day and evening entertainment that will make your UK family holiday complete!

7. Haven Riviere Sands
Location: Hayle, Cornwall
Good for: Land's End and the beach
This wonderful Cornwall getaway will make you feel like you're in the real Riviera! 
Perched right on the top of a cliff with amazing views of St. Ives, this Haven resort has easy access to a stretch of gorgeous white sand and turquoise water, ideal for surfing.
On this stretch of the coast, it's easy to spot seals resting on the beaches, or even dolphins arcing out of the dazzling water, so keep your eyes peeled! Take a languid stroll down the beach and enjoy the sunshine. The kids will love playing in the gorgeous sand, so make sure to bring a bucket and spade! 
There is always so much to do at Riviere Sands. Why not also try your hand at surfing and ride those gorgeous Cornish waves whilst you're here? It doesn't matter if you're new or an old-hand, you're sure to have a great time! 
While you're here, why not stop by Land's End and enjoy spectacular views at this world-famous attraction. Have your photo taken beside the iconic Land's End Signpost. Established in the 1950s, it has been made famous by the thousands of End-to-Enders who have posed beside it. 
If you'd rather just relax on the beach and watch the world go by, the site is perfect for that too. The Riviere Sands team have tons of fun-filled shows on offer so don't miss out!
Facilities: You can learn to ride the waves at the surf and paddle-board school, or enjoy a Cornish cream tea at the Surf Bay Cafe. Whether you prefer self-catering or a meal at the Bluff Inn restaurant accompanied by fantastic sea views, Haven Riviere Sands has everything you need to make the perfect family holiday.

8. Haven Wild Duck
Location: Nr. Great Yarmouth, Norfolk
Good for: Forest walks 
Hidden among tall trees and sparkling lakes, Haven Wild Duck is situated in a pretty forest, just a few miles from the sea. 
This park is something special. It's Haven's only woodland park, but that doesn't mean it isn't packed with all your old family favourites. There is plenty to do here! Wild Duck has some great activities, including den building, nest box creations, and a bug hunt, all carefully crafted to get your kids in touch with the great outdoors! 
You can hire bikes to make the most of the forest trails and wooded clearings, or just take a gentle stroll if you'd like to take it easy. See if you can spot butterflies, hedgehogs and wild ducks!
If you'd like to wander off-site, there's the wonderful BeWILDerwood, a huge forest of adventure and family fun. There's also Great Yarmouth Beach, where you and the kids can reconnect over sandcastles and ice cream on the beautiful wide, sandy beach.
Facilities: This is the perfect holiday destination for anyone missing the fresh forest air. You can even have a game of crazy golf, try your luck on the penny machines, or discover a number of other traditional family holiday activities. 
Whether you want to take in all the sights of Cornwall, fossil hunt by the Jurassic Coast, or recline in a hot tub in the Lake District, there will be something on this list that kids and adults alike will enjoy! Cottages, hotels, caravans, you name it they are all on offer!
These award-winning family holiday destinations are also well-situated so you can get out and explore the natural beauty all around you, whilst offering outdoor activities onsite that will keep the little ones entertained. All you need to do is relax and let all your worries slip away. 
We've listed just some of the best UK holiday destinations on offer this year, so grab the kids and get packing. Whether it's the beach calling to you, the forest walks, or a glass of wine in your own private hot tub, family holidays don't get much better than this!