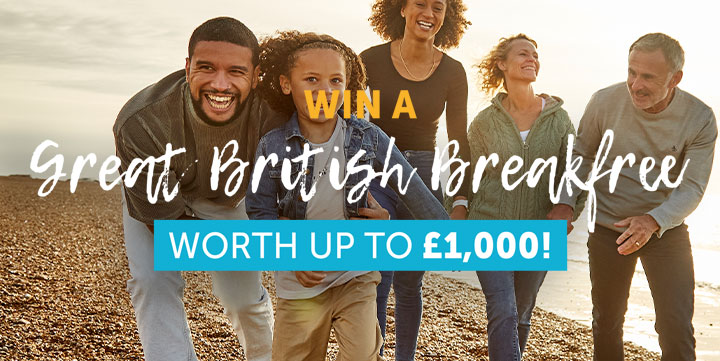 That's right we could be taking you and your loved ones on a well deserved Breakfree holiday next year! The hardest part will be deciding where you want to escape to in 2022 with our huge selection of holidays in all your favourite destinations – Cornwall, Devon, Dorset, Somerset and much more!
To Enter
Taking part is simple. All you need to do to enter the prize draw today is do the following:
Sign up to our weekly newsletter by clicking the 'Sign Up' tab in the corner of this page or by visiting our homepage.
If you are already signed up to your email newsletter you will be automatically entered.
The winner of the giveaway can use the £1,000 holiday voucher to book a Breakfree Holidays of their choice during the 2022 season, with a maximum holiday cost of £1000. Any extras such as pets, dining options and cots will be chargeable in line with standard operator booking terms and conditions. Eligibility – No cash alternative. Breakfree Holidays' standard booking terms and conditions apply. Giveaway closes 12:00am GMT on 31st January 2022 (the "Closing Date"). The winner will be selected at random and noticed by 14 February 2022. The prize is not transferable, non-refundable and cannot be exchanged for cash or used in conjunction with any other offers. Breakfree Holidays reserves the right to change this prize at any time. Entries received after the Closing Date will not be counted. To see full terms and conditions click here.
New to Breakfree holidays? Discover them in 2022
At Breakfree Holidays we have the widest selection of UK and European Holiday Parks, Cottages, Lodges, Hotels, Ferries, Attractions and Boating holidays from all your favourite brands and we have sent over 20 million people on holiday in the last 30 years – so you're in good company! So why wait, secure your 2021 Breakfree today!
FAQ's
In case you haven't been on a Breakfree Holiday before, we thought we would answer the top 10 most frequently asked questions we receive from you our Breakfree-ers regarding our holidays! As always, if you have a question that isn't answered below do let us know by contacting us via one of the methods listed on our contact us page that can be accessed by clicking here.
Is there anything added onto the price at the time of booking?
We do not charge extra for payment by debit or credit card or PayPal. Some optional extras will be clearly stated during the booking process and charges will show in your payment summary, however, with some properties additional extras will be controlled and monies collected by the property manager and will not show or be included in the final price charged by Breakfree Holidays.
Can I bring my dog with me?
Many of our properties accept pets, and details can be found on each individual property page. Assistance dogs are welcome in all of our properties. There is a charge for bringing your pet(s) that will be taken by the property manager, with the standard fee being £25 per pet per week. The fee may be higher at certain properties and this will be included on your booking confirmation. We ask that your pets are not left unaccompanied in the property at any time, are well behaved and do not enter bedrooms. If there are any additional cleaning charges, an invoice will be provided as soon as possible after departure.
Why am I being asked to pay a security deposit?
You may be required to pay a security deposit to cover any damage or additional cleaning costs that are incurred whilst on holiday. If a security deposit is required, it will be clearly stated on the individual property page and in your booking confirmations. The security deposit is in addition to the holiday cost and is taken seven days before the start of your holiday by the property owner and is refunded seven days after departure, subject to a damage claim being received in this time. Please be aware that refunds may take a few days to register in your account.
Will Wi-fi be available at my property?
Many of our properties provide Wi-Fi/Broadband and this will be listed as a feature on an individual property page. Unfortunately, we're unable to guarantee the speed or availability at each property as many properties are in remote or rural locations.
What time can I arrive and when must I depart by?
Check-in and check-out times vary by property, however, typical check-in tends to be between 2-4pm and check-out at most of our properties around 10-11am on the day of departure. If these times differ on an individual property, you will find details in your confirmation documents.
Will I receive any arrival information?
Arrival details will be sent to you in your booking confirmation when your final balance has been paid. This will include check-in/check- out times, the name and contact number for your property manager, how to access your property, full property address and directions to help with the final part of your journey.
Can I amend my booking once it has been confirmed?
Unfortunately, once your booking has been confirmed we are unable to make any changes to your holiday dates. We can add guests to the booking as long as it doesn't exceed the maximum occupancy, or add pets if the property accepts pets. Please note there is often a fee per pet per week. We always recommend that you take out sufficient holiday insurance when placing your booking.
Do you provide insurance?
We have a travel insurance product which you can purchase at the time of booking – details of the policy can be reviewed here: breakfreeholidays.co.uk/insurance.
I have more questions…
There are answers to more relevant questions on our FAQs page, which you can navigate to at the bottom of this page in the footer or for additional questions please contact our customer service team on enquiries@breakfreeholidays.co.uk or call 0344 848 4534 Mon-Fri between 9am-5pm
There's never been a better time to rediscover what makes Britain so truly great. So bring on the Great British Breakfree! At Breakfree Holidays, we're bringing you more super staycation choices than ever before, with the widest selection of UK Holiday Parks, Cottages, Lodges, Hotels, Boating holidays and much more from all of your favourite brands. So wherever you want to go and whatever you want to do, we've got you covered! Why wait, join the staycation nation now and secure your Breakfree today!