Bonnie Scotland. This part of the UK has everything you could ever want from a family holiday, except maybe endless days of hot sunshine – unless you're incredibly lucky. That said, with its wild, rugged mountain scenery, vast empty sandy beaches and plenty of memorable attractions to explore, you'll forget all about the weather!
The question isn't whether to visit Scotland or not, but where in Scotland to go. Do you visit the picturesque shores of Loch Lomond to the west? Or the rustic streets of Edinburgh to the East? And they don't even scratch the surface of all the amazing places Scotland has to discover.
Of course, where to go isn't the only difficult decision, but where to stay when you get there. We may be biased, but we believe that holiday parks are one of the very best accommodation options in the country for a great Scottish break. They offer unparalleled convenience, flexibility and unbeatable value for money when you consider all the facilities that are in included in the price.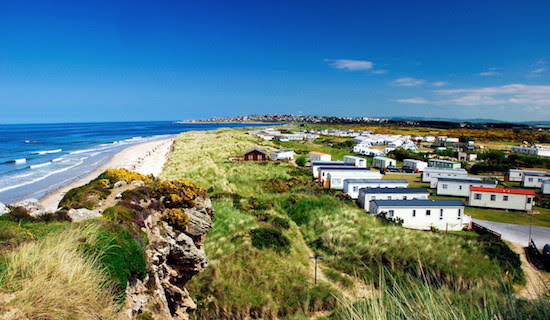 Holiday parks cater for everyone, adults and children alike, and no matter how you like to travel, they can offer something to suit. Many visitors choose holiday parks for their static options such as luxury lodges or a homely caravan; however, it is easy to find a holiday park that offers touring and camping facilities. Whether you like touring in your own motorhome and are looking for a place to park up for the week, or whether you are into camping and want somewhere to pitch your tent, a holiday park will usually have facilities that rival those of a glamping site.
We've made finding your accommodation easy by putting together a list of the best holiday parks in Scotland below, along with some of the finest attractions that Scotland has for you to discover nearby. We've read all of the reviews, discovered which parks have a swimming pool or a hot tub and which ones are pet friendly so that it is easy for you to decide then what holiday parks in Scotland make it to the top of your list for a touring, camping or caravan holiday. On this list, you'll find a mixture of 5-star holiday parks Scotland, as well as budget-friendly options that cannot be beaten on price.
9 Best holiday Parks In Scotland You Need To Visit in 2021
1. Parkdean Resorts Tummel Valley
Location – Tummel Bridge, Pitlochry, Perthshire
Best for – Outdoorsy families and visiting the Cairngorms National Park
Parkdean have many holiday parks across Scotland and known for their comfortable family facilities, luxury lodges and prime locations. Their resort at Tummel Valley has got to be one of the best for a holiday in the Scottish highlands and a great place to spend a week exploring and relaxing.
Situated on the edge of Cairngorms National Park, known for its rugged mountain landscapes, vast areas of forest and crystal clear waterways, this park is one hour from Rothiemurcus Estate, giving visitors the perfect base from which to explore one of the most beautiful areas in the United Kingdom. The park itself is next to the River Tummel where it is possible to enjoy a whole host of water activities such as canoeing and fishing. For the moments in between all the adventure, there is a heated indoor pool with splash pool and sauna, a riverside bar and restaurant, and a golf course.
This dog-friendly resort has a variety of accommodation options, nestled in amongst the trees, where you can choose from a luxury lodge right next to the water, or stay in one of their peaceful caravan holiday homes.
Find out more about Parkdean Resorts Tummel Valley Holiday Park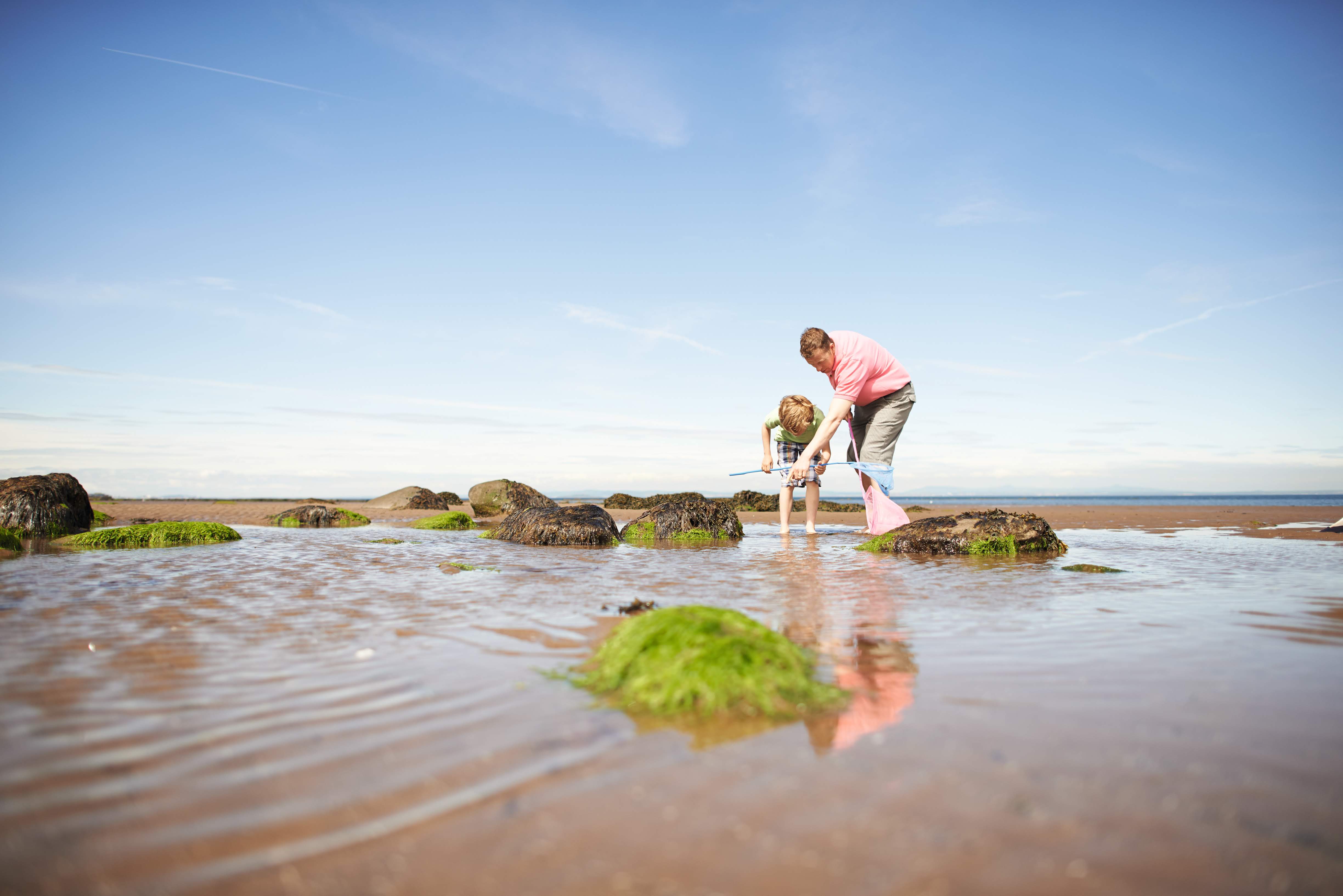 2. Haven Seton Sands
Location – Port Seton, Longniddry, East Lothian
Best for – Family-friendly activities and visiting Edinburgh
Located on the coast next to the Firth of Fourth, this park is one of the most popular Haven holiday parks Scotland wide, and a great choice for a caravan holiday. There are accommodation options here to suit every budget, with different grades of caravan offering simple to luxury accommodation for 6 to 8 people. If you want to stay somewhere extra special, this park has several 5-star luxury lodges which make a perfect holiday home for the whole family.
The park also has a range of on-site facilities so you can be sure of having a wonderful holiday without even having to leave the premises – including a play area, heated indoor pool and a nine-hole golf course. This park has a particularly great range of bookable activities to keep the kids entertained such as bushcraft and outdoor skills, arts and crafts and kart hire.
Directly opposite the park at the beach, it's also easy to find fun. You can have a relaxing and enjoy the views, watch the kids make sandcastles and see what you can find together in the rockpools dotted along the sand. For family days out, the Scottish Seabird Centre is only 20 minutes down the road. Alternatively, with Edinburgh only 30 minutes away by car, you can head into this beautiful city and take your pick of its many tourist attractions.
Find out more about Haven Seton Sands Holiday Park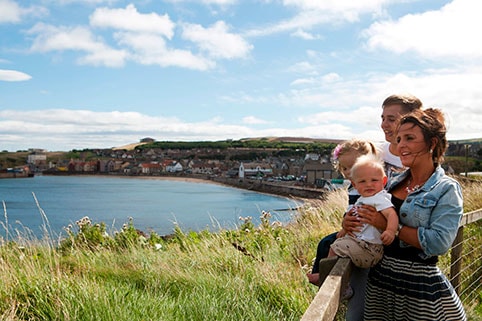 3. Parkdean Resorts Eyemouth
Location – Eyemouth, Berwickshire
Best for – Border hoping to visit the best of Northumberland and Southern Scotland
This is one of the best south Scotland holiday parks, situated just across the border from Northumberland, and you can not only visit some of the top Scottish attractions but also some unmissable gems along the north England coast during your break here.
Situated just 25 mins from Berwick on Tweed, you can have a morning in this charming coastal town before taking the causeway (if the tide is out) a little further to the stunning Holy Island of Lindisfarne. Here Lindisfarne Castle makes for a dramatic scene, sitting on top of the highest point on the Island. The equally dramatic and beautiful Edinburgh castle is also just over an hour away back on the Scottish side of the border.
Back at the holiday park, you can spend some time relaxing in your luxury caravan or lodge before enjoying some of the live evening entertainment on offer.
Find out more about Parkdean Resorts Eyemouth Holiday Park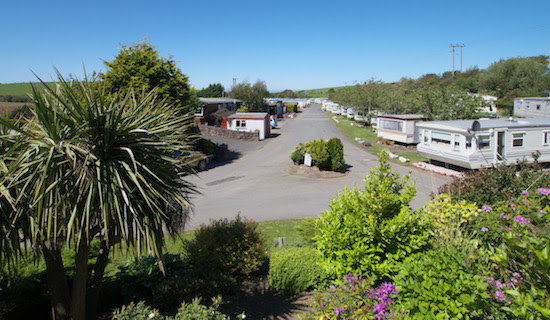 4. Turnberry
Location – Girvan, Turnberry, Ayrshire
Best for – Relaxing on the beach and visiting the Galloway Forest Park
This holiday park in Scotland is only a couple of hundred metres away from the closest beach. It offers a selection of caravan holiday homes that look out across the Firth of Clyde, including dog-friendly options for those holidaying for four-legged friends.
Within park boundaries, you'll find everything you need for a good holiday. There's a heated indoor swimming pool, a restaurant and bar serving delicious meals, a children's play area to amuse the kids and an amusement arcade for the whole family.
Near the park, you can immerse yourself in Scottish culture by visiting the Robert Burn's museum, which is dedicated to Scotland's favourite poet. Culzean Castle also makes for a top day out and is only a 15-minute drive from the park, giving you plenty of time to explore its grounds during your break.
Find out more about Turnberry Holiday Park
5. Parkdean Resorts Wemyss Bay
Location – Wemyss Bay, Renfrewshire
Best for – Visiting Loch Lomond and the city of Glasgow
One hour from the heart of the Loch Lomond and the Trossachs National Park, and less than one hour from Glasgow, on the West coast of Scotland, you'll find Parkdean Resorts Wemyss Bay where you can stay in caravans or a luxury lodge. Of these two options, available at most of the Parkdean holiday parks in Scotland, lodges are the most spacious and offer comfortable and convenient living spaces for larger families and groups of people.
This holiday park is ideally located for visiting Loch Lomond, reachable in only one hour by car. Here you can enjoy plenty of time either on or next to the water, with plenty of outdoor activity providers operating here. It is the perfect place to enjoy a family walk, with a variety of marked routes that meander through the park, and that offer views across the loch. The holiday park is also right next to the Wemyss Bay ferry port to the Isle of Bute. So you can enjoy a 35-minute ride across the water and then spend the day exploring before arriving almost right back at the door to your lodge by tea time.
Find out more about Parkdean Resorts Wemyss Bay Holiday Park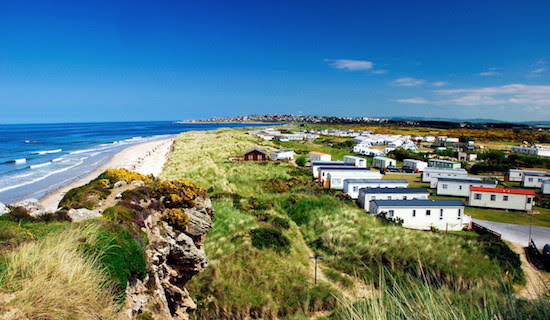 6. Silver Sands
Location – Covesea West Beach, Lossiemouth, Moray
Best for – Dolphin spotting and panoramic views across the Moray Firth
This park had to be on our list of best holiday parks in Scotland just for its location alone, situated next to a stunning white sand beach, on the Moray Firth coast near Lossiemouth, where it is sometimes a good place to spot bottle-nose dolphins in the water! The park is also only 1 hour away from Grantown-on-Spey in the Cairngorms, where you take in the mountain scenery and enjoy outdoor activities such as mountain biking and walking.
Back at the park, there are a few good accommodation options – it offers pitches for touring and camping, so you can bring your tent, caravan or motorhome for the week – or you can choose to stay in one of the holiday parks comfortable caravans. There is also plenty to do at the park, with a range of activities for children ranging from a kids club to play areas. There is also an indoor pool, a gym, a family bar and a live entertainment programme.
Find out more about Silver Sands Holiday Park
7. Parkdean Resorts Grannie's Heilan' Hame
Location – Embo, Dornoch, Sutherland
Best for – Visting Loch Ness and John O' Groats
Grannie's Heilan' Hame Holiday Park is just 350 metres away from the beautifully quiet Embo beach – a wild and windswept expanse of pale golden sand, backed by sand dunes, from which you have panoramic views of the surrounding hills. For location alone, this is for us, one of the best caravan parks in the Scottish Highlands.
When staying at Grannie's for the week, you are only 20 minutes away from Dunrobin Castle and Gardens, which has been inhabited since the 1300s and has a fascinating history. After touring this stunning chateau-style castle, you can have tea and cake next to a warm log fire in the tearoom. If you don't mind a longer drive, then other days out that should be on your list is a visit to the famous Loch Ness in search for monsters or a journey through the highlands to stand on the most northerly point on the British mainland, John O'Groats.
Facilities that Grannie's offers include an indoor swimming pool, sauna, jacuzzi and spa bath, crazy golf, amusements and video games, kids club, disco, a soft play area and a variety of other family-friendly things to do. No matter what you decide, you'll have a great time at Grannie's.
Find out more about Parkdean Resorts Grannie's Heilan' Hame Holiday Park
8. Lighthouse Leisure
Location – Southerness, Dumfriesshire
Best for – An independent, family-run atmosphere and quick beach access
This well-established family run caravan park in Scotland has been here for 40 years and is an ideal choice for families with children to spend the holidays. Here you are only a two-minute walk from a stunning white sand beach with a pretty white lighthouse, suitable for lazy days spent by the water.
As well a selection of caravans, this park is also suitable for touring, with an area designated for motorhomes, tourers and tents, complete with a modern service block. Other facilities for the whole park include a leisure centre with a heated family swimming pool, a coffee shop, a play area and entertainments room with a bar. There is a separate adults-only bar for visitors who do not have children. Opposite the park is a well-stocked shop and a bus stop for travelling into Dumfries and intermediate villages.
For the best holiday week here, please check out the local Mabie Park Farm which is perfect for a day out with the kids. There are plenty of animals to see, as well as a play barn, donkey rides, quad bikes and a tearoom for families to enjoy. The villages of Rockcliffe and Kippford are also only a few miles away and have excellent restaurants for dining out.
Find out more about Lighthouse Leisure Holiday Park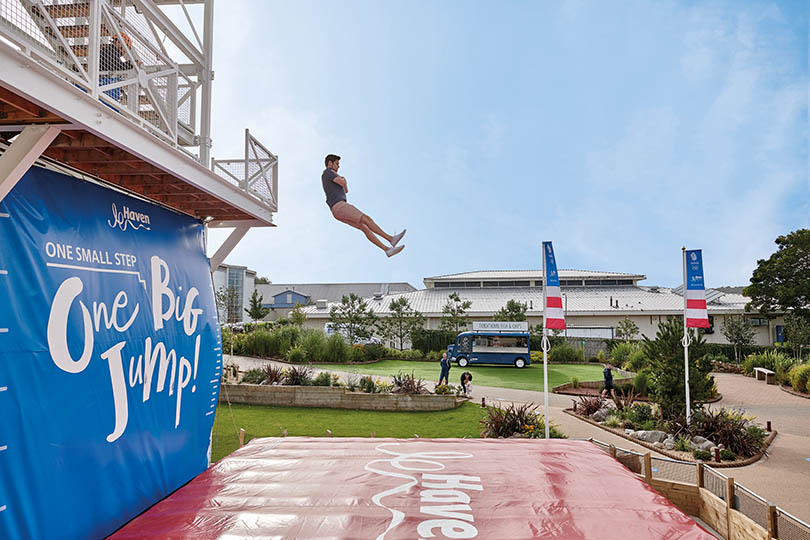 9.Haven Craig Tara
Location – Ayr, Scotland
Best for – On-site entertainment for children and visiting the Isle of Arran
This park is on the South West coast of Scotland, near the town of Ayr and only 40 minutes away from the ferry port to the Isle of Arran. One of the things that stands out about this park is its selection of apartments available to hire for your break, which offer views across the sea to Arran. It is the only park on this list with this accommodation option, making it perfect for if the usual holiday park caravan or lodge isn't your cup of tea.
This park has so much to do on-site that you never really need to leave, so if you're looking a break where you can relax, and the kids can play, this is the park for you to spend your holidays. The most noteworthy activities are the airspace sports drome, crazy golf, crazy climber and mini ariel adventure, all of which are indoors, giving the kids plenty to do when the weather isn't on your side. Outside you'll also find an adventure trail, nine-hole golf course and a variety of outdoor play areas.
Read more about Craig Tara Haven Holiday Park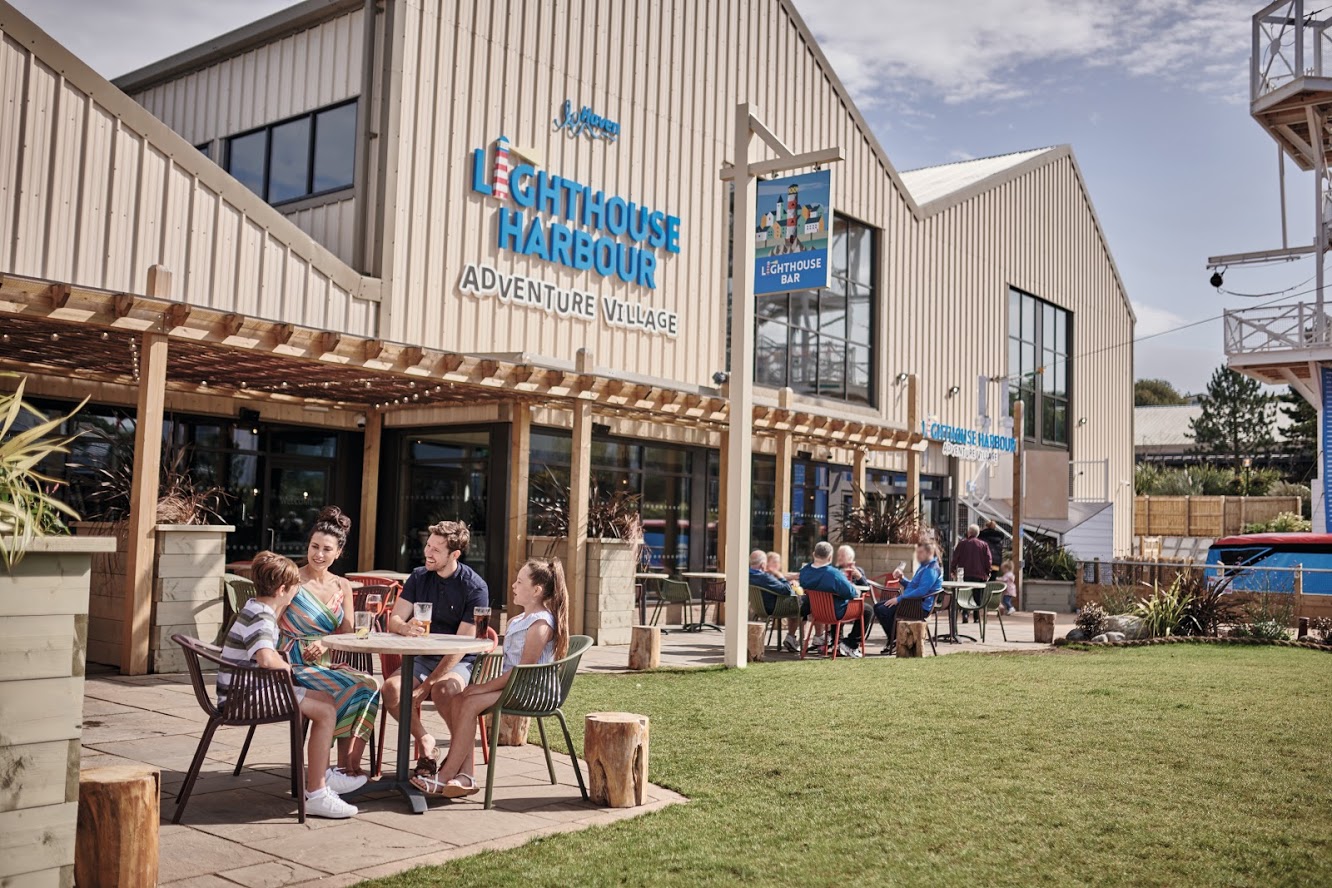 We hope that you have enjoyed our list of the best holiday parks in Scotland and that it has helped you find the perfect holiday park for your next caravan holiday or camping trip. To see our latest offers or read reviews of all the accommodation listed above, you can visit the designated page for each holiday park on our website, where you'll find more information regarding price and details about the entertainment and facilities on offer at each holiday park.