Forget African safaris – to spot predators on the prowl, grazing herbivores and colourful flora, simply head down to the beach.
Britain's coastline is studded with spectacular pools hosting all manner of minibeasts: gobies and blennies, crabs and prawns, limpets and whelks and mussels, starfish and anemones of dazzling hues. Travel journalist BEN LERWILL names his favourite rockpooling spots in the UK.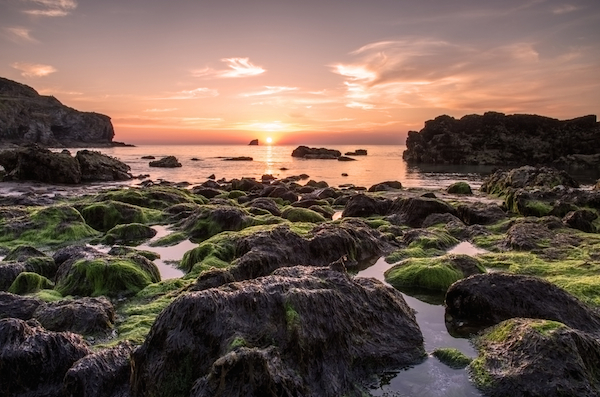 Rockpooling is healthy, exciting and – best of all – free. You don't need to wait for a sunny day, either; if it's too cloudy for swimming, pop on your wellies and start dabbling.
Ideally, look but don't touch; to help, make a simple rockpool viewer at home (www.discoverwildlife.com/animals/marine/how-make-rockpool-viewer). If you do pick up something, don't sweep a net – it can damage seaweed – but carefully use your hands and keep just one animal at a time in a bucket. Always put creatures back where you found them.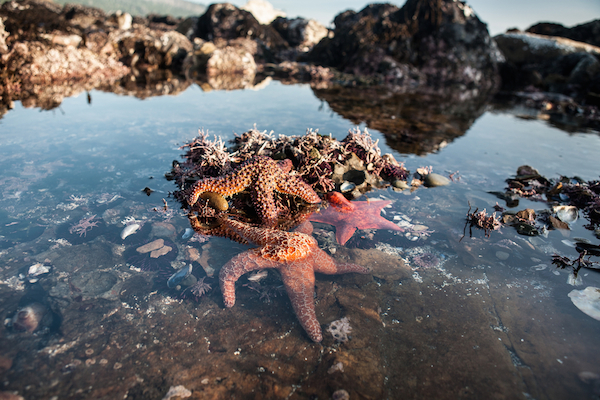 Devon
Wembury Bay in South Devon, south-east of Plymouth, is arguably the country's most renowned rockpooling spot. Look out for spindly pipefish, sea scorpions (really just spiny fish), pasty-shaped edible crabs, anemones and starfish. The Wembury Marine Centre (www.wemburymarinecentre.org) organises rockpool rambles in summer and is a great place to learn about littoral wildlife.
Other enticing destinations include Combe Martin, at the western edge of the Exmoor Coast, where pools pock the edge of the sand and pebble beach; and Torbay – try Goodrington Sands, Shoalstone Beach or Salton Cove.
Yorkshire
The rocky coastline of East and North Yorkshire is rife with rockpools – with the added excitement that the possibility of finding fossils and jet brings to a foray along the 'Jurassic Coast', especially the strand south of Staithes. The beaches near Scarborough offer fabulous pools – try Holbeck or Scalby Bay. At low tide, lots of rocks are exposed at Robin Hood's Bay – visit the Old Coastguard Station (www.nationaltrust.org.uk/yorkshire-coast/) to find out more about the local wildlife. And don't miss Flamborough Headland, where the Living Seas Centre runs popular seashore safaris (www.ywt.org.uk/places-visit/flagship-sites/welcome-living-seas-centre-flamborough).
Wales
The Gower Peninsula is studded with lovely pools, especially at Caswell Bay (look for sea slugs!) and Port Eynon, but you don't have to travel far from anywhere around the Welsh coast to find tempting patches. The North Wales Wildlife Trust (www.northwaleswildlifetrust.org.uk) manages enticing areas at Cemlyn Bay on Anglesey and Porth y Pwll; look for lobsters, sunstars and sea hares. Pembrokeshire doesn't disappoint, either: try Marloes Sands or the pools at the northern end of Whitesands, near St Davids.
Dorset
The ledges of Kimmeridge Bay, near Corfe Castle, are dimpled with pools begging to be fossicked, and the Fine Foundation Marine Centre (www.dorsetwildlifetrust.org.uk/wild-seas-centre) has lots of information about what to look for. This is also a fantastic stretch for snorkelling. The pools at Broad Ledge, near Charmouth, host some unusual species – watch out for cuttlefish and clingfish.
Scotland
The coast of East Lothian near Edinburgh and round towards Berwick-on-Tweed offers rewarding rockpooling. Killiedraught Bay near Eyemouth is home to weird and wonderful pool life among the seaweed: rummage between kelp and bladderwrack at low tide to find sponges and butterfish. The beaches around North Berwick also boast rich pickings; try Seacliff or Millsey Bay.
Sussex and Kent
Seven Sisters Country Park offers a different kind of rockpooling in chalky dimples; head to Hope Gap to look for beadlet and strawberry anemones as well as velvet swimming crabs. There's more chalk on the Thanet Coast – spot rock-burrowing piddocks at Botany, Stone or Viking Bay when the tide's out.
Cornwall
Rockpooling is as vital a part of a Cornish beach break as pasties and ice cream – and there's no shortage of tempting spots. Hannafore Point at West Looe is slick with seaweeds among which fish, crabs, anemones and starfish thrive; you might also find a mermaid's purse (a shark's smooth egg-case) attached to the weeds. The Helford Estuary near Falmouth has some great spots; the Cornwall Wildlife Trust (www.cornwallwildlifetrust.org.uk/) runs rockpool rambles at Prisk Cove, and you might find sea squirts and urchins. St Agnes beach in north Cornwall has bucket-loads of pools good for sponges, sea squirts and fish. There are several fine rockpools at Treyarnon Cove near Padstow, including a huge one that you can even climb into if you're careful!
North East and North West England
In Northumberland, Cresswell Foreshore Nature Reserve is the place for crabs – five species are found here among the varied seaweeds – and there's a wealth of wading birds, too. Harkness Rocks at Bamburgh also harbour pools full of life. Blackhall Rocks in County Durham and Saltburn-by-the-Sea in Cleveland are hotspots. St Bees Beach in Cumbria is famed for its black guillemot colony, with lots of rockpools beneath.
Picture credits: St Agnes Sunset, copyright Paul Nash | Shutterstock; Starfish, copyright: Ethan Daniels | Shutterstock