Everything you need to know about our latest Daily Mail holiday promotion from £15pp.
All the questions you have are answered in our guide below: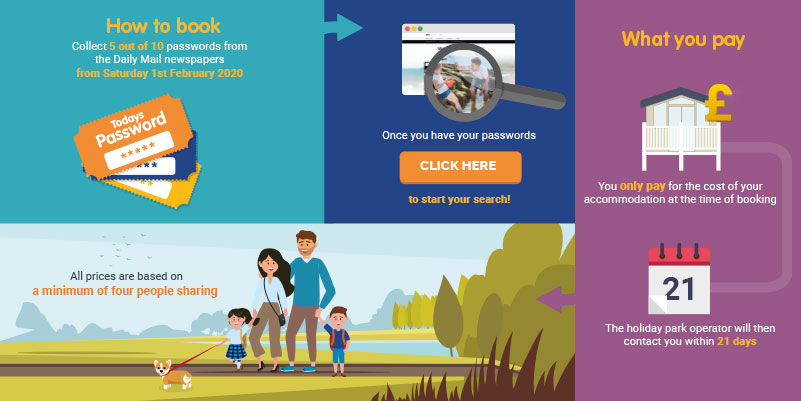 How to book
You must collect 5 out of 10 passwords from the Daily Mail newspapers Saturday 1st February – Monday 10th February (Booking opens on Wednesday 5th February)
If you are a Mail member you will need to collect 4 codes from the back of the paper and head to MyMail, select the offer to then be emailed a special code (For MyMail members booking opens on the 4th February).
Once you have your passwords, enter it here https://www.mailholidayparks.co.uk/go to start your search.
What you pay
You only pay for the cost of your accommodation at the time of booking. We will email your confirmation immediately.
The holiday park operator will then contact you, usually around 21 days later, with an invoice for entertainments passes, services charges, and give you the chance to upgrade or to add extras such as linen.
A full price breakdown is included through the booking process, so you will always know exactly how much you need to pay.
All prices are based on four people sharing. If there are fewer than four people in your party you still need to pay the four-person price.
If more than four people are travelling, the extra per person price is charged at the time of booking.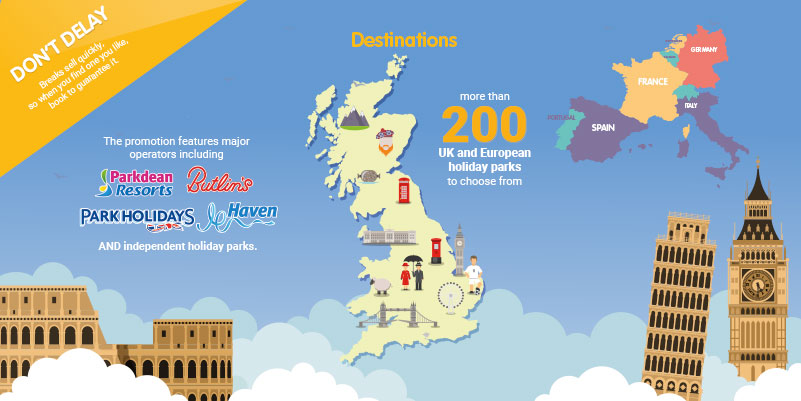 Don't delay
Breaks sell quickly, so when you find one you like, book to guarantee it.
Destinations
There are more than 200 UK and European holiday parks to choose from.
European breaks starting from £20pp.
Start your search here: https://promos.breakfreeholidays.co.uk/dailymail
The promotion features major operators including Haven, Parkdean Resorts, Park Holidays UK, Butlins AND independent holiday parks.

Dates
You can book holidays for Spring 2020 and Summer 2020.
Weekend breaks run for 3 nights from Friday to Monday; midweek breaks for 4 nights from Monday to Friday.
You can book multiple breaks, however we cannot guarantee that when you add two bookings together to create a seven-night break (such as a three-night break followed by a four-night break) you will stay in the same accommodation. As these are booked as two separate breaks operators will treat them as such.
You can book the two breaks and call the park to give them your details. Where your request can be met, most operators will provide this service free of charge, although Parkdean Resorts charges an extra £20 for you to stay in the same caravan across two breaks.
See available UK dates at: https://www.mailholidayparks.co.uk/go
On selected peak dates when the demand for holidays is much higher than availability, some parks will charge a supplement of up to £6 per person per break. The total accommodation cost, including any supplements, is clearly shown in your search results. Online bookers will pay any peak supplements at the time of booking; postal bookers will be charged peak date supplements by the holiday park after you have made your booking for accommodation.
You will pay a service charge on most breaks to cover the cost of electricity, gas and cleaning. This charge ranges from £4.50 per unit per night to £15 per unit per night. On selected breaks these charges are half price or FREE, this varies by park and by date.
At most parks you can choose to pay a small extra charge for entertainment passes which give you access to pools, children's clubs and evening shows. Prices range from £3 per person to £30pp, with the average price around £8pp. On selected dates you can find FREE and half-price entertainment passes, this varies by park and by date.
Entertainment passes do not cover the cost of extra charge activities such as fishing, sports coaching, archery and climbing walls. Some facilities may be seasonal and not open during your holiday. If in doubt, please contact the park for more information.
You can see details of all charges by park here: https://www.mailholidayparks.co.uk/go/charges#charges-anchor.
If you want to save on luggage space, you can choose to pay for bed linen. You will be given the option to add linen by the park who will send you details after you have made your booking. Prices for extras such as linen vary by operator.

Accommodation
Most of the accommodation included in our promotion is modern, static caravan holiday homes. Some parks will also include apartments or chalets which will be classified as Comfort or Comfort Plus. All accommodation is fully equipped for a self-catering holiday.
There are four grades of accommodation – Comfort, Comfort Plus, Comfort Extra Wide and Premier Plus and they vary by size and extras included. For full details, visit our accommodation pages here: https://www.mailholidayparks.co.uk/go/accommodation#accommodation-anchor.
NEW to 2020 – Warner Leisure Hotel breaks have been added

What is included
This offer is for self-catering holidays, so meals are not included in the price. All accommodation is equipped with pots, pans, cutlery and crockery, with an oven and fridge.
Most of the parks included in this promotion have their own restaurants and bars and many have takeaways.
Holidaying with dogs
Dogs can be booked as part of this promotion. Simply choose a dog-friendly caravan and then choose whether you are travelling with one or two dogs. Dog charges vary by park. Please note that there are restrictions on which breeds will be accepted. See the terms and conditions for details.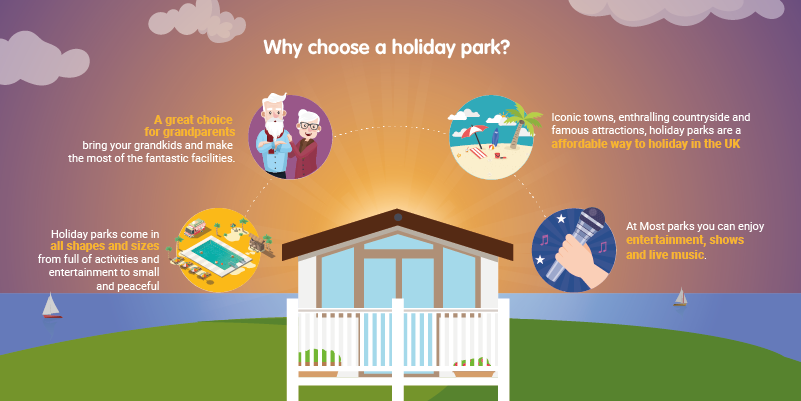 Why choose a holiday park?
Holiday parks come in all shapes and sizes – there are giant resorts packed full of activities and entertainment, and small and peaceful parks that let their location do the talking.
Holiday parks are a great choice for grandparents – bring your grandkids and make the most of the fantastic facilities.
With locations close to dreamy beaches, iconic seaside towns, enthralling countryside and famous attractions, holiday parks are a handy and affordable way to holiday on the UK coast.
At most holiday parks you will enjoy entertainment, shows and live music every evening (entertainments pass required).