Oh we do like to be beside the seaside! Beside the seaside at Newquay – to be precise. 
We're not alone, this picture-perfect beach resort on the north coast of Cornwall has been a firm favourite amongst both lovebirds and families for donkey's years. 
Of course that might have something to do with the area's 11 fantastic beaches with miles of shining sands and the picturesque town centre, amongst many other things that make for one of the best holidays you could imagine. 
Cornwall is known for having some of the most brilliant holiday parks in the South West, and Newquay certainly doesn't let the side down. Whether you're looking for a holiday park with a view, or somewhere with awesome activities for kids, we've made finding the perfect park a doddle with our list of the five top holiday parks in Newquay. Here's what the north coast of Cornwall has to offer:
1. Parkdean Resorts Crantock Beach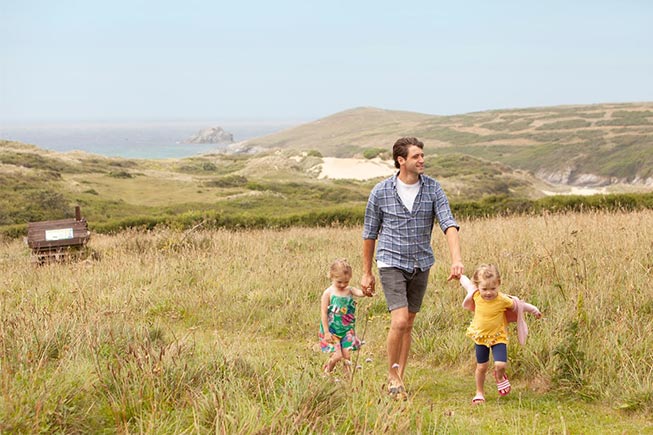 Location: Crantock, Newquay
Best for: Crantock Beach and visiting Dairyland Farm World
Oof, we all deserve a great holiday in Cornwall this year! This fab Newquay holiday park consistently gets rave reviews and is in the perfect location to explore lively Newquay and also have some peace and quiet away from the town.
You'll be only a five minute walk away from Crantock Beach, which is the ideal setting for spending the day with your partner or family on golden sands. Lie back and listen to the sea as it laps the shore or make epic sandcastles with the children. 
The holiday park is in the top place for a day trip to Dairyland Farm World, where kids can try their hand at being a proper farmer for the day. This excellent family friendly attraction has pony and tractor rides, great farmyard animals and lots of events over the year. Little ones can have a go at feeding the animals, and there are plenty of play areas to have some farm fun. 
Crantock Beach Holiday Park is awesome in its own right, of course, and there is loads to get stuck into at the site. Sounds like a jam-packed holiday? Well don't worry, with first class accommodation you'll have your own oasis to recharge in, and you'll be ready to start the day fresh and rosy. There's a wide choice between caravans and lodges, so you can splash out on a luxury model or save your money for some extra holiday treats.
Facilities: This is one of the top holiday parks available in Newquay on account of the sterling onsite facilities, including an adventure play area, mini golf course and fun-tastic kids clubs. If the sun is hiding away you can enjoy the amusements arcade or catch some of the park's great entertainment. The park doesn't have a swimming pool, but with the sea so near you won't miss one. 
Find out more about Parkdean Resorts Crantock Beach 
2. Haven Perran Sands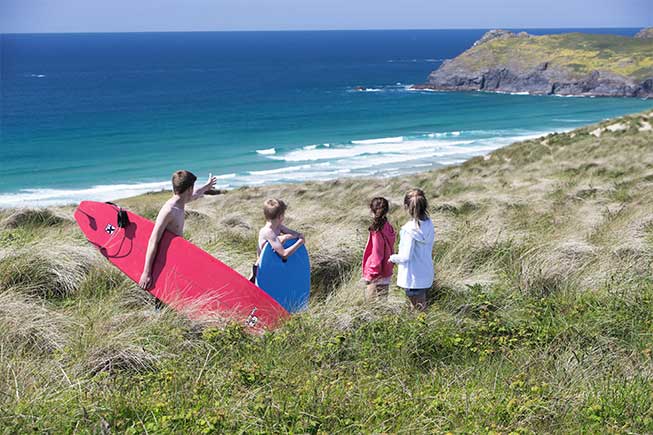 Location: Perranporth, Cornwall
Best for: Local water sports and onsite swimming pools
So this Cornwall park is not quite in Newquay but, as the town centre is only an 18 minute drive away, we think it deserves its place on this list. 
The cliff top park is nestled amongst sand dunes, and you'd be forgiven for thinking you were spending a week on the Med, not Cornwall! We'd recommend taking a picnic and following the path down to the gold sand below, where you can easily spend most of your time lying by the azure sea. 
If you've always fancied yourself as a bit of a surfer (calabunga?) then you'll be pleased to hear there are lessons available at the beach for individuals and groups. Even if you've never considered it, you might just surprise yourself! 
The family-friendly holiday park is perfect for water babies – as well as the sea below you have a choice of swimming pool facilities at the site. There's an indoor pool with a flume and also a great heated outdoor pool with a lazy river, during the warmer months. So if you have a little one who never wants to leave the water, this is the Newquay Holiday Park for you.
Facilities: On top of the indoor and outdoor swimming pools, there's also an all-weather sports range, an adventure golf course, and not just one play area, but an impressive six. This holiday park has truly unbeatable holiday homes to choose from and particularly stands out for its camping options. With various glamping setups, including safari tents and yurts, you'll have a camping experience you'll remember forever. There are classic caravans, and luxury beach houses available, so you're bound to have the most relaxing holiday you could imagine.
Find out more about Haven Perran Sands Holiday Park
3. Parkdean Resorts Newquay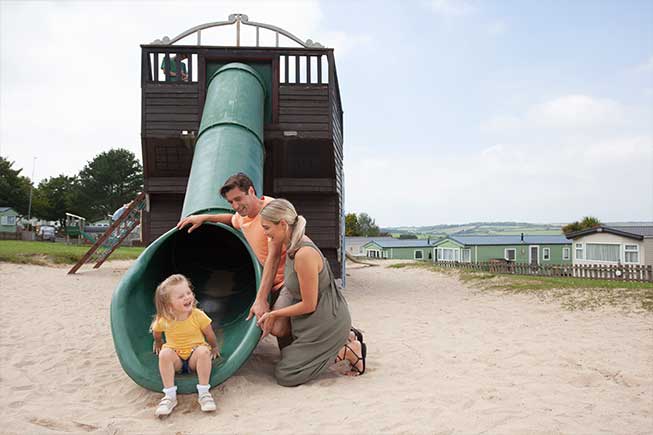 Location: Railton Road, Newquay
Best for: Newquay town centre and Fistral Beach 
Newquay is known for its 11 glorious beaches, and this top notch holiday park is in the perfect location to visit them. Close by you'll find Fistral Beach, which we're sure you'll fall in love with at first sight. The beach has soft golden sands and a beautiful view.
There are great food venues at the site, but if you're looking for something a little special why not take your loved ones for dinner in Newquay centre. You'll be spoilt for choice when it comes to award-winning places to eat, and could even nab yourself a table at a restaurant overlooking the harbour. Of course this much loved seaside resort is known for its seafood, so if you've been craving that holiday fish 'n' chips you'll be eating some of the finest in England.
If you have little ones in your family who are animal mad, the holiday park is only an eight minute drive from Newquay Zoo. One of the top rated family-friendly attractions in Cornwall, youngsters will love meeting tigers, lions, and gorillas on their holiday. 
Facilities: Never mind all these amazing things to see and do locally, there's plenty to keep you occupied at the park! Love spending time in the outdoor swimming pool? This park has a whopping three outdoor pools and a special toddler's splash pool to boot. There's a poolside hut for those much-deserved holiday treats, or a choice between the Fistral Venue & Bar or Tregenna Bar & Grill for something more substantial to eat. There's a soft play area, kids clubs and adventure playground to keep little ones occupied. After a busy day in Cornwall you can have a good snooze in one of the park's cosy holiday homes – with pet-friendly options you can even bring your faithful doggo along too.
Find out more about Parkdean Resorts Newquay Holiday Park
4. Parkdean Resorts Holywell Bay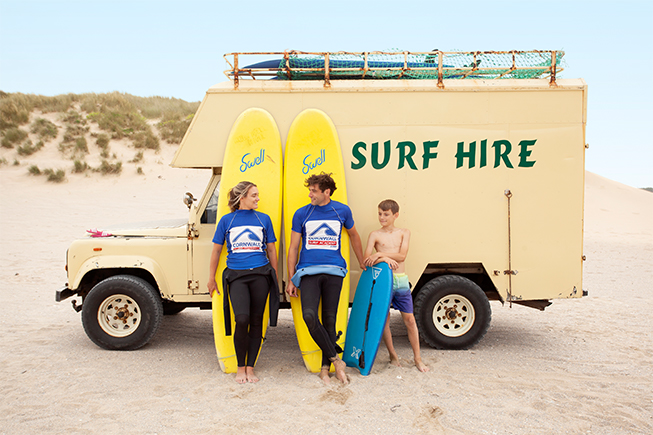 Location: Newquay, Cornwall
Best for: Onsite water slide and day trips to the Eden Project
Although there are lots of great facilities at this Newquay park, what really stands out is the super sweet 300ft foot water slide that zooms you down into the lovely heated outdoor swimming pool. 
If you can drag yourself away from this awesome facility, you're in the perfect location to appreciate some of the best attractions in Cornwall. You'll definitely want to check out the Eden Project, where all the family can learn about diverse plants and sustainable solutions for a green future. 
If you want to experience the local wildlife and scenery around Newquay, you can't beat a ride on the Lappa Valley Steam Railway. The miniature steam trains will take you through lush woodland, and there's also crazy golf, a canoeing lake and toddler's maze on top. 
Closer to home you'll find a lovely sandy beach only 10 minutes away on foot, making this one of the best holiday parks in Cornwall and Newquay for people who love outdoor swimming. As ever, the South West is known for its great surfing spots, and the park even has its own surfing school operating out of the site. With Newquay centre being only a short drive away, you'll be able to enjoy the delights of this seaside resort whenever you wish.
If you like the sound of reconnecting with nature, take a nosey at the 5 top holiday parks in Wales – you might just surprise yourself.
Facilities: As we said, this Newquay park has an awesome swimming pool and 300 foot slide. If that wasn't enough, there's also a separate outdoor swimming pool for toddlers to enjoy, and a soft play area for little ones. With kids clubs and an adventure play area, you don't have to worry about being the main source of entertainment at Holywell Bay. You can make use of the self-catering in your accommodation or eat out at the bar & restaurant. With great accommodation, activities, and miles of golden beaches near the bay, this caravan park is well worth a look. Newquay here we come! 
Find out more about Parkdean Resorts Holywell Bay Holiday Park 
5. Parkdean Resorts White Acres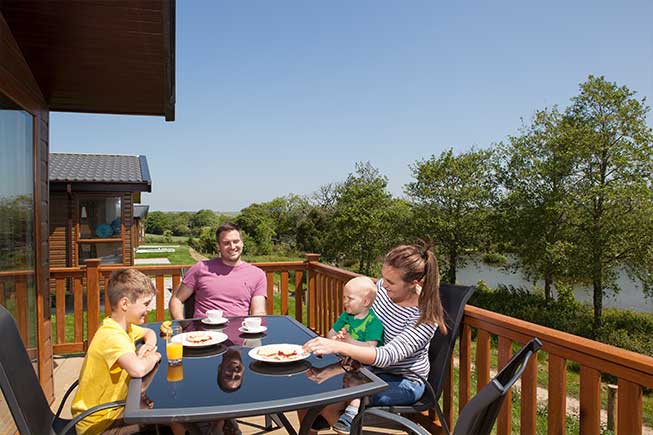 Location: Newquay, Cornwall
Best for: Tranquil countryside setting and swimming at Lusty Glaze Beach
We're obsessed with Lusty Glaze Beach and, despite its unusual (but charming) name, we rate this as being one of the best beaches in Cornwall. The secluded cove is the perfect setting for watching the sun set over Newquay and could be the backdrop of your most romantic date. Just make sure to bring some bubbly if you decide to pop the question…
For even more inspiration on the most amazing seaside holidays, take a look at our roundup of the top holiday parks in Dorset.
This is a great Newquay caravan park for couples, as the site is set across 184 acres of peaceful countryside amongst 13 tranquil fishing lakes, so you'll have plenty of space to escape the normal hustle and bustle of everyday life. 
Why not treat your other half to a stay in one of the luxury caravans, where you can retreat to after watching some of the park's spectacular evening entertainment. 
Of course the park is also family-friendly and has plenty of accommodation for larger groups. With all the glorious beaches of Newquay, and miles of stunning countryside at your fingertips, this is bound to be one of the most memorable holidays you'll have. 
Facilities: There's tons to do at this Newquay holiday park, including an indoor swimming pool with sauna and steam room, a gym and 13 fishing lakes. Challenge your family to a round of mini golf before catching some of the lively entertainment or chilling out in the park's friendly bar. With a choice of accommodation, you're guaranteed to find the perfect caravan for your family and your pocket.  
Find out more about Parkdean Resorts White Acres Holiday Park 
Looking For More Great Holiday Parks?
We've convinced ourselves – our next holiday is set to be a week away on the North Coast of Cornwall. If Newquay doesn't float your boat, however, you can rest assured we've the perfect holiday park whatever location you're looking at.
Why not check out Dorset? With miles of award-winning Blue Flag beaches, you could have the family holiday you've been dreaming of, and all at the click of a button. Of course Cornwall and Dorset both have stunning coastline, but for more inspiration take a look at these 25 breathtaking British beaches. 
If you're impressed by all the great activities at these Newquay holiday parks, you'll definitely want to have a look at what we have on offer in Scotland. With plenty of parks by the coast and lots to do onsite, you'll find some of the UK's best holidays there.